Martin Carney Column: Has the time come for Mayo?
Updated: Sunday, 22 Sep 2013 15:22

| Comments
By Martin Carney
In Sean O Casey's 1924 play 'Juno and the Paycock', Captain Boyle declared: "The whole world's in a terrible state o' chassis." This prescient observation could have applied a year earlier when Dublin beat Mayo by a ten-point margin in the delayed 1921 All-Ireland decider.
The game took place in 1923 in Croke Park before an attendance of 16,000 spectators who refused to allow the turbulent War of Independence interfere with their travel plans. Today will be first time since then that the counties have met in a final.
Bare stats record that in their Championship head-to-heads Dublin have had five wins, Mayo two and they have drawn twice. The winning vibe from 2011 is recent and will nurture Dublin, while the psychological hurdle for Mayo, due to their record in finals, is daunting but negotiable.
Indeed Mayo's memories of their last three All-Ireland final appearances have been coloured by varying increments of pain and darkness. Behind by eight points at half time in the 2004 decider this deficit remained to the final whistle.
"The psychological hurdle for Mayo is daunting but negotiable"
In 2006 the result was inevitable after 12 minutes and a late rally did little to assuage the pain of a 13-point defeat. Donegal's early blitzkrieg last year laid their winning foundation and despite a defiant response from the westerners, who at one stage narrowed the margin to three points, the concession of the early green flags proved terminal.
The difference between defeat and humiliation is that the former, though painful, will contain seeds for possible recovery, while the latter can have devastating consequences for the morale and careers of the vanquished. In preventing Colm McFadden from scoring a third early goal in last year's final, David Clarke kept Mayo in the contest and in doing so averted possible humiliation.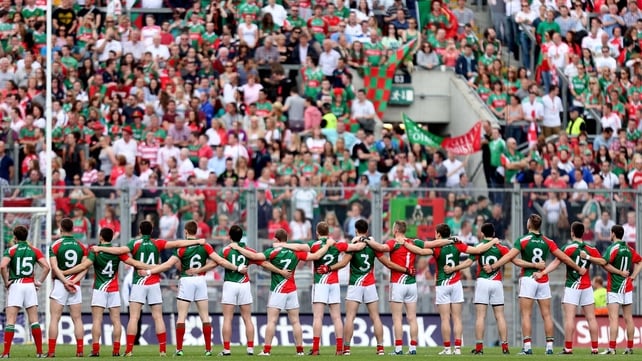 So throughout the winter James Horan will have known that there was much to salvage and restore. By nursing the pain and digesting the lessons from the defeat his team has defied the naysayer and cynic and deservedly fought its way to its fourth final in ten years. The squad is now a year older and wiser with the core group, survivors of the U-21 All-Ireland winning team of 2006, at their peak.
In adding Donie Buckley to his backroom staff Horan has availed of the services of one of Gaelic football's most respected coaches. Seamus O'Shea and Alan Freeman in particular have flourished and have dredged performances from within that few would have imagined. As with the entire panel they have referenced positively the gain that Buckley's presence has brought.
But back to those starts; those opening quarters; those funeral pyres on which Mayo hopes have been incinerated so often! The imprint of non-starts still sears the memory. You can bet that a premium has been placed on addressing this phase of the game with a view to avoiding the concession of an early goal.
Will this see Keith Higgins deployed as a sweeper with the task of protecting his full- back line or will James Horan place his trust in a defensive unit that to date has conceded a mingy average of 10/11 scores per game?
That they face a formidable challenge from a superb forward line is unquestionable, but with Chris Barrett and Tom Cunniffe flanking Ger Cafferkey I think Horan believes that his defence has form and experience to execute their duties.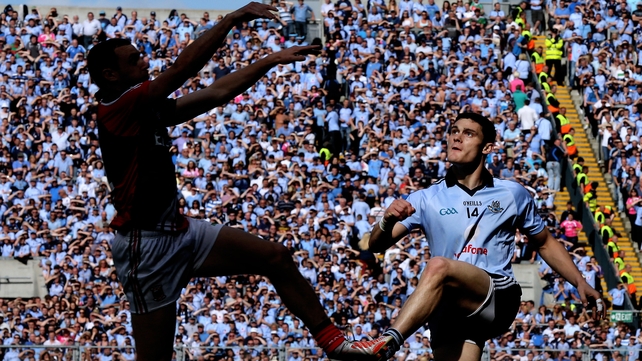 What isn't in doubt is Dublin's attacking potential. Blessed with fleet of foot, a stunning arsenal of skills and a broad based scoring unit it will take wit, concentration and resolve to limit their influence. An ability to conjure openings and scores from a variety of situations is one of their charms.
Whether it's a Mannion flick, a Connolly netburster, a pebble-skipped delight from Brogan or a life saver from McManamon, Dublin are endowed with a forward unit that has averaged approximately 2-18 per game in this season's campaign.
Added to the starting unit is a back-up cast of score takers who would grace most forward lines in the country.
Between them the subs have accounted for 20% of Dublin's scoring output and with few exceptions have augmented the work of the starting sextet.
"Dublin are endowed with a forward unit that has averaged approximately 2-18 per game"
Dean Rock, in particular, has impressed with his two points per game tally. His poise and calm in the act of shooting is something he didn't lick from the grass!
In the eyes of many, Bernard Brogan has struggled to rediscover his best form this season. Yet he is their leading scorer in this campaign and his six-point tally against Kerry (four of which were from play) served notice that his September form is due to peak.
Had others spotted his clever positioning on occasions in the semi- final I believe Dublin's winning margin would have been greater.
Two key areas that both teams will try to exploit for advantage are winning their own kick outs and achieving mastery of the middle third of the pitch. Mayo, just as Kerry did, will try to pressurise Dublin's restarts and force Cluxton to go long.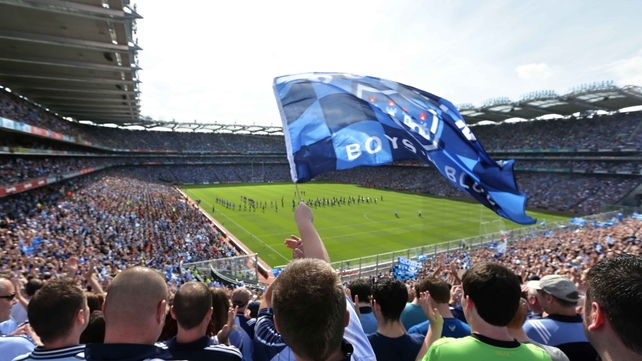 The O'Shea brothers should rule the skies, but this advantage will be challenged by the athleticism and mobility of Macauley and O'Sullivan, whose incisions have repeatedly created openings for their attack. The energy, drive and creativity of Keegan, Vaughan and Boyle is matched by the authority of the McCarthy and McCaffrey in the Dublin half-back line.
I am tempted to say that the team whose half-back line exerts the greatest influence will be the one to emerge victorious. The battle for control in the middle cockpit will witness the highest tackle count and the most ferocious exchanges of the final.
Neither side will fear the other yet the fear of losing could dominate proceedings. A reprise of the Kerry v Dublin epic is unlikely but what the game won't lack is honesty and total commitment in the pursuit of victory.
It will be tactical, tough and unforgiving. In predicting an outcome it is hard to ignore the scoring potential of the Dublin team and contrast it with a Mayo attack that may be handicapped by absence and injury.
Though the pendulum points in Dublin's direction – a gifted team on the cusp of a double by playing eye-catching football – the time is now for this crop of Mayo players to make a statement and end a 62-year drought.
Mayo for Sam.