By James McMahon
Old Rivals Enthrall A New Generation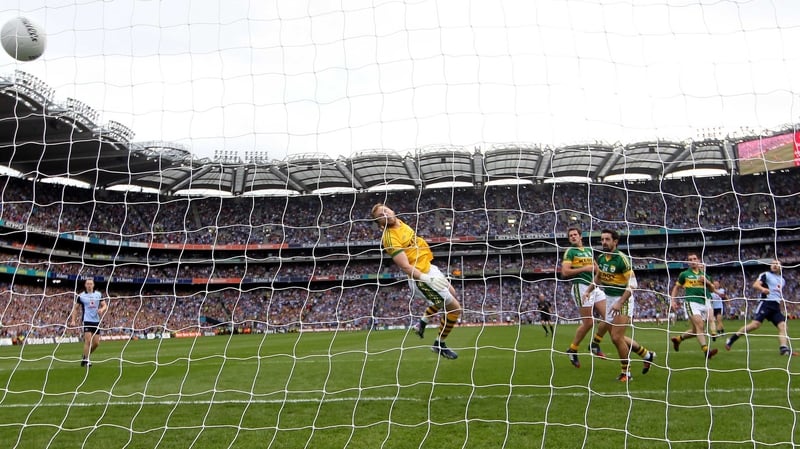 Some claim it was the best game of the decade. Others praise it for being the best game of the modern era. And then there are those who state that the recent All-Ireland semi-final involving Dublin and Kerry was the greatest game of Gaelic football ever played.
The latter is a bold assessment. The game has evolved down through the decades. Those of a previous generation followed a simple doctrine of catch and kick. The amount of hand passing in the today's game is anathema to them – while any talk of a blanket defence would have been laughed off.
Irrespective of what systems and styles are used, talent will hopefully shine through. To that end credit must go to the players of Dublin and Kerry for serving up a clash in early September that seemed to find favour with purists from all eras.
The Kingdom arrived on Jones' Road on the back of a less than impressive display against Cavan. However, the sight of the blue jersey, and their love of the Croke Park surface on days when it matters most was sure to make them a formidable force.
The all-conquering Dubs were ready for the challenge. In the first-half, both linesmen were somewhat redundant as the action stayed predominately within the four white lines.
Kerry, through the genius of Colm Cooper, found a way to unlock the Dublin defence. Mayo will have taken note. The 'Gooch' operating on the 40 is a sublime foot-passer of the ball and twice his vision led to goals for James O'Donoghue and Donnchadh Walsh. Yet, the Dublin response was impressive, with Paul Mannion's fisted effort finding the back of the net.
Only 12 minutes had elapsed and three green flags were raised. On 20 minutes that was four, as O'Donoghue clinically drilled home a penalty to put the Munstermen ahead again. As to highlight the see-saw nature of this clash, Dublin rallied and Ciarán Kilkenny found the range with some excellent points.
Kerry were 3-05 to 1-09 ahead at the break. The experts felt they needed a bigger advantage. On the resumption, a brace of points from Paul Galvin and a Cooper free pushed them further clear. There now was a pep in the Green and Gold step.
What this summer has shown us, however, is that Jim Gavin's Dublin are most adept in overcoming a mini-crisis.
Substitute Dean Rock, Paddy Andrews, Bernard Brogan (0-02) and Diarmuid Connolly all found the range to push the Metropolitans ahead. Surely, they would kick on! However, Kerry regained their composure and by 63 minutes had gone back into a one-point lead, thanks to Darran O'Sullivan.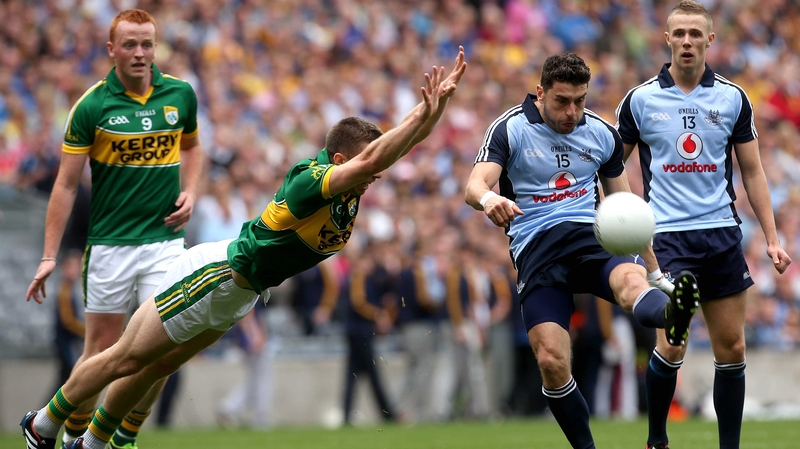 Kevin McMenamon had now entered the fray. He made a telling impact when introduced in the 2011 All-Ireland final. He was about to haunt Kerry again. Gaining possession some 50 yards out from Brendan Kealy's goal, McMenamon went on a darting run and his effort at a point (yes, he was going for a point!) looped over Kealey's head and into the net. A defining score!
There was time for Eoghan O'Gara to fire home another goal for the Dubs. It proved to be the last act in a gripping drama.
The final scoreline of 3-18 to 3-11 does not fully reflect the efforts of a game Kerry side, who played their part in ensuring that, for some, this was the greatest ever game of Gaelic football ever played.
Any review of this year's Championship should also praise Derry and Down for their efforts in a highly-entertaining Ulster quarter-final tie on 2 June. The Oak Leaf county can take another bow for their tussle with Cavan in the qualifiers on 20 July. The game was played in searing heat and went to extra time, before the Breffnimen prevailed.
A week later Cork and Galway served up a cracking, free-flowing clash in Croke Park. The more traditional values of Gaelic football were on display and the Westerners, in particular, found the range with some exquisite points.
Cork's extra bit of class and experience got them over the line in the end, though not before Galway's Michael Meehan fired a 14-yard free to the back of net in the game's final act. Think of it as a bullet through the eye of a needle.
No Shelter From The Brolly Rant
"Joe, you look a bit pensive," was Michael Lyster's cue for Joe Brolly to offer his thoughts on Tyrone's win over Monaghan in the All-Ireland quarter-final. What followed was a series of verbal blasts from the Belfast-based barrister criticising Tyrone's style of play.
"They have achieved something absolutely rotten," was one of Brolly's more pointed observations after Mickey Harte's side secured a last-four spot.
However, a scud missile was about to be launched, with Seán Cavanagh the target. The Moy clubman took 'one for the team' when he manhandled Conor McManus to the ground just as the Monaghan attacker was a bearing down on goal and about to pull the trigger.
The punishment was a yellow card, but crucially for his side a green flag had not been conceded. Tyrone would eventually win by two points and Cavanagh was named man-of-the match.
Brolly was far from impressed. "That was a total and absolute disgrace. I can't believe somebody [Martin Carney] awarded him [Cavanagh] the man-of-the-match. You can forget about Seán Cavanagh as a man. [He later apologised for this remark]. What he did there tonight was a total and absolute obscenity."
Now at the point of exasperation and much finger-wagging, the former Derry legend would later add that the cynical stance taken by Cavanagh could be the template for the next generation. "Let them play rugby league," he commented.
Considering the mood Brolly was in, we may have expected him to rise from his seat and re-enact that scene from the film 'Network' where Howard Beale's character uttered: "I'm as mad as hell and I'm not going to take this anymore." Maybe Joe keeps such theatrics for the courtroom!
The aftermath of the rant / tirade / outburst – call it what you want – provoked an enormous reaction by way of numerous texts and tweets. Media outlets wasted no time posting the RTÉ coverage on their websites.
Mickey Harte responded by calling Brolly "a tired and rather boring analyst". The said analyst had an ally, however, in George Hook, who stated that rugby tackles are allowed with impunity in present day Gaelic football.
Consistent fouling in latter stages of games is a problem that needs to be addressed by the GAA. The introduction of the black card next year will not fully eradicate it. Joe Brolly's criticism of Tyrone, whether one agrees or disagrees with it, should be a pointer for the Association to act with more conviction.
Mayo Signal Real Intent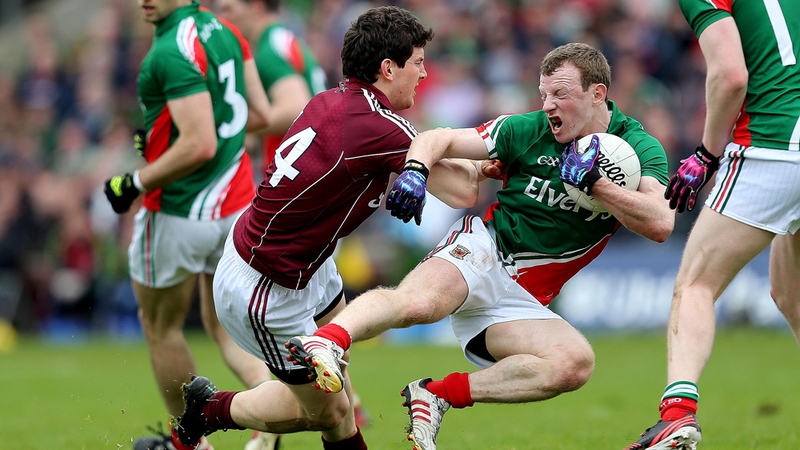 It had the potential to be an early season blockbuster. Connacht's fiercest rivals locking horns again by the sea in Salthill. Galway had many reasons to be cheerful, as only two weeks earlier the county's U-21 side landed another All-Ireland title. Mayo, the reigning provincial champions, were obviously intent on retaining their crown, with one eye on an even bigger prize further down the road.
Sunday, 19 May. 4pm. Connacht SFC quarter-final, Pearse Stadium
What the first 35 minutes showed us that day was the Mayo were the real deal. Okay, Galway were poor and their defence was in a charitable mood. A 16-minute spell in that opening period saw Cathal Carolan, Enda Varley and Enda Varley find the back of the net. Quite simply the Tribesmen were caught in a Red and Green whirlwind and were clueless as to how to escape from it.
Mayo eventually ran out winners by 4-16 to 0-11. They now had one eye on Croke Park. Winning Connacht was a formality. Roscommon and London offered little resistance.
Sunday, 4 August. 4pm. All-Ireland SFC quarter-final, Croke Park.
We all thought a repeat of last year's All-Ireland final would happen at the semi-final stage. Donegal's loss in Ulster final and subsequent victory over Laois in the back-door left the open to play Dublin, Kerry or Mayo. They drew the latter. Off-field mind games took prominence in the week leading up to the match. This only helped to heighten the anticipation.
Brilliant football was to adorn the Croke Park pitch. Only one team was playing it, however. Mayo's ruthlessness saw them build up a 2-10 to 0-04 half-time lead. Cillian O'Connor and Donal Vaughan with the goals. O'Connor would go on to fire home a hat-trick of green flags, just like he did in the Connacht final. 2-08 of the 2-10 total came from play.
There was no let up from the Connacht side in the second half, with Aidan O'Shea, a colossus in midfield, driving the team on to even greater efforts. Full-time: Mayo 4-17 Donegal 1-10.
The bookmakers took note and installed Mayo as favourites to win the All-Ireland.
After the respective semi-finals, the betting market has changed slightly, but there is no doubting Mayo's intent to end a 62-year wait.
London Calling And O'Hara's Solo Run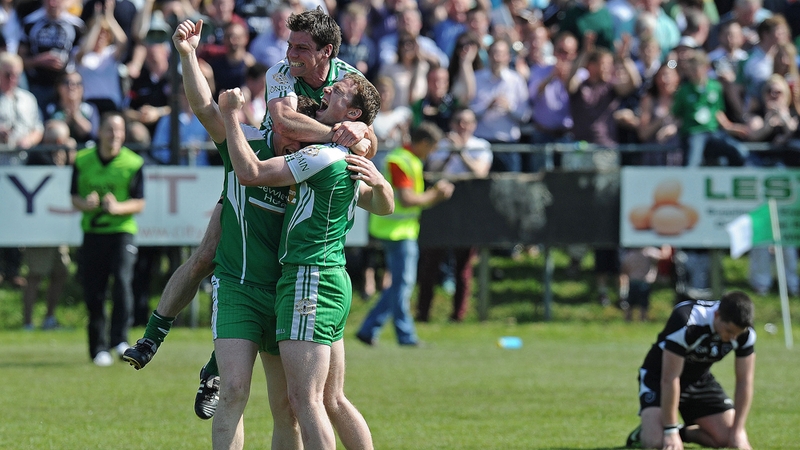 Ahead of this year's Championship, London were seeking a first win in Connacht since 1977. Yes, 1977 – the summer of Star Wars, Saturday Night Fever, Jack Lynch's triumphant return as Taoiseach and a London victory over Leitrim in Carrick-on-Shannon.
Two weeks out from this year's campaign, former Armagh star Jarlath Burns, while speaking to RTÉ Sport, was confident that the Exiles could end their long wait. Sligo were the visitors to Ruislip. They would have taken note that in recent seasons Mayo and Leitrim nearly came a cropper at the venue.
On a sun-drenched day in the English capital on 26 May, it was the home side who pressed on after a Lorcan Mulvey goal put them in the driving seat. They lead 1-10 to 0-07 after 45 minutes. It was a deserved advantage. However, the sending off of Padraig McGoldrick was the cue for a Sligo revival, and they subsequently chipped away at London's lead.
Deep into the injury time and Sligo's Pat Hughes had a great chance to level the game. However, his fisted effort from close range came back off the bar. (By God, it was easier to score!) London survived on a 1-12 to 0-14 scoreline. The final whistle sparked wild scenes of celebration in Ruislip.
Meanwhile, back in Ireland and The Sunday Game team in RTÉ were busily preparing for that night's show. The opening item featured highlights of the London v Sligo clash and the post-match celebrations that followed for the victors.
A new recruit to The Sunday Game panel this season was Eamonn O'Hara. The former All Star announced his retirement from inter-county action just before the start of the Championship after 19 seasons playing for Sligo.
When asked to comment about the Yeats County's surprising defeat, O'Hara pulled no punches in criticising the team's preparation and added that manager Kevin Walsh should consider his position.
"Kevin Walsh has lost the players. They the players deserve better training sessions and quality in terms of tactical awareness. Kevin Walsh has a lot to answer for. I think he should go."
That was a brief synopsis of what O'Hara to say. He also had a cut off the Sligo county board.
It is assumed that the relationship between O'Hara and Walsh turned sour in the latter half of 2012. That said, not many expected the Tourlestrane clubman to use live television as a platform to air his grievances.
The following morning on RTÉ Radio, the former Armagh player Oisn McConville spoke out against O'Hara, but equally they were those, using social media, who were supportive
Kevin Walsh was subsequently afforded a right of reply by RTÉ. The response was dignified, without any hint of rancour.
You would have to say that all the above took away from London's achievement. Yet, things were about to get a lot better. Carrick-on-Shannon was the next stop for the Connacht semi-final. Leitrim, with home advantage, were favourites to advance. However, it took a couple of late scores to save their blushes and force a replay.
Hyde Park in Roscommon was the venue chosen for the renewal of hostilities. London, playing their best football of the summer and with wind advantage, built up a half-time lead of 2-10 to 0-02. They only added one point in the second period, but they withstood a gutsy Leitrim revival to come through by the bare minimum.
London had reached a Connacht final. Mayor Boris Johnson received an invite to attend the Castlebar showpiece, but he declined.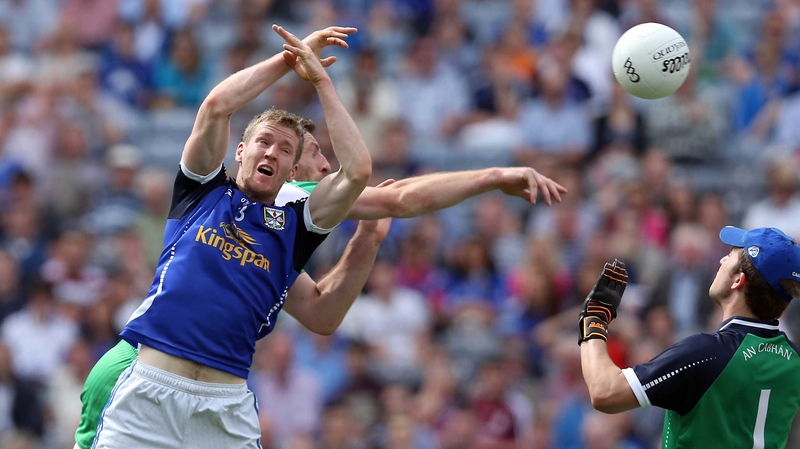 Mayo, as expected, had a routine victory in the provincial decider. The Exiles were far from disgraced and a week later ran out onto the Croke Park pitch to take on Cavan in a final-round qualifier. It was their fifth game of the summer and their last. The journey was about to end as the Breffnimen pulled clear in the second half to win by nine points.
London will regroup for the Allianz League, before another crack at the Championship in 2014 and an opening date with Galway.
Observe A Change In Ulster?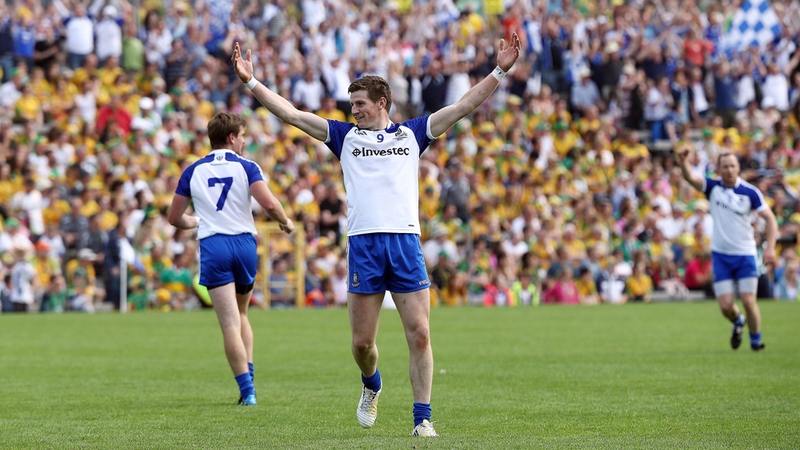 Donegal's Mark McHugh is lying down injured on the St Tiernach's Park pitch in the early stages of the Ulster final. A high-impact collision with Monaghan's Stephen Gollogly left the Kilcar native in much pain. It was no surprise that he had to leave the field.
Replays show there was nothing malicious in the incident. Indeed, it was more indicative of Monaghan's drive on the day as they stormed to a first provincial title win in 25 years.
It was said afterwards that Monaghan did a 'Donegal' on Donegal. Such a statement is a tribute to the achievements of Jim McGuinness's side over the last two years. However, by establishing a defensive cordon that was hard to penetrate and having personnel who could break with intent, the Farney are entitled to indulge in much self-congratulation.
Manager Malachy O'Rourke masterminded the success, and on top of a successful promotion in the Allianz League, it capped off a productive 2013 for Monaghan. One negative, however, was the turgid nature of their opening win in Ulster against Antrim. A candidate for worst game of the Championship.
What now for Donegal? Injuries to key players and a lack of depth in the squad caught up with them this year. Jim McGuinness will be still be in charge in 2014, but absent will be his loyal lieutenant Rory Gallagher. Two other members of the backroom team have also opted out. It's a case now of Jimmy starting from scratch again?
Elsewhere in Ulster, Cavan are beginning to make a mark. Their summer journey ended with consecutive appearances in Croke Park. Their supporters are a passionate collective and they'll demand some sort of silverware in the next few years.
Playing the likes of Kerry in an All-Ireland quarter-final will benefit Cavan, but watching their neighbours Monaghan lift the Anglo-Celt cup, is what's likely to drive them on and give them the belief that they can reign supreme in the province again.
Live television coverage of the All-Ireland Football Final between Dublin and Mayo from 14:15 on Sunday 22 September on RTÉ Two and RTÉ.ie (Ireland only). Live radio coverage of all the day's action from 13:00 on RTÉ Radio 1, RTÉ RnaG and RTÉ.ie (Worldwide).