By Martin Carney
The Clash of the Aristocrats.
Kerry and Dublin renew their rivalry in the second All-Ireland football this afternoon with the winner earning the right to meet Mayo in the decider on 22 September.
For many, this fixture chimes with memories of clashes between Heffo and Micko, Jacko and Mullins, Paidi and Keaveney and many more. It is a game between football's elite - city slicker versus country cousin.
Kerry with 36 titles and Dublin with 23 outstrip by a country mile their nearest challengers in the Sam-winning stakes. This fixture more than any helped glamorise the code, broadened its popular appeal and defined a rivalry that is still as keen and as anticipated as ever.
Most pundits will have us believe that the upcoming game is a clash between the grizzled warriors from the south-west and the young urban tyros. That Kerry are replete with veterans of long standing is true and on the evidence presented there are signs that Sunday could be the last hurrah for some.
Has there ever been a better wing-back than Tomás O'Sé or a forward with the capacity to excite as the mercurial Colm Cooper? Both are worthy of residence in the pantheon of all-time Kerry greats. Add to this list Galvin, Brosnan, the O'Sullivans, Donaghy ( who will at some point be sprung from the bench), Sheehan and Maher and you get a sense of their experience and the enormity of the task facing the Dubs.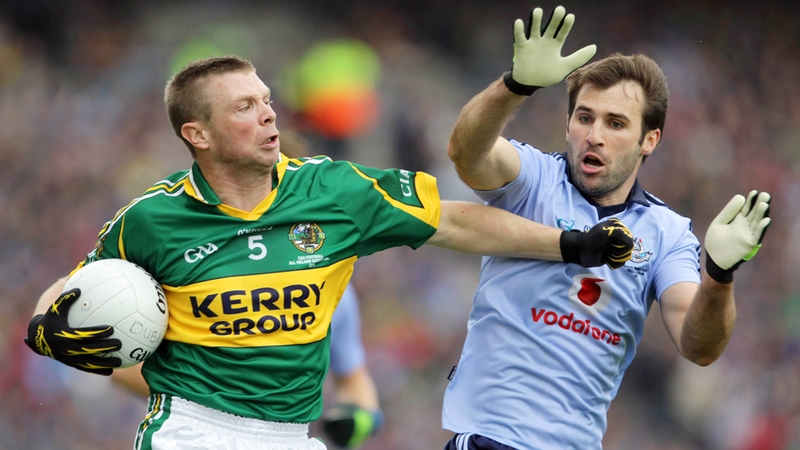 The names of Jack McCaffrey, Paul Mannion and Ciarán Kilkenny have been whispered with reverence this summer. The new guns. The latest and most dynamic version of the Blue machine. They have magnetised attention. Their exploits have been eye-catching but I feel their rapid ascent to this level has been smoothed by the familiar voice of Jim Gavin who managed them at U-21 level, and the wisdom imparted from the experienced core within the dressing room.
"The initiation process facing Fionn Fitzgerald and Mark Griffin will be an acid test of character. Nothing like being thrown in at the deep end!"
As members of the 2011 All-Ireland winning team, players like Stephen Cluxton, Bernard Brogan and Paul Flynn - I am quite certain have mentored and steered the young men to the levels they are at today.
Both teams have followed identical paths on their journeys to the last four. Kerry waltzed past Tipp and Waterford in Munster, while Dublin encountered little resistance in their outings with Westmeath and Kildare.
A scintillating 50 minutes of football, culminating in a Marc O'Se point, gave Kerry a nine-point lead in the Munster final. Whether it was an aberration, born of complacency or a result of a Cork revival, led by Ciarán Sheehan, the facts are that Kerry were clinging to the lifebelts at the final whistle and were relieved with their two-point win.
Yet in that period of Kingdom dominance we witnessed a blistering demonstration of the fierce will and unremitting excellence that they are capable of.
Dublin's win over their old rivals Meath was not without its hiccups, as the pace of Wallace and the accuracy of Newman caused more problems than might have been anticipated.
Their quarter-final victory over Cork was noteworthy for Stephen Cluxton's six points. When did we ever see a goalkeeper as a team's joint top scorer in championship football? Never, I guess. Kerry's win over Cavan was predictable and uneventful.
Assuming that he remains loyal to his quarter final winning team, Jim Gavin will unleash a horde of hungry warriors capable on their day of overcoming the sternest challenge. The calibre of forward at his disposal is frightening and by now the harmony that was absent in the earlier rounds should be well established.
I felt that the understanding between Bernard Brogan, Paul Mannion and Ciarán Kilkenny was slow to develop, but against Cork evidence of improvement was obvious.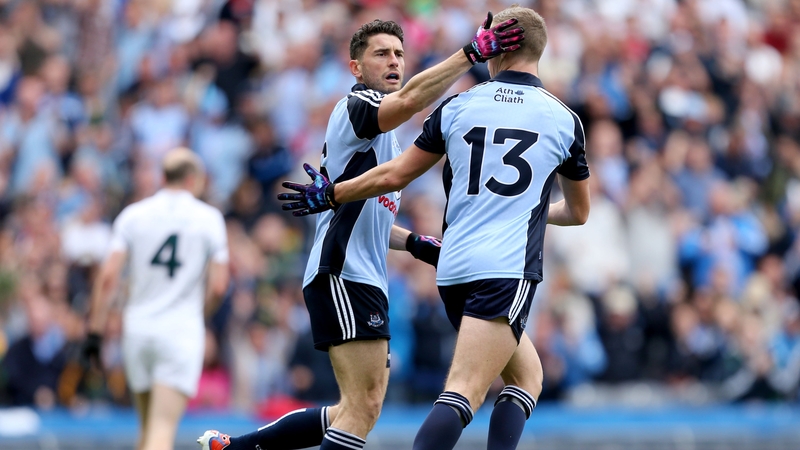 That he was substituted in each of his opening three fixtures hardly helped his confidence, but against Cork one sensed that Brogan's cuteness and awareness of others had returned even though his scoring return from play was void on that occasion.
The experienced trio of the outstanding Paul Flynn , the rejuvenated Paddy Andrews and Diarmuid Connolly add lustre to the forward division. The back-up cast of Rock, Cullen, O'Gara and McManamon is enviable to say the least. The unfortunate injury to Killian Young has resulted in a reshuffled Kerry defence.
The initiation process facing Fionn Fitzgerald and Mark Griffin will be an acid test of character. Nothing like being thrown in at the deep end! Tomás and Marc will offer reassurance in any event.
Midfield is the sector that has divided opinion in Dublin and is likely to remain unchanged. Jim Gavin has placed his trust in Michael Darragh MacAuley and Cian O'Sullivan believing that their athleticism and willingness to access all areas of Croke Park can compensate for any deficiencies that they might have in aerial combat.
"Thomas Jefferson once said that there is a natural aristocracy among men, the grounds of which are virtue and talents"
Cluxton's laser-like pings will find them but have they the scope to contest and deprive Kerry of possession from Kealy's restarts? It will be no surprise to yet see the combative Denis Bastic having a role to play at some stage of the game.
By recalling Anthony Maher to partner Johnny Buckley, Kerry have restored the pairing that for long spells looked outstanding against Cork, and the latter's long range place kicking has become a real bonus.
The roles and responsibilities entrusted to Paul Galvin and Donnacha Walsh will be as demanding as they are vital to the Kerry cause.
Tracking the runs of Jack McCaffrey and James McCarthy isn't for the faint-hearted or weak-of-lung, yet if Galvin and Walsh can diminish their influence and at the same time provide ammunition for the Kerry attack we would see the establishment of a winning platform. Walsh is a players' player; Galvin, when focused, is indispensible. Let's relish this battle.
Faithful to their philosophy and spirit of adventure Dublin play without a sweeper. Ger Brennan holds the middle with others allowed freedom to attack. Added to this will be his task of containing the influence of the 'Gooch' which if unchecked could seriously undermine the Dubs.
Cooper, the creator, has blossomed in his new role where his speed of thought and vision can prise open the securest defence. Along with the Sullivans and the exciting James O Donoghue this is a potent frontline capable of stretching a Dublin defence that I am yet to be convinced of.
Thomas Jefferson once said that there is a natural aristocracy among men, the grounds of which are virtue and talents. Whatever about virtue - I am sure it is there in abundance - there is no denying the talents of these rivals. We should witness on Sunday a classic, where I expect the Green and Gold to shade it... just.
Live television coverage of Roscommon v Tyrone (minor) and Dublin v Kerry (senior) from 13:15 on Sunday 1 September on RTÉ Two and RTÉ.ie (Ireland only). Live radio coverage of all the day's action from 14:00 on RTÉ Radio 1, RTÉ RnaG and RTÉ.ie (Worldwide).