Monaghan 1-10 Cavan 0-12
Updated: Saturday, 29 Jun 2013 21:32

| Comments
Monaghan had the minimum to spare over Cavan to book their place in the Ulster decider with a 1-10 to 0-12 victory in Clones in front of 15,644 spectators.
Cavan dominated the possession stakes for most of the first half but poor finishing allied to some good defending by Monaghan saw them fail to translate that superiority into scores.
Monaghan improved considerably in the second half as the lead changed hands on a number of occasions, going on to take the lead with points by man of the match Conor McManus and substitute Paul Finlay and Cavan could only manage a late point that left Monaghan ahead by one when referee Marty Duffy blew time.
Cavan got off to much the better start and opened the scoring with a point by Eugene Keating in the 9th minute.
David Givney finished well a minute later to put the Breffni men two up but three minutes later Monaghan were in front when Chrsitopher McGuinness crashed to the Cavan net when he was well placed by Darren Hughes who capitalised on a poor kick out.
It was some justice for McGuinness who was denied a goal in the opening minutes although it was disputed that the ball had actually crossed the line.
Cavan struck back in emphatic fashion for points by David Givney in the 14th minute, Cian Mackey in the 15th minute and Niall McDermott in the 18th to re-take a two points lead.
Kieran Hughes struck a great point form Monaghan but cavan were dominating the midfield battle and they had points from Martin Dunne, free in the 24th minute and James McEnroe to go two in front.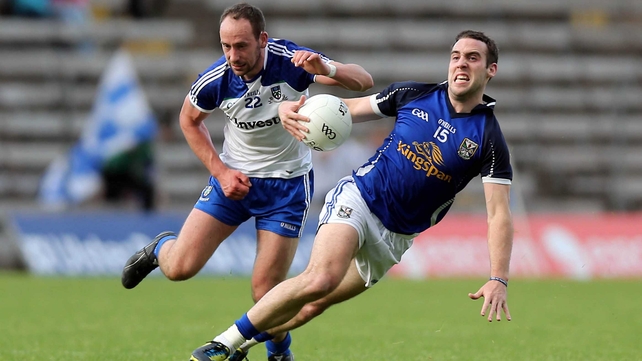 In the final minutes two Conor McManus frees levelled the game and an exchange of scores between Darren Hughes and Martin Dunne saw them go in level at the break, Monaghan 1-5, Cavan 0-8.
Twelve minutes into the second half Monaghan took the lead with a point by Conor McManus but six minutes later Cavan were back in front thanks to a brace from Niall McDermott, one from a free.
Two converted frees by Paul Finlay and Conor McManus restored Monaghan to the lead as the temperature rose considerably .
Cavan equalised through a Martin Dunne free but Monaghan were consolidating and points by Conor McManus and Paul Finlay from a free put Monaghan two in front with one minute of normal time remaining.
Cavan rallied and earned a free that was converted by keeper Conor Gilsenan to make it a one point game with Monaghan enjoying a modicum of good fortune when keeper Rory Beggan could well have been blown for over carrying but overall Monaghan were worthy winners.
Monaghan: R Beggan, D Mone, D Wylie, C Walshe, V Corey, N McAdam, K Duffy, O Lennon, D Hughes, 0-1 S Gollogly, G Doogan, T Freeman, C McGuinness, 1-0 K Hughes 0-1, C McManus 0-6 (3f).
Subs: P Finlay 0-2 (2f) fro T freeman, D Clerkin for G Doogan, K O'Connell fro N McAdam, Padraig Donaghy for C McGuinness, D Malone for S Gollogly.
Cavan: C Gilsenan, J McLoughlin, R Dunne, K Clarke, J McEnroe, A Clarke, R Flanagan, D O'Reilly, D Giveny, C Mackey, K Brady, F Flanagan, N McDermott, M Dunne, E Keating.
Subs: M Reilly for K Brady, T Corr for J McEnroe, K Tierney for M Dunne, J Brady for n McDermott.
Referee: M Duffy