Antrim 0-06 Monaghan 0-11
Updated: Sunday, 09 Jun 2013 20:13

| Comments
Fourteen-man Monaghan strolled to a 0-11 to 0-06 Ulster SFC win over Antrim in an uninspiring encounter at Casement Park.
Monaghan led by 0-05 to 0-04 at the end of a dull first half, with Conor McManus scoring twice.
The visitors lost defender Neil McAdam (two yellows) early in the second half, but Antrim managed just one point in the 33 minutes that followed.
Scores from McManus, Christopher McGuinness and Tommy Freeman sealed a facile win for the Farney men and a semi-final clash with either Fermanagh or Cavan.
Antrim failed to exploit their numerical advantage in the second half, allowing themselves to be dominated by their depleted opponents.
Kevin Niblock had a glorious goal chance in the eighth minute when sent clear by Paddy Cunningham, but he blazed the ball over the bar, cancelling out Conor McManus's Monaghan opener.
Monaghan were able to penetrate a Saffron defence bolstered by two extra men with alarming ease, and when Owen Duffy raced through virtually unopposed to kick a simple point, they led by 0-04 to 0-01 midway through the first half.
Antrim's laboured build-up played into the hands of a hard-working Farney side, who were able to turn over possession and launch repeated counter-attacks.
A more direct approach paid off for midfielder Sean McVeigh, however, when he thumped over two long-range points to cut the deficit to two.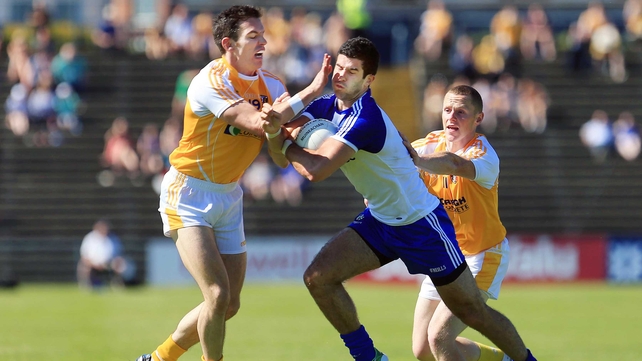 With Owen Lennon leading the charge from midfield, Monaghan soon got back on the offensive, but their finishing let them down, and they were further pegged back by a Niblock free.
At the break, Monaghan led by 0-05 to 0-04, but Antrim were level within two minutes of the restart, Paddy Cunningham slotting over a 25-metre free.
The Saffrons lost key attacker Niblock to injury, but Monaghan suffered a major blow when centre back Neil McAdam received a straight red card with just four minutes of the second half played.
The Farney men made light of the setback, forging four points ahead with scores from Christopher McGuinness and McManus, with Antrim offering just token resistance.
Monaghan racked up 10 second-half wides, but created enough scoring chances to keep their opponents at a safe distance.
Antrim, for their part, failed to gain any advantage from their extra man, and went 33 minutes without scoring in the aftermath of McAdam's dismissal, before Michael Pollock tapped over a stoppage-time free.
In the meantime, Monaghan misfired at the other end, managing just two points from a succession of scoring opportunities.
Tommy Freeman came off the bench to squeeze over an acute-angle point, and Christopher McGuinness capped an impressive performance with his second score of the afternoon.
Antrim: C Kerr, K O'Boyle, R Johnson, A McClean, S Kelly, J Crozier, P McBride, S McVeigh (0-2), M Johnson, A Healy, P Cunningham (0-1, f), M Sweeney, M Pollock (0-1, f), K Niblock (0-2, 1f), B Herron.
Subs: C Murray for Herron, M Herron for Niblock, R Murray for Cunningham, J Carron for McClean, P Doherty for M Johnson.
Monaghan: R Beggan, K Duffy, F Kelly, C Walshe, D Mone (0-1), N McAdam, D Hughes (0-1), O Lennon, D Clerkin, P Finlay (0-1, f),V Corey, O Duffy (0-1), C McGuinness (0-2), K Hughes, C McManus (0-4, 3f).
Subs: S Gollogly for Clerkin, D Wylie for Kelly, T Freeman (0-1) for Duffy, J McCarron for Finlay
Referee: D Gough (Meath).
Highlights and analysis of all the weekend's action on The Sunday Game from 21:30 on Sunday 9 June on RTÉ Two and RTÉ.ie (Ireland only).