By Martin Carney
As well as providing perspective and context, history informs us.
Some cold statistics have emerged since the introduction of the Qualifiers in 2001. Of the 12 All-Ireland senior football titles won;
- There have been seven different winners.
- Six have been won by teams coming through the 'back door'.
- Kerry are the only team to have retained their title.
- Galway, Dublin, Donegal and Tyrone all have a 100% success rate in finals, with Tyrone winning on each of their three appearances.
In attempting to predict a likely All-Ireland winner it is hard to look beyond the prospects and credentials of teams from the top two divisions.
Favourites tag firmly with the Dubs
Bookies are seldom wrong. On the back of their league success Dublin are already installed as 5/2 favourites to retain the title on 22 September.
Blessed with a beguiling mix of youth and experience - the wisdom of Stephen Cluxton, Bryan Cullen, Ger Brennan and Bernard Brogan has fused seamlessly with the wit and energy of Paul Mannion and Jack McCaffrey. I expect them to win Leinster.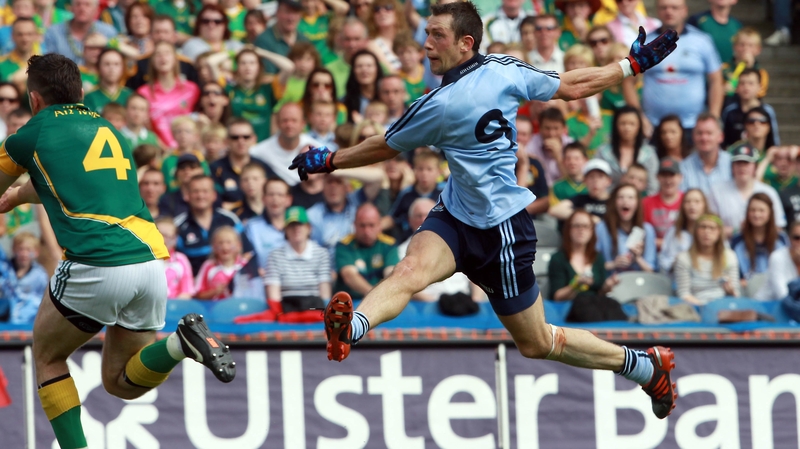 There is no doubting their skill and depth of talent. If they can react positively to the relentless pressing style of the Ulster teams in the latter stages of the Championship they can win the double.
A sobering fact is they have only reached one final since 2001. The tendency, for whatever reason, to repeatedly fall at the penultimate hurdle will exercise Jim Gavin's mind later in the year.
Positive vibes emanating down Kingdom way
Things are stirring in the Kingdom. Their drop-defying sequence of wins in the latter stages of the league sent strong signals that Kerry have rediscovered an appetite for combat that was absent last year.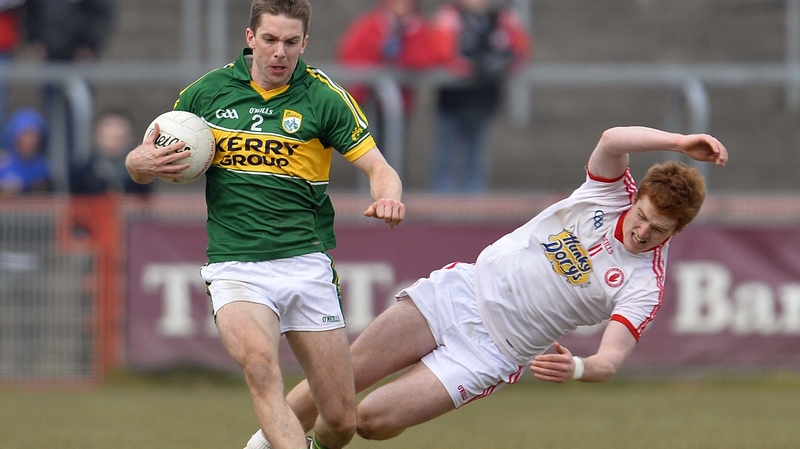 The emergence of Mark Griffin coupled with the displays of Johnny Buckley will have encouraged Eamonn Fitzmaurice. Colm Cooper and the Sullivans have found form.
I get the feeling that this is a last hurray for some of the greatest footballers who have graced the game.
If they can stay free from injury (they lost Eoin Brosnan and Brian Sheehan at a critical juncture in last year's tie with Donegal) and avoid issues of ill-discipline I believe they will be crowned champions.
Tough start for Jimmy's troops
Donegal are the current Sam Maguire holders. Defending their crown will require the cussedness, appetite and performance standards that they consistently displayed last summer.

Their principals – Paul Durcan, Michael Murphy, Colm McFadden, Karl Lacey and Rory Kavanagh need to reprise the levels of excellence that brought Sam to the Hills.
The squad lacks the required depth to offset an injury crisis were one to occur.
There was little by way of injury to derail them last summer. Lacey's protracted absence this winter will worry Jim Mc Guinness.
Without his leadership Donegal struggle and if he plays his match sharpness will be questionable.
From a Donegal perspective, I think the broader expanse of Clones would have been preferable to the tight confines of Ballybofey for their tie with Tyrone.
The memory of their victory there last summer still chimes. The outcome of this encounter will be critical to Donegal's summer.
Rebels must show more desire
A team with Cork's talent should have won more than one All –Ireland in recent years. Admirably consistent in the league, their 2010 All-Ireland result does little justice to their collective talent.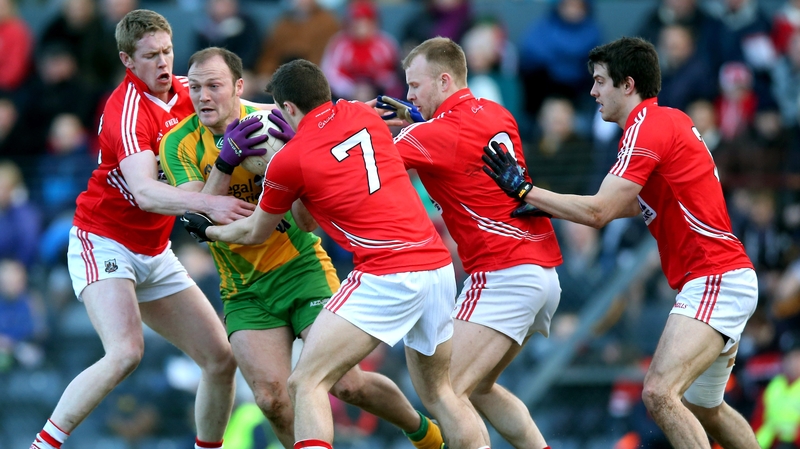 On too many occasions they have been betrayed by a sense of entitlement allied to below-average work rate.
The loss of Colm O'Neill is compensated by the expected return of Ciarán Sheehan.
With Ray Carey and Don Cotter absent, much of the defensive responsibilities will be shouldered by Michael Shields and Noel O'Leary.
Too often the defenders renege on their defensive duties in order to attack. A more conservative approach at the back would benefit them.
The Graham Canty / Aidan Walsh axis in midfield provides good balance and, provided they get quick ball, their forwards are accurate and dangerous.
Cork are capable of regaining the big prize and taking the shortest route offers the best chance.
Faith in Tyrone is justified
Mickey Harte knows a big challenge awaits Tyrone in Ballybofey. Equally he has seen evidence that his team are in the mood.
The influence of Matthew and Mark Donnelly has grown. There were flashes in the latter stages of the league that their suffocating defensive system is in good order.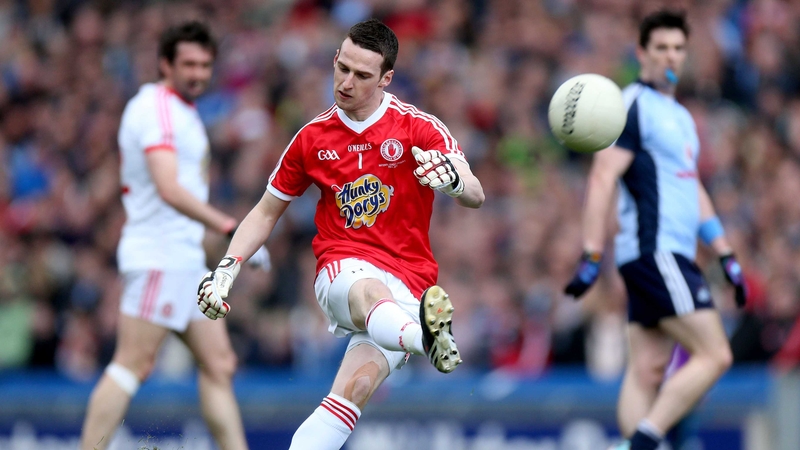 Provided they stay healthy, Seán Cavanagh and Stephen O'Neill can influence games like few others.
The 'back door' route will be enthusiastically navigated if required. Odds of 10/1 are generous and I think their form will worry prospective contenders.
Potency in attack an issue for Mayo
Beaten All-Ireland finalists Mayo travel to Salthill on Sunday in the knowledge that some of their better performers are unavailable due to injury.
Mickey Conroy's absence is a big blow and coupled with the likely unavailability of Jason Doherty this robs the team of their best finishers.

Two goals scored (one by corner-back Keith Higgins) since the All-Ireland quarter-final is a worry, as is the absence of a genuine match-winner in the attack.
The team will be well prepared, ambitious and won't lack belief. Midfield can provide a winning platform and provided the defence is disciplined they are good enough to overcome this hurdle.
Mayo's odds of 11/1 for Sam contrast sharply with the 33/1 odds being offered on Galway.
Very soon Galway are going to awaken from the slump in which they find themselves, but as of now Green and Red have the upper hand.
What of the rest?
There is little to separate the claims of Down, Derry, Kildare, Westmeath, Armagh, Laois and Monaghan.
Of these I think Derry and Kildare will have extended summers. Down will struggle in Celtic Park as too many influential players are absent, whereas Derry have progressed.
A win in Leinster would do wonders for Kildare, Westmeath or Laois but the Dublin juggernaut looks too menacing right now.
It appears that history will repeat itself with the winner coming from the ranks of the recently crowned.
I'd love to see a 'Wiganesque' moment with a new team shattering predictions and creating a fresh page of history.
Alas, I live in dreamland!
LIVE GAA
Live television coverage of Cavan v Armagh and Galway v Mayo on The Sunday Game Live from 13:15 on Sunday 19 May on RTÉ Two and RTÉ.ie (Ireland only).
Live radio coverage of all the day's action featuring Galway v Mayo from 14:00 on RTÉ Radio 1, RTÉ RnaG and RTÉ.ie (Worldwide).
Highlights and analysis of all the weekend's action on The Sunday Game from 21:30 on Sunday 19 May on RTÉ Two and RTÉ.ie (Ireland only).