Camogie championship semi-final previews
Updated: Friday, 22 Aug 2014 14:31

| Comments
Liberty Insurance All-Ireland senior semi-finals
Saturday 23 August

Cork v Wexford, Semple Stadium, Thurles, 2.00pm
Wexford have won four of the last eight titles, while Cork are second on the roll of honour with 24, so this certainly represents a battle of camogie's bluebloods.
Wexford were the most recent of the sides to scale the summit, having completed a three-in-a-row in 2012. Cork haven't lifted the O'Duffy Cup since 2009.
Cork have always been in contention in the intervening period, but their only appearance in the final was when Ursula Jacob inspired Wexford to that historic success two years ago, scoring one of the best goals ever seen in an All-Ireland final en route to totting up 2-7.
The likes of the Mackey twins and Julia White really established themselves that season and with players of the calibre of captain Anna Geary (fresh from her Rose of Tralee commitments), Briege Corkery, Rena Buckley and Gemma O'Connor forming an experienced core, along with Orla Cotter shooting the lights out, they came through a stern test in the quarter-final against Clare to reach this juncture.
The Leesiders were shocked by Clare in the league semi-final, having won the spring competition the past two years, but it is no surprise to see them back in the last four at the end of August.
Last year was a strange one for Wexford. JJ Doyle stood down after such a successful period, only to return on the eve of the championship after the departure of his replacement Martin Lynch.
A number of key players were unavailable too and it was only their famed stubbornness that got them to the semi-final.
They never looked like maintaining their run against Galway but are a completely different proposition this year. Helena Jacob has taken over the reins, having been part of the aforementioned All-Ireland winning squads, and also been in charge for many of WIT's recent Ashbourne Cup successes.
Una Leacy is amongst those who have returned to the fold, taking some of the scoring burden off the remarkable Jacob. Katrina Parrock and Kate Kelly remain key operators in that department too, while Mags D'Arcy and Mary Leacy's mastery in the back seven is crucial.
Wexford won by six points when the teams met in Group 1 but the perils of reading too much into round-robin games when you reach the knockouts stages are well known by now.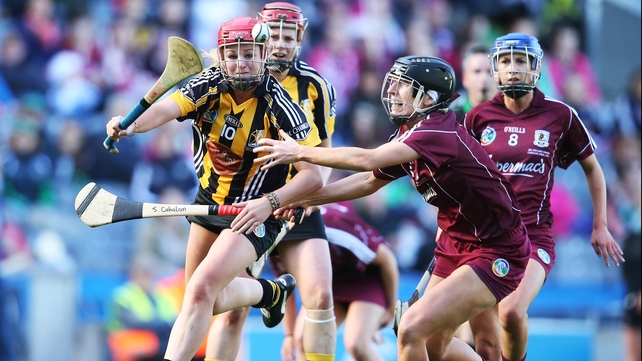 Sunday 24 August
Galway v Kilkenny, The Gaelic Grounds, Limerick, 4.00pm
This is a repeat of last year's final (pictured) but despite the fact that Galway were deserving winners that day, there are many pundits tipping Kilkenny to reverse the placings this time around.
Galway failed to make the league semi-finals and stuttered through their championship group as well. They failed to beat either Wexford or Cork but had too much firepower for Dublin and that was enough to get the champions into the quarter-finals.
Many thought that Clare might end their reign but Tony Ward's girls showed character, if not the fluidity they would have liked, to hold off a determined opposition after extra time.
Galway didn't really get going until the knockout stages last year too and will be hoping for a similar trend this time around.
Just as now, Kilkenny were the team with the better record, having won all their games but that counted little in the end, as Galway's finals experience told.
They were more controlled and clinical but having gone through that should stand to Kilkenny. The Noresiders, who have made excellent progress under Niall Williams and Graham Dillon, have looked very good this year, winning the league along the way.
They maintained the good impression when accounting for all four opponents in Group 2.
Denise Gaule and Aoife Neary are part of an outstanding forward line that has been scoring heavily, while Kate McDonald and Jacqui Frisby are key operators in a back division that has conceded just one goal in the campaign. Ann Dalton is one of the game's best players.
Galway have lost Therese Maher, who retired having finally ended her marathon quest for the Holy Grail, but Aislinn Connolly is back after taking a year out.
Lorraine Ryan has been a tremendous leader in recent years and Niamh McGrath is deadly accurate both from play and placed balls.