Interview: Aoife Neary hails Kilkenny preparation ahead of senior camogie final
Updated: Friday, 13 Sep 2013 12:33

| Comments
By Paul O'Neill
While the men may have failed to bring any hurling titles to Kilkenny in 2013, Aoife Neary is confident the ladies can change that stat on Sunday, as the county faces Galway in the All-Ireland senior camogie final.
Neary believes Kilkenny are ready to end the county's 19-year wait for more All-Ireland glory. The Black and Amber ladies are set to make their first appearance in the decider since 2009 when the 12-time champions take on Galway at Croke Park on Sunday.
Four years ago saw a defeat to Cork, but Neary is convinced she and her team-mates are better placed to land the biggest prize in the game.
She said: "Looking back, that final might have come too early for us.
"We had quite a young bunch of players at the time and the game and the whole occasion seemed to get to some, as it was their first involvement in a final.
"But now we are that bit more experienced and I think we can handle the whole thing much better. Also the spirit in the squad is excellent as we have come through quite a lot together in recent years and hopefully that will stand to us."
Kilkenny face into the game with a psychological edge over the westerners from having beaten their opponents already in the group phase of this season's Championship.
That was in the first series of fixtures in June when the Leinster side finished with two points to spare, but Neary predicts a different game this time around.
"Galway are a physical team and, like us, they are hungry to win" - Aoife Neary
She recalled: "Heading into the Championship, we were focused a lot on the Galway game as we were keen to get off to a winning start.
"We set out our stall in the first half and thankfully went on to get the right result, which gave us a boost for the rest of the group games and the semi-final too. But, compared to that most recent game with Galway, I think the final will be a different sort of affair.
"The first game was not a do-or-die type of situation like the final will be, while the surroundings will be different with us playing at Croke Park and not Athenry as we did before.
"I would like to think we have improved since we last met Galway but the chances are they have come on too. Either way I think it promises to be quite a close encounter to round off what has been a fascinating Championship."
And she went on: "Galway are sure to provide us with a massive challenge in many ways.
"They have a strong side with outstanding players such as Brenda Hanney and Therese Maher, who have played a lot of camogie at this level. Galway are a physical team and, like us, they are hungry to win as none of their players have got their hands on the All-Ireland before.
"Remember in the semi-finals they overcame a Wexford side that was going for a fourth All-Ireland in a row so they are very much a force to be reckoned with.
"For us, a lot is likely to hinge on how hard we work when Galway happen to be on a roll. If we can make the right effort – like we did when big questions were asked of us by Cork in the semis – then we should have a great chance."
And Neary puts much of Kilkenny's progress this term down to their new management set-up which is headed by Graham Dillon and Niall Williams.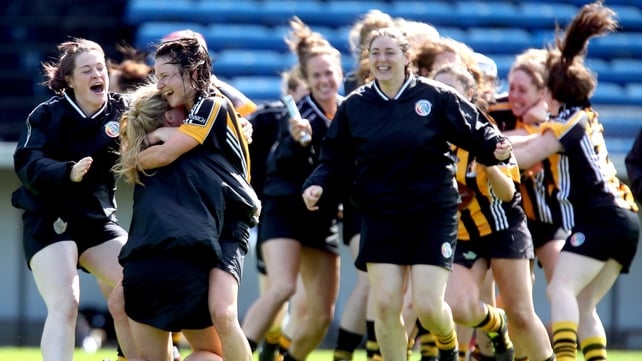 Dillon and Williams teamed up to take over as joint-bosses and have overseen the further development of the side.
She added: "Graham and Niall have freshened things up with some new ideas and that has been a good thing.
"They work well as a team and have helped bring us on some more. Reaching the final has been great for them but winning it would be a tremendous reward for everyone involved."
Meanwhile, Neary says the camogie side are more than happy to be the centre of attention in Kilkenny as - unusually - no hurling team has managed to deliver an All-Ireland title for the county this year.
While the county's various hurling sides have drawn a blank, their camogie counterparts are 60 minutes away from landing a national crown and Neary – whose father Paddy won two All-Irelands as a player with the hurlers – is keeping her fingers crossed that they can give fans some silverware.
She concluded: "Certainly more often than not at least one of the Kilkenny teams is crowned All-Ireland champions in hurling every year so it feels strange that nothing has been won in 2013.
"The hurling fans in the county have always been very supportive of us but over the last few weeks they have got behind us probably more, which is fantastic."
Live web-only coverage of the All-Ireland Junior Camogie Final between Kildare and Laois from 11:55 on Sunday 15 September on RTÉ.ie (Worldwide).
Live television coverage of the All-Ireland Camogie Finals between Galway and Limerick (Intermediate) and Galway v Kilkenny (Senior) from 13:45 on Sunday 15 September on RTÉ Two and RTÉ.ie (Worldwide). Live radio coverage of all the day's action from 14:00 on RTÉ Radio 1, RTÉ RnaG and RTÉ.ie (Worldwide).
Highlights and analysis of all the weekend's action on The Sunday Game from 21:30 on Sunday 15 September on RTÉ Two and RTÉ.ie (Worldwide).