Leitrim manager Andy Moran remained upbeat after his side's heavy defeat away to Galway - but acknowledged that the conditioning and skill-level of the home side really told after the break.
Playing into the wind in the first half, Leitrim trailed by just a point after 20 minutes, however the favourites pushed the lead out to seven by half-time (0-12 to 0-05) and really turned the screw thereafter.
Four second-half goals, all coming courtesy of substitutes, Patrick Kelly with a brace and Niall Daly and Owen Gallagher with the others, saw Padraic Joyce's team run up a 23-point margin as Leitrim wilted.
"For the majority of the first half, up until the 31st/32nd minute, we did really, really well. We were really competitive, especially around the middle of the field," Moran told RTÉ Sport after the game.
"But at the end of the first half and into the second half, the conditioning and the skill level of the Galway boys just told. We struggled to go with it over the course of the 70 minutes.
"We came in with hope. I said beforehand that we were looking for our boys to play their best game. I thought for large parts of it, we did it. But we're coming from Division 4, we're trying to build.
"You even saw yesterday, in the Cork-Kerry game yesterday, it went very quickly on Cork and the same thing happened to us today. Once that game went in at the start of the second half, we struggled from there on in."
Prior to today, 2022 had gone reasonably for Leitrim, having narrowly missed out on promotion from Division 4 and then navigating the traditionally awkward challenge of London in Ruislip.
And Moran is enthused about the Tailteann Cup, although he would rather it were operated on a round-robin as opposed to the geographically organised knockout structure.
"Great idea. I think they've changed it slightly from what we were sold at the start. I think they've made it north and south [fixture paths] and not round robin. I'd prefer if it was an open draw in a round-robin format so that it guarantees us two to three games. But unfortunately that's not the way it's going to be.
"But the essence of the tournament is a really good idea and hopefully we get more games out of it."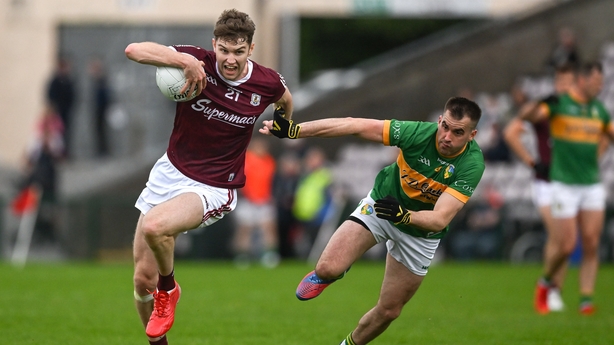 His opposite number Padraic Joyce was fairly content with his team's work, acknowledging the "brilliant" scoring tally of 4-20.
However, he admitted his eyes were now trained on the challenge of Roscommon, a regular irritant for Galway in recent years. In addition to regular meetings in the league, Galway and Roscommon collided in four successive Connacht finals between 2016 and 2019 - Galway winning '16 and '18, Roscommon winning '17 and '19.
"We're ready for action. We know it's going to be tough," Joyce told RTÉ Sport.
"They've beaten us twice already this year. We won the two games last year. So, there's nothing between the two teams.
"Roscommon are playing a much better brand of football than they used to, over the years. They're minding the ball really well, they've got really potent inside-forwards.
"That's something we have to nullify ourselves and get scores ourselves at the far end. It's going to be a fascinating game and it's a challenge we're looking forward to."