Galway, Kerry and Roscommon are the only unbeaten teams in the four divisions of the Allianz Football League going into the last round of games.
And Galway are the only side with a 100% record, winning all six games so far and having already guaranteed promotion.
They are the highest scorers with 123. An average score of 0-20 per game is impressive. They have scored at least a goal in every game.
Galway have defended well too. They did concede more than they would have liked in their games against Offaly and Cork but in all their other clashes they kept the opposition's scoreline down impressively, conceding an average of 0-09 a game.
Galway have serious winning pedigree, having won nine All-Irelands - only Kerry and Dublin are ahead of them. However, since their last All-Ireland win in 2001 they've had periods where the team were simply not contenders.
Underage success - they had minor final appearances in 2016, 2018 and 2019, were Under-20 finalists in 2017 and winners in 2020 - has helped to fuel the present group.
Add in the return of key players from long-term injuries and the confidence that can be gained from Sigerson success and Corofin's All-Ireland Club success and you get a real melting pot for Padraic Joyce and his management team.
What does 2022 have in store for Galway then? Are they ready to compete in the latter stage of the Championship?
Close analysis of their game against Derry would suggest they have a number of things going their way.
A team of footballers
We are all familiar with the footballing skills of the likes of Paul Conroy and Shane Walsh, but on this Galway team every player is comfortable on the ball, regardless of the numbers on their backs.
Galway's defenders are not there just to mark a man.
They are comfortable galloping up the field carrying the ball or taking a ball off the shoulder and running into space. In the win last weekend over Derry, Kieran Molloy and Liam Silke were a constant threat on the ball. John Daly carried ball after ball directly into the Derry half.
Galway defenders also showed a desire to kick the ball when it was on. Their half-back line, in particular Dylan McHugh, kicked beautifully into their forwards.
An example of their effective kick passing in the first half was a wonderful Matthew Tierney point. The ball was moved the length of the field by two kick passes, the first from the Galway right corner-back position.
A willingness to work as a team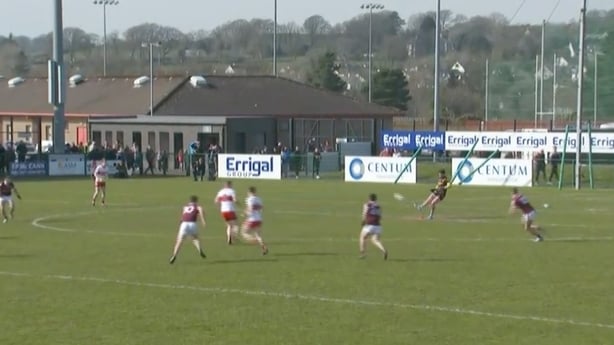 Galway went after the Derry kick-outs from the throw-in. Derry were looking to go short and fast with their kick-outs. Galway pressed right up. The picture below shows five Galway players ready to trap the poor Derry player that received the ball.
Tierney's goal came directly from a Derry kick-out that was won due to pressure from Damien Comer in particular. Galway's intensity forced Derry to change their game plan and kick long.
Galway are working hard all over the field when not in possession of the ball. They had massive workrate and desire to get players into good defensive positions.
It all meant that Derry found it really tough going when it came to troubling the Galway goal.
Decision making in possession
In the first half of the Derry game, when it was still a contest, Galway really played heads-up football. Players in possession were constantly scanning what was in front of them; they always seemed to be looking to play the ball forward.
This is a breath of fresh air as we have seen so many games where massive amounts of passes go sideways and backwards.
Galway have to be commended for their decision-making. They scored 3-08 in the first half against a Derry team that had not conceded a goal in the league this year. When a kick was on it was given, however when it wasn't on they were patient.
They avoided going into unnecessary contact with Derry defenders. The ball was passed at angles to runners off the shoulder, to players in space and then when the chance presented itself they had a shot. Damien Comer's goal was set up by patient handpassing followed by a swift kick pass when the opportunity came.
Confidence and togetherness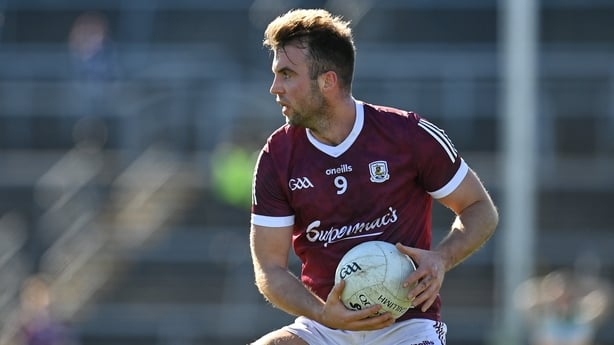 You can't beat winning. Galway are on a roll. Regardless of the competition in 2022 - FBD, Sigerson, Allianz League - Galway players have performed well and won matches.
When you are on the crest of wave with results, players come together even more, collective belief grows and with it expectations.
In the Derry game the Galway players worked hard for each other, they supported the man on the ball, they doubled up in tackles and they swarmed the Derry danger men.
Players interchanged positions and covered for each other. In the first half Conroy made a series of support runs to get on the ball.
He eventually got a kick off and scored a point, then with a nod and a quick word he swapped positions with Comer. No fuss - just do what is needed for the team.
Galway started the league this year with the wind at their backs in Pearse Stadium, going in at half time 1-09 to 0-00. Since then they haven't looked back.