Galway manager Padraic Joyce labelled his side's first-half display the best of his reign as they dismantled promotion rivals Derry, sealing their return to Division 1 at the first attempt.
The top-of-the-table Division 2 clash in Owenbeg - billed beforehand as a promotion showdown between two well-matched, in-form sides - unexpectedly turned into a blowout in favour of the westerners, Galway rattling in three goals in a devastating first-half performance, essentially settling the contest by half-time.
Once again, playing with the breeze in the first half - Joyce admitted his surprise that Derry, after winning the toss, opted to go against it for the first 35 - Galway succeeded in demolishing the home side's kickout, winning numerous turnovers high up the pitch.
With Derry hemmed in and floundering, Matthew Tierney, Damien Comer and Dessie Conneely all plundered first half goals to leave the score at 3-08 to 0-04 at the break.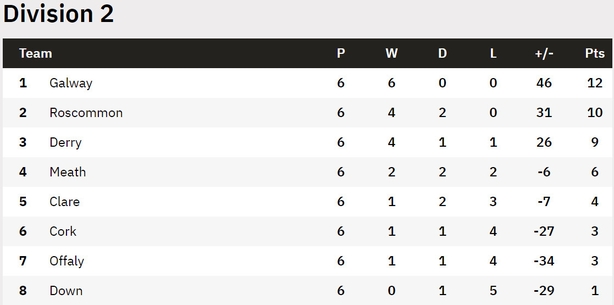 Tomo Culhane added a fourth soon after the re-start to conclusively kill any notion of a comeback. The rest of the game was a formality, Derry bringing the margin of defeat down somewhat as both sides finished with 13 men, through one red and one black card apiece.
"It was probably one of the best first-half performances I've seen under my watch," Joyce told RTÉ's Sunday Sport afterwards.
"I thought we controlled the game really well. I was a bit surprised that Derry opted to play against the wind in the first half. There was a fairly strong breeze there.
"To get three goals in the first half - 3-08 - it was great scoring. I thought we judged the wind really well. We didn't have any potshots or wild shots at goal. We just worked the ball really well. Lads were really mature.
"Everyone was saying to us this was going to be a really tough battle. We knew that.
"The first half was just fantastic. I couldn't speak highly enough of the lads. Just very proud of the way they played."
Joyce's Derry counterpart Rory Gallagher admitted it had been an "exceptionally disappointing" afternoon, pinpointing their kickout woes and defensive slackness as the root cause of their problems.
"We were well and truly beaten. There's probably a five-six point breeze here at the start of the first half. To go 13-14 points down was exceptionally disappointing," Gallagher told RTÉ Sport.
"Galway got a couple of goals from turnovers and our kickouts. They gave us a good lesson in it.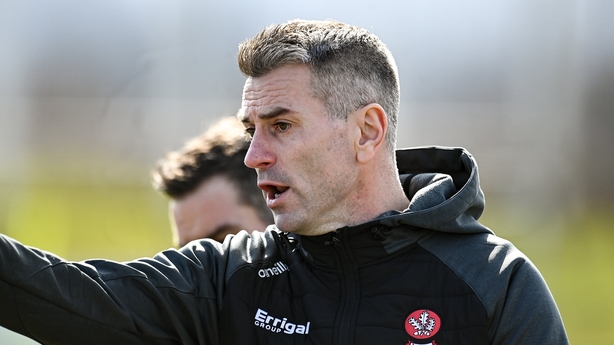 "The bottom line is we were found wanting in our energy levels and in our collective will to defend. We were found wanting when we lost them kickouts.
"There's an emotional aspect to this in that when you concede them goals, it's very hard to recover quickly. But it's a lesson for us."
For Derry, it was a first loss in the Allianz League since their two point loss away to Cork in Division 3 prior to the pandemic.
While promotion to the top tier is no longer in their hands - Roscommon will make it if they can defeat already promoted Galway next weekend - Gallagher was quick to stress that there's plenty to play for.
"All is not lost. We've been on a terrific run, we were unbeaten in 12 league games. But obviously, Roscommon was a big step-up and Galway is a step-up.
"You're going to get setbacks. We didn't want one in the style we got today but we got it."