Laois manager Billy Sheehan voiced his opposition to deciding Gaelic football matches on penalty shootouts, after his own team triumphed against Kildare in last night's O'Byrne Cup semi-final.
Less than two weeks after suffering an unsightly hammering in Wexford, Laois progressed to the O'Byrne Cup decider with a 6-5 shootout victory over Kildare, Fergal Byron saving the final penalty from Paul Cribbin in sudden death.
However, the new Laois boss, who took over the reins last October, isn't inclined to trumpet the win, insisting that taking penalties, soccer-style, doesn't constitute a skill in Gaelic football and that another mechanism should be found to resolve drawn matches.
"To be honest with you, I don't think it's a skill in the game. I'd rather if people took frees off their hands," Sheehan told RTÉ Radio 1's Morning Ireland.
"It is going down the soccer route. I'd rather if there was even frees from a certain distance or just on the 45, or whatever. I don't think penalties is a way to decide a Gaelic football game.
"Ah, but we didn't win. That's the fact. We drew the game. I know people will say we won but we didn't win. We got a draw. Probably, at the end, we were hanging on. We had some opportunities, they had some great opportunities. But the boys' attitude is very good and that's all I can ask for as a manager."
Regardless, the result represents a striking turnaround for Laois after their alarming 15-point drubbing at the hands of Wexford in Hollymount on 8 January, the hosts ramming in six goals.
They subsequently recovered with an impressive six-point win over Meath in Stradbally before a win at home to Wicklow by the same margin and now they've progressed past Kildare in the semis - albeit after a shootout.
Sheehan flatly admitted that the Wexford showing had been an "unacceptable performance", from the management as much as the players.
"The first day we're still learning from and I'm still learning from. That day was an unacceptable performance but it was unacceptable from me as well. I'm the manager of the team, I coach the team and the way I set up the team was wrong. I take the blame and not the players and it's my job to try and improve things.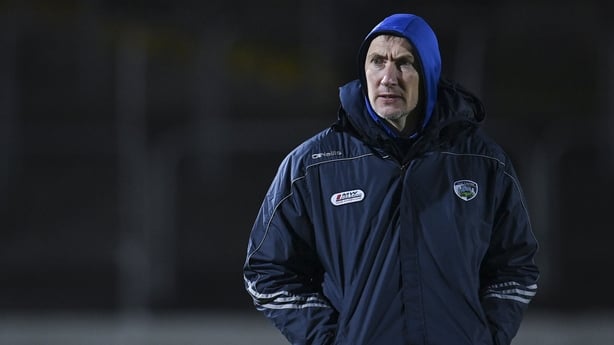 "As I say, it's the O'Byrne Cup. You want to go out and win games. Everyone says it's a learning curve but when you're on the pitch, whatever it is, challenge game or training session, you've got to have that winning element. Unfortunately, the first day, we had a very, very bad day out. We've improved a small bit since."
Laois - O'Byrne Cup winners most recently in 2005 - face Dublin in the decider in Carlow on Saturday, in their fifth match in 14 days.
"There's a game on now in three or four days," Sheehan says. "The most important thing is we assess things. The GAA are on about burnout. We aren't allowed play a game until the 1st of January and now they've given us five games in 14 days, which I think is very hard on players. But we're not going to be ones to make excuses. We'll be there on Saturday and we'll be ready to go."