Austin Stacks 0-13 Kerins O'Rahilly's 0-10
Austin Stacks have been crowned Kerry SFC champions for a 13th time after getting the better of neighbours Kerins O'Rahillys at Austin Stack Park in Tralee.
Just two kilometres separate these two sides but, in the end, only three points separated them on the pitch as Wayne Qullinan's charges matched the record of 13 titles set by Dr Crokes in 2018.
In front of a crowd of 8,453, played in near-perfect conditions, Stacks survived a late O'Rahillys' resurgence to bring home the Bishop Moynihan cup and win bragging rights in the county town of Tralee in what was the first meeting between the two sides in the Kerry SFC final in 85 years.
Heading into the game, both sides had just the one Kerry SFC title each over the past 21 years — O'Rahillys last brought home the Bishop Moynihan Cup in 2002 while Stacks were victorious in 2014.
In 2002, O'Rahillys were stopped at the semi-final stage in Munster, succumbing to eventual All-Ireland champions Nemo Rangers, while Austin Stacks lost out to Slaughtneil in the All-Ireland club semi-final in February 2015 after winning Munster in late 2014.
Today was the first County Senior Football Championship decider between the two town clubs since 1936 and also the first all-Tralee final since 1963 when John Mitchells defeated Kerins O'Rahillys to secure a famous five-in-a-row.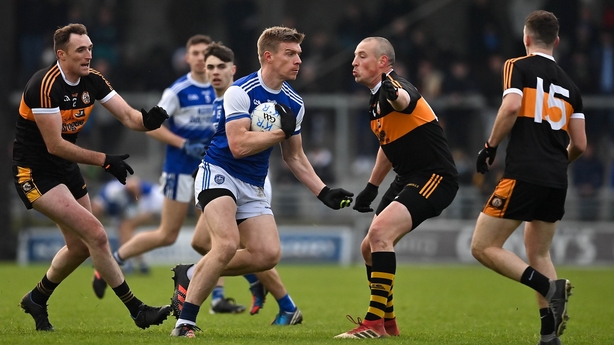 Stacks got off to a flying start and Michael O'Gara had his side a point up inside the first minute.
O'Rahillys responded well and a Jack Savage free had the scores level by the second minute. However, boosted by the injury of key O'Rahillys midfielder David Moran, Stacks scored the next two points – a free from Darragh O'Brien and a superb Fiachna Mangan effort had the Rockies two points ahead by the 10th minute.
However, Savage popped over his second free of the afternoon – a well-taken score from near the sideline – to narrow the deficit to one heading into the first waterbreak.
A Barry John Keane point in the 18th minute - William Harmon's side's first from play - levelled the scoreboard, but an O'Brien free and a close-range talisman Kieran Donaghy effort had Stacks two points ahead yet again.
Moments later, hearts were in mouths at the Strand Road side of the ground, but Shane Foley did superbly well to deny O'Brien the opening goal. At the other end, after a quick counterattack, Keane slotted over his second point to make it a one-point game seven minutes before half time.
Two O'Brien frees killed O'Rahillys' momentum as Qullinan's side opened up a three-point lead in injury time.
With the last kick of the first half, Brendan O'Sullivan put four points between the two teams, a stylish point off his left to make it 0-8 to 0-4 in favour of the Stacks.
In the opening 30 minutes, Wayne Quillinan's charges were effective in their tactic of kicking the ball high and long into Donaghy, resulting in scoring four from play and winning numerous frees from the approach.
After the restart, O'Rahillys came out all guns blazing, and Conor Hayes brought his side to within three points after what was the first attack of the closing 30 minutes.
Frees from O'Brien and substitute Sean Quilter (2), and a Joseph O'Connor point cancelled out a Savage free as Stacks opened up a comfortable looking six-point lead at the second half waterbreak.
Three late Jack Savage points and a Cormac Coffey effort, either side of an O'Brien free – his fifth of the afternoon – gave O'Rahillys a fighting chance. But Stacks defended well and held off a late search for an the all-important equalising goal to secure the well-deserved three point win.
In two weeks' time, Austin Stacks will take on Newcastle West in Kerry in the Munster Club Senior Football Championship semi-final.
The Tralee club will aim to repeat their 2014 Munster winning campaign when the Rock Road side defeated Waterford's The Nire in Páirc Uí Rinn.
Austin Stacks: Wayne Guthrie; Colin Griffin, Dylan Casey (capt.), Jack O'Shea; Paul O'Sullivan, Conor Jordan, Barry Shanahan; Joseph O'Connor (0-01), Greg Horan; Michael O'Gara (0-01), Fiachna Mangan (0-01), Brendan O'Sullivan (0-01); Shane O'Callaghan, Kieran Donaghy (0-01, 0-01 mark), Darragh O'Brien (0-06, 0-05f)
Subs: Sean Quilter (0-02, 0-01 mark, 0-01f) for Shane O'Callaghan (42 minutes), Jack Morgan for Griffin (47), Michael O'Donnell for O'Gara (48), Adam Curran for Brendan O'Sullivan (53), Armin Heinrich for O'Brien (65)
Kerins O'Rahillys: Shane Foley; Patrick Begley, Ross O'Callaghan (capt.), Cormac Coffey (0-01); Darragh McElligott, Shane Brosnan, Con Barrett; David Moran, Tom Hoare; Cian Sayers, Jack Savage (0-06, 0-04f), Gearoid Savage; Barry John Keane (0-02), Tommy Walsh, Conor Hayes (0-01)
Subs: Diarmuid O'Sullivan for Moran (seven minutes) (injured), Shane McElligott for Gearoid Savage (53)
Referee: Jonathan Griffin (Glenbeigh/Glencar)