After all the controversies and the turmoil and the fire-fighting, what they're left with is the relief.
Feargal Logan and Brian Dooher became the first (official) joint-managerial duo to guide a team to an All-Ireland title, at least since the cult of the manager in Gaelic Games was kick-started by Kevin Heffernan in 1974.
Dooher, the more flinty of the duo, has been involved in four All-Ireland senior football finals with Tyrone and won all of them.
The pair have embraced the time-worn good cap-bad cop routine.
As Tyrone U21 All-Ireland winner Ruairí Mullan told RTÉ during the week - "If you wanted to break up with your girlfriend, Brian Dooher would be the man for it and if you wanted to win her back you'd go to Feargal Logan."
They also diverged, it appears, in their immediate ambitions for 2021.
Whereas Logan set more modest targets - "My starting ambition was to win one match" - Dooher was inclined to be bullish.
"Everybody has different opinions. But the question I would say is why d'you have to wait a year or two?" Dooher said to reporters, when asked whether he expected to win 'the big one' so soon into their reign.
"There's no other management that's any different. You only have one chance at it. You make the most of it whenever you can. Let's face it, we had the rub of the green at times, when we needed it. Particularly in the semi-final, when we used up a right bit of luck. And today too we used up a right bit of it.
"The way we look at it is - don't wait until tomorrow. Do what you can today. Don't put off anything you could do today. Them boys did that. And you never know, you might never get back in an All-Ireland final. You have to grasp that opportunity whenever it comes.
"You're very fortunate that you get to an All-Ireland final. Whenever you get there, you have to give it everything you can. Today, there's some boys, they put their bodies on the line.
"It gives you just a sense of satisfaction. A lot of relief for us. They've put their lives on hold. Everything revolves around football. They gave us a commitment at the start of the year that they'd do whatever it takes. And they did whatever it took. Thankfully it was enough for us.
"As Feargal says, it wasn't exactly in a straight line. But we got there in the end. It's just good to be here at this stage. It's probably in the next few days at home, that we'll know what it means."
On the specifics of the game, Dooher cited the penalty miss as a hinge moment. Penalty misses in finals - in '82, '92, '94, '2001 - have usually had a seismic impact and the Tyrone joint-manager feels it gave his team a timely boost. And he singled out Tyrone's relatively unheralded midfield duo, Brian Kennedy and Conn Kilpatrick, for particular praise.
"The game was chaotic. Probably the turning point was their penalty. Once they missed the penalty, it just gave us that wee bit of a boost that we needed. Then we went up and got the goal. Cathal's (McShane) goal was the one... that separation, we managed to keep that. We managed to kick on.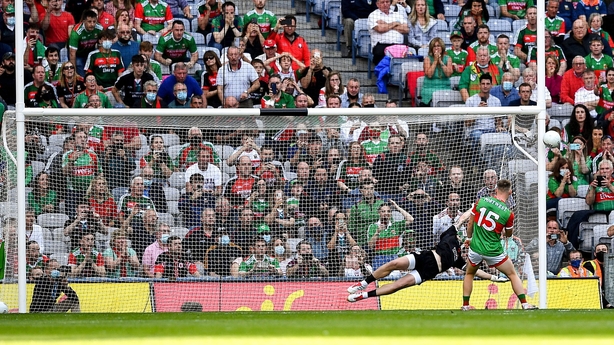 "We struggled to get the ball in early at the start and hold onto it. Whenever Cathal came on and Darragh (Canavan) came on, they added that wee bit of extra. And once the ball went in there (then) we managed to get scores a bit better.
"Brian Kennedy, to me, had an exceptional performance there. We knew it was in him. It took a long time to come. We knew it was there - he was probably carrying injuries into other games, to be fair to him.
"But Brian Kennedy and Conn Kilpatrick, they stood up today and showed that they're proper inter-county midfielders and as good as anybody out there. We needed them today. They caught ball, they fought for everything and they put in a tremendous shift."
The two managers were asked to cast their minds back three months, when Tyrone's All-Ireland prospects didn't look too hot after Kerry ran roughshod through their defence in Killarney.
They shipped six goals that evening. Since then, they've conceded one in five matches.
"We had a great night, ironically," recalls Logan, with a chuckle. "You know, Killarney and all the rest. But it was just a six-goal mauling.
"That stripped everybody bare. You're as good as your last result and your next one. That was June 12th, it feels as though it was a year ago at this stage.
"But it was a lesson in football and aggression and how to score goals. We were all over the shop. And people were entitled to say what the heck is going on in Tyrone there. But we were lucky it was national league semi-final.
"Because in the cutthroat championship this year, you'd have been up the road. And we'd have been up the road with it."
Logan's inter-county career played out before Mickey Harte grabbed hold of the senior job and fashioned a multiple All-Ireland winning team.
The defining game of Logan's career was the grimly controversial 1995 All-Ireland final, where he was on the wrong end of Charlie Redmond's attempted head-butt, which saw the Dublin forward immediately sent off and for which he eventually went off.
The one-point loss that day, in a game where Tyrone had all the momentum in the closing minutes, still stings, Logan admitted this week.
After yesterday's win, he remembered his comrades from '95 and said this win has brought a measure of redemption.
"There's no getting away from the fact that 1995 was a very, very painful day for Tyrone. In particular for the lads, the 95 lads, who I ran with it in the day and still would run with.
"I took all their names in my phone here, I'd love to give them all a shout here. I'd love them printed tomorrow and say 'listen lads, that's one that got away and we've partly redeemed it.'
"We didn't redeem it as players but in my mind anyway, it's somewhat of a redemption."