Back to back. John Kiely can scarcely believe it himself.
When he took over Limerick ahead of the 2017 season the county hadn't won an All-Ireland hurling title in 44 years.
Kiely had been a panellist on the teams that lost the 1994 and '96 finals. They had made it back once in the meantime, but were out of contention from the early stages against Kilkenny in 2007.
The man from Galbally, on the Tipperary border, had managed a hugely promising Treaty U21 team to a 16-point win over Wexford in the 2015 decider but that first year at senior level was far from an instant success.
They lost by four points to Clare in Munster, then by three against the Cats in the qualifiers. That was that.
But the famine was brought to end in dramatic fashion against Galway in 2018 and Limerick have now captured Liam MacCarthy three times in four years, with yesterday's 16-point final record win over Cork their most dominant display yet.
"It is hard to comprehend," admits Kiely. "It just seems like yesterday that we had two championship games in 2017 and lost them both.
"We were facing into a winter of complete and utter, total soul-searching. We just managed to turn it around. There is a great work ethic in the group, great confidence in the group."
The confidence is well placed. They have lost only one knockout championship game in the last four seasons.
"We might have had a disappointment in 2019 but is it something we obsess about? It's not. We took our beating that day. Kilkenny were the better team, end of story, move on.
"We struggled early doors (this year) because we had a lot of work to do when we came back. We were incrementally building towards today during the course of the year, but we had setbacks along the way, such as the Munster final first half (against Tipperary), a complete and utter fail on our part to perform. But we got it right today.
"It's a great privilege to be after putting in a performance like that in the most important sporting fixture in hurling in the country. To do that when you need it most, there is tremendous satisfaction. They are very much on an upward trajectory at the moment and we have just got to keep pushing the boundaries."
Heaven help the rest if they are planning on getting better. The GAA has only just seen one great dynasty come to an end. Are Limerick building another?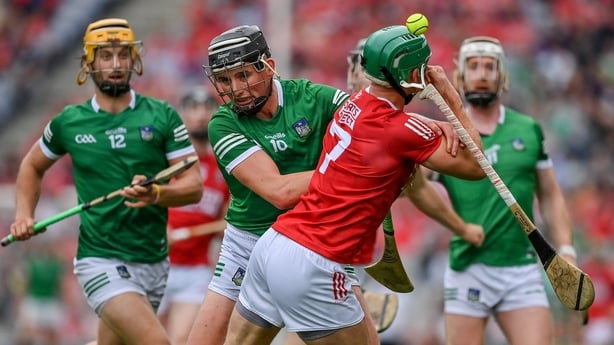 Beaten Cork manager Kieran Kingston describes Limerick as "the best I've seen since the great Kilkenny team".
"The media were raving about the Dublin footballers when they had won four-in-a-row, this Limerick team were the puck of a ball, or a disputed '65' from a four-in-a-row, three Munsters and two National Leagues, so we have to acknowledge that.
"They play it on the edge, they're physical, they're huge men, they're really good hurlers, they're well coached and they're a humble bunch afterwards when you meet them outside."
What makes them so hard to play against?
"Physicality," says Kingston. "I'm not saying over the edge now, but every 50-50 tackle is a 50-50 tackle and they're really, really strong in the tackle.
"We were turned over a significant number of times in all areas of the pitch. When we looked like being in the ascendancy or on the offensive, then suddenly the ball would go over the bar on the other side."
Not everyone would agree that they don't cross the boundaries. The tackling is always hard and frequently high but why shouldn't it be when hurling referees only really enforce the rules of the game during the league?
Regardless, their attacking ability is far ahead of their rivals. The 3-18 they had racked up by half-time yesterday would have won most of the previous All-Ireland finals by itself.
They are bigger and stronger than the rest but also almost telepathic in their teamwork and in the likes of Lynch and Aaron Gillane have some of the most skilful forwards in the country.
JP McManus' money hasn't hurt in helping them progress but other counties have also invested for far less reward.
It seems that Limerick have capitalised spectacularly on a generational crop of wristy monsters, who have been moulded by the inspirational leadership of Kiely and coaching of Paul Kinnerk.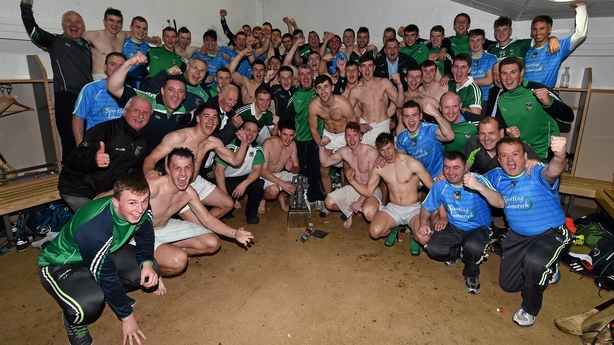 Of yesterday's panel, Sean Finn, Richie English, Diarmaid Byrnes, Gearóid Hegarty, Darragh O'Donovan, Pat Ryan, Lynch, Tom Morrissey and Barry Nash all started for Kiely's U21 champions six years ago. Peter Casey came on as a sub. Mike Casey is only missing now due to injury.
Two years later, many of the same players won it again, now under Pat Donnelly. Gillane, Kyle Hayes and Seamus Flanagan were the standout additions but Robbie Hanley and Conor Boylan have also emerged to become panellists.
Kilkenny claimed eight of the 10 All-Ireland titles between 2006 and 2015 and arguably only stopped winning because time caught up with the likes of Henry Shefflin, Tommy Walsh and JJ Delaney.
Of the 19 players Limerick used yesterday, only Nickie Quaid (32) and Graeme Mulcahy (31) are older than 28. The class of '15 are all 25 or 26. The good times don't need to end any time soon.
"I hope to God, and I think that I'm right in saying, that people very much appreciate how fortunate they are to be alive and able to witness what these boys have done for them"
But the future can wait. Limerick have some celebrating to do.
"I'm not worrying about what's coming down the road, at all," says Kiely. "For me, at the moment, it's about now, it's about enjoying today.
"To have a performance like that and a success like we had today, we have to savour those things.
"It was great to have the crowd here. To have all our supporters, family members and club members, friends and colleagues, all with us. And the wider GAA community in Limerick.
"I hope to God, and I think that I'm right in saying, that people very much appreciate how fortunate they are to be alive and able to witness what these boys have done for them.
"We're very fortunate. We have a great support base behind us. I know we will hit a stumbling point at some stage, somewhere along the road, that's inevitable. But at the moment, these boys are on an upward trajectory. And we intend on keeping them on that upward trajectory."