Dublin manager Dessie Farrell acknowledged that the failings shown in Saturday's All-Ireland semi-final were in evidence all year and said it was "hard to diagnose" what had gone wrong.
After an unprecedented run of 45 championship matches unbeaten, Dublin's bid for a seventh successive title was ended by their greatest modern foes, Mayo, after an frenetic extra-time period in Croke Park.
Speaking to reporters after the match, Farrell, who led the Dubs to a title in his first season in 2020, said that his team found it difficult to halt Mayo's momentum in the frenzied second half period, rueing their inability to tag on an extra score to put further distance between the sides.
"It was obvious we were very flat in the second half. We knew that Mayo - they had done it in the Connacht final as well - were going to come with a lot (in the second half)," Farrell told RTÉ Sport after the game.
"We just found it difficult to get out past their high press and struggled to build any sort of momentum.
"A couple of mistakes and a couple of bad decisions made... I thought at one stage if we could get a score, it would ease that pressure and we could ride out the storm.
"We never could get that additional score that was going to put that safe distance between us.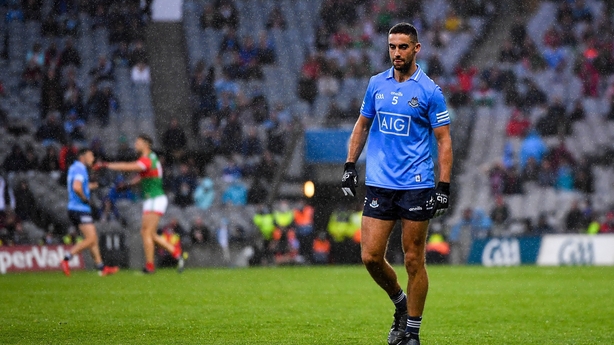 "You could see it building then. It was very hard to disrupt their momentum, which they obviously generated significantly - and got the draw and then extra-time."
Leading by six points after a relatively assured first half display, Dublin registered a paltry tally of three in the second half and may have been content to get a chance to press the reset button in extra-time.
However, things continued to deteriorate from there, with Farrell pinpointing the black card shown to Colm Basquel in the first period of extra-time as a decisive moment.
"We probably had played so badly in the second half that you felt we were going to try and make amends and redress that situation.
"The black card, really, when legs are tired and a lot of fatigue in the system, the black card at that stage was a killer.
"And it was very, very difficult for us to get the ball back. A black card at any stage is problematic, the way teams are capable of keeping possession, but particularly in extra-time, when there's a lot of tired bodies and tired limbs. It was exceptionally difficult.
"That probably spelt the death knell at that stage."
Though some dismissed them at the outset, the warning signs for Dublin were evident all season, with ropey and underwhelming displays against both Wexford and Meath in the Leinster championship, and then again in the first half against Kildare in the provincial final.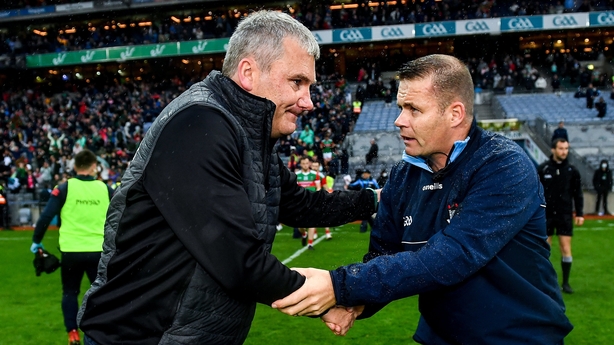 Their margin of victory in all three Leinster games failed to exceed single figures, unprecedented in the modern era of Dublin football.
On being asked to account for the drop-off in performance, Farrell acknowledged that a lack of consistency had dogged them from the beginning of 2021.
"Obviously, you'd like to be coming into this stage of the competition with a little bit more momentum and have your collective team form a little bit better than it was," Farrell said.
"We showed glimpses of it here or there and good patches, some really good patches. I was looking for that consistency we were missing all year.
"First half, we looked really good at times. The second half was the exact opposite of that.
"It's hard to diagnose. It revolves around the lack of consistency across the lack of quarters that was hurting us and it manifested again today."