12-133 in five games is a rather astonishing return for Shane O'Neill's side who came out Group 1A winners last weekend.
Of that tally, 1-48 came from placed balls.
That doesn't exactly fit the hysteria of the 'demise of hurling' that we all heard about, particularly in the early rounds of the league when the new advantage rule was ruffling the feathers of the purists.
Galway defender Shane Cooney believes that high intensity and high scoring games are something to savour not scorn.
"The game is definitely getting faster and faster," he told RTÉ Sport at the launch of the Littlewoods Ireland Camogie League finals and hurling championship.
"There's more goals being scored. I think that's just a result of each team trying to bring a new spin and like that, challenging from a different perspective so it's definitely getting faster
"Every sport is going to evolve over many years. Back years ago, you look at the Cork team from '04 and '05 you could say that that running game at the time was an initial shock but the game keeps evolving. It just happens with time.
"You have some very smart people in backroom teams who put a lot of hours and resources into it and boys are going to analyse what they need to do to solve the problem in front of them. Who knows what that could bring again in future?
"Overall, I think it's great to see the high scoring games. Not necessarily from a back's point of view but from an entertaining perspective for a spectator I think it's definitely good for the game."
It was well documented at the start of the 2021 season that referees weren't consulted about any of the new rule changes, instead only tasked with implementing them and dealing with the backlash on the ground.
This week, team-mate and Galwegian stalwart Joe Canning spoke out in support for referees and acknowledged the added pressure on them to perform by the presence of assessors in the stands.
Cooney agrees that although as a whole the game is in a good place, this may be one area that could be improved on.
"It's definitely something that's heard where referees are always referring to the fact that they're being assessed and that's why they make certain calls," he said.
"I guess if a certain amount of freedom was given there then it could feed into a more free flowing game. I think it's a very good point.
"There's some other points being made around the sliotar being too light or games being too defensive whereas I think the lighter sliotar probably cancels out the game being too defensive because you can get scores from further out.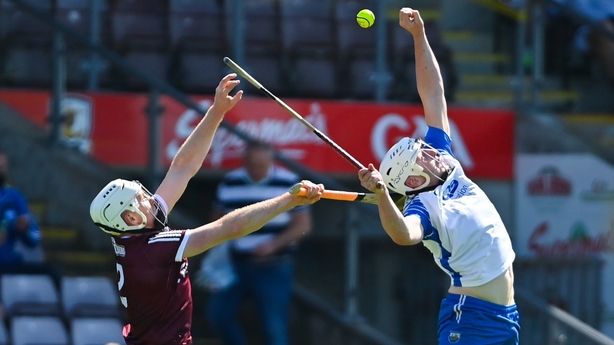 "There's a lot of different arguments out there but overall, I don't think the game is in a bad position.
"We might see that the harder tackles are let go when it gets into the heat of championship. If that later season consistency could be brought across earlier into the championship season then I think that will help with some of the debates that happened earlier in the year."
Last year, Galway bowed out of the race for Liam MacCarthy in an engrossing semi-final against eventual champions Limerick on a late November evening. Seven months later and Cooney is itching to hit the ground running and see if they can go that step further this year.
"It's only two and a half weeks out. It's going to fly by. We won't feel it going until it's over," he said.
"It's great to be back out playing and for the supporters to have something to look forward to. I know there's a lot of people looking forward to a day out after being away for 12 months.
"[Crowds] certainly brings a bit of atmosphere whether or not it's good or bad shouting but either way, it definitely adds something," he laughed.
"When the game is in the melting pot with a few minutes left to go and you hear the crowd behind you it certainly gives you a boost so I'm looking forward to having that back definitely.
"So hopefully we can just go out and put our best foot forward for the county and try to bring some success back to them as well."
After such an impressive league campaign which saw O'Neill allow newer players like Evan Niland capture attention as well as allowing the more seasoned stars like Daithí Burke time to take a step back, the westerners are in an enviable position heading into championship.
"We're definitely building every year. This year, we've been able to give more game-time to different players so there is great depth in that panel at this moment in time. That's one area that we certainly tried to focus on on the back of the league," Cooney said.
"Brian is a perfect example. He's really filled himself out and built on last year. You can see the benefits now, he's tricky for any player to handle.
"There are a lot of leaders in that team. I think it's just a matter of each individual realising their own leadership potential, so it will be great to see the benefits of that in championship.
"It's disappointing that you don't get to play a league final but I think we still have to drive on and focus on what's in front of us and look onwards to championship."
Listen to the RTÉ GAA Podcast at Apple Podcasts, Soundcloud, Spotify, or wherever you get your podcasts.
We need your consent to load this YouTube contentWe use YouTube to manage extra content that can set cookies on your device and collect data about your activity. Please review their details and accept them to load the content.Manage Preferences