Oisín McConville has argued the updated football rules on cynical fouling may have had the effect of encouraging gamesmanship on the part of attackers.
Roscommon manager Anthony Cunningham yesterday implored the GAA to take another look at the new rules, which see a penalty and a sin-bin meted out for a cynical foul which prevents a goal-scoring opportunity.
Cunningham's team conceded no fewer than three penalties, two handed out under the new rule - the second of which was especially contentious - as they lost by nine points to All-Ireland champions Dublin in Dr Hyde Park.
"The big one was the Dublin-Roscommon game where we had a couple of penalties that you could question," McConville told Morning Ireland on Monday morning, in his reflections on the weekend's league action.
"I think once we leave it to the discretion of the referee, we're going to create issues for ourselves.
"The advantage rule is a significant one. The advantage rule was something that I felt had actually worked quite well and I don't understand why we tinkered with it.
"It's early stages, I do understand that we have to address the cynical end of things. But I do think also that we are encouraging a bit of gamesmanship. I think we saw a little bit of that at the weekend.
"That's hopefully something we can eradicate pretty quickly and it's hopefully something referees can stamp down on and realise the difference between someone who throws themselves to the ground and is genuinely being tackled in a cynical way.
"It's 'suck it and see' for a while but on the evidence of what we've seen, I'd have a bit of concern about it."
As far as the early form guides go, McConville spied impressive performances, not just from Kerry, who gave warning of their potential this summer with a demolition of Galway, but also further down the divisions, where the likes of Clare and Derry caught the eye.
"For a lot of teams, the league is where it's at. If you go down the divisions, significant wins for Sligo and Antrim. The Derry result stands out big time, 0-21 to 0-05, that's a significant win for them. Clare, as well, were impressive against Laois.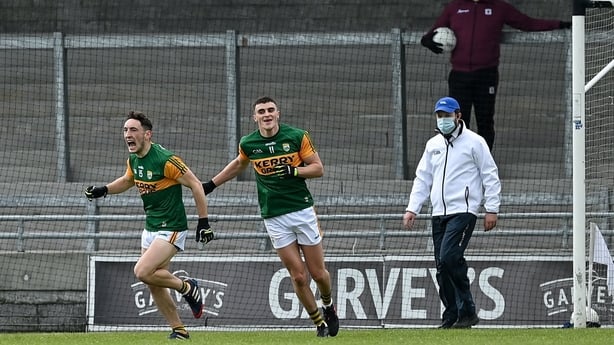 "If you go up the divisions, the standout performance of the weekend, from an attacking point of view and in terms of total football, was Kerry.
"And to counteract that with a forgettable performance, Galway will be hoping for next weekend to come quickly so they can forget about what happened last weekend."
"They warrant mentioning because we have two tough games coming up. That was the significant game for Armagh and I think both teams realised that yesterday. It was played at a pretty ferocious pace and it was a brilliant way for Armagh to get off the mark."