How do the Tipperary footballers back up their greatest year since the 1930s?
In 2011, they won a dramatic All-Ireland minor title, beating an era-defining crop of Dublin footballers in the process. In 2016, they embarked on a lengthy qualifier run which carried them all the way to the All-Ireland semi-final, and a respectable enough showing against Mayo.
But from an emotional standpoint, the achievements of 2020 existed on a higher plane. A Munster title on the centenary of Bloody Sunday, donned in the Grangemockler jerseys. It was enough to mark the players involved as made men.
After their championship exit against Mayo in the Croke Park fog - a disappointing scoreline but could hardly take the gloss off the season - it was soon back into a heavy lockdown and no football for four months.
Did the extended break allow them to better savour their achievement or did it prevent them from celebrating properly?
"I'd say it's more so the fact you haven't seen anybody!" said Michael Quinlivan, speaking at the launch of the Allianz National Football League.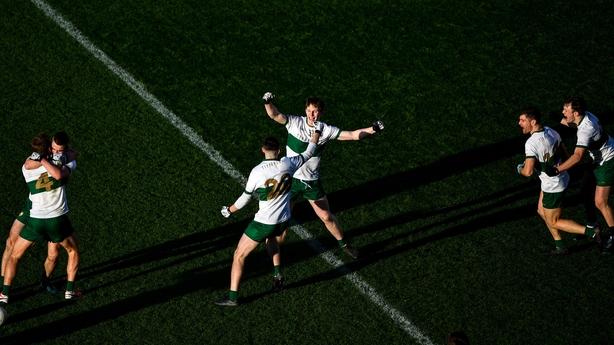 "There has been a whole cohort of Tipperary football people who would travel the length and breadth of the county and we haven't been able to meet them at all. We haven't been able to see how much it means to them, which was the big thing. That's something I'm really looking forward to.
"I think the intention was that we would wait until we would be able to meet as a big group and have a function, and really enjoy it. I think that would make more sense than trying to rush that occasion and get it done so you could move on.
We wouldn't have enjoyed it as much if we tried to rush it in in the last few months
"So hopefully now there might be a few more medals to be handed out if we do 2020 and 2021 together come the end of this year, and it could be a big night for Tipperary across both codes. But I don't think anyone is, we wouldn't have enjoyed it as much if we tried to rush it in in the last few months."
No medal in their hands yet so? No rush, after 85 years.
"I'm nearly sure all teams weren't given out medals at all. But yeah, it's in the pipeline for us. It's not something we're going to rush through. We'll hopefully get it later in the year."
Quinlivan, who turned 28 in February, has been an ever present throughout all Tipp football's greatest days in the past decade, collecting a minor All-Ireland in 2011, a Munster club title with Clonmel Commercials in 2015 and an All-Star for his efforts in 2016.
But the Munster senior title was the most important box to tick.
"Had I finished my career without getting a Munster medal, I don't think I would have ever been disappointed about it. The biggest thing for me is I made some great friends along the way. And I've had some great memories. And that's it. I'm talking like I'm 35 here at the minute, so we'll give a pass on that!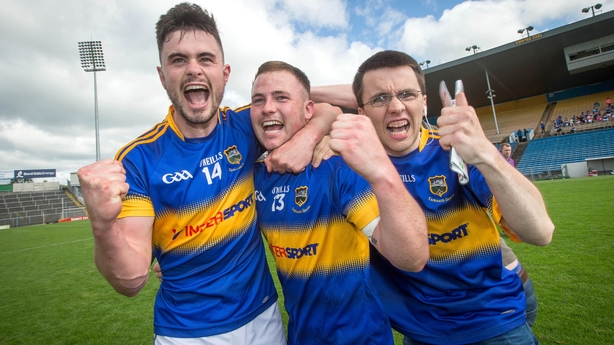 "But obviously on the other side of it, now you have that validation that all of those hours spent, it does mean something at the end of it. It will be nice to look back in 10 years or whenever I stop playing completely between county and club, and to be able to say 'yeah we've done that, that was ticked off the list'.
"But look, we can't sit there and say that's it now. We need to kick on, and we need to keep going. I wouldn't like for us to be still talking about it in a couple of years' time saying that was it and we're not even trying to achieve something similar to it.
"Given the weekend that was in it and all the history that went with it, it's never going to be repeated in that sense. But there's different ways in which you can make seasons memorable I would say."
We need to kick on, and we need to keep going. I wouldn't like for us to be still talking about it in a couple of years' time saying that was it and we're not even trying to achieve something similar to it.
The All-Ireland semi-final result was a bit of a cold shower. In a bewilderingly open contest, Mayo blitzed the Premier County with four first-half goals, a fifth coming shortly after the break, and the contest was over long before the end.
While Tipp rallied in the final quarter, and could have plundered a hatful of goals themselves but for their wastefulness, James Horan's biggest fear for the result late on was that the fog would somehow force an abandonment.
What did Tipp learn from that bracing experience?
"In the first half they gave us a lesson in turning us over," says Quinlivan "Really closing the space with two or three players around the middle of the field. And then hitting us on the break at the far end.
"In the second half we went long a bit more, especially on our kick-outs, and they maybe didn't have the same opportunity to do that and we came back into it. It's natural, when you're that far ahead at half-time the handbrake comes up a small bit because people probably think they're in an All-Ireland final, so you have to take that into account a small bit.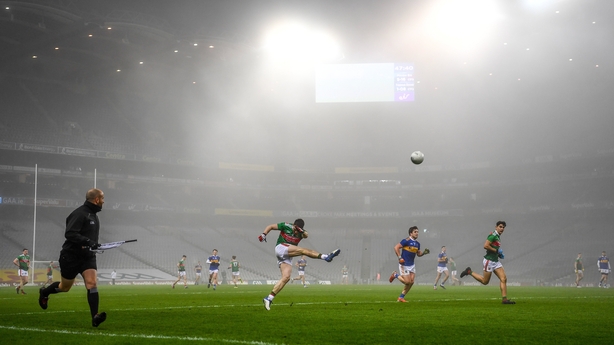 "But certainly that first half, we thought their inside forward line, their half-forward line, the physicality in the tackle. How they tried to basically put us into channels where they knew they'd turn us over. Then hit us as quick as possible on the return. It was impressive to look at. Now we made our own mistakes along the way. It's certainly something we'll have to keep in mind playing at that level.
"We had played in an All-Ireland semi-final before so we knew what to expect. But the intensity level was probably another little bit ahead of what we were expecting – or not even expecting, I just thought Mayo were exceptionally good on the day."
This weekend, it's back to the more mundane matter of Division 3 league football. Indeed, it could have been Division 4 had they not beaten Leitrim on the final weekend.
The stereotype is well established that teams who experience historic success in one year can often flatline the next, their hunger satisfied and their motivation levels having dipped.
Quinlivan says it's not a possibility Tipp are entertaining.
"It's certainly not something we have discussed, I don't think. We're just trying to keep getting better. In my opinion anyway, we just want to make 2021 memorable in its own way for whatever it is. We may not repeat what we did last year but there are different things you can do along the way that makes it memorable for everyone, the team and the people who support it.
"That's the way I look at it anyway. The last time we had a great year in 2016 the following year we still had a very big win up in Cavan in the qualifiers when we were four or five points down and it's a game that people still talk about now and again.
"For every team now, their first priority will be to finish in that top two, whatever group they are in. it gives you a big boost going into your championship. The league probably takes on extra significance in football, compared to the hurling."
And after the heroic of last year, any irritation that the narrative for Munster is 2021 is still 'Cork or Kerry'?
"There's a history there going back 100 years of how many finals or games along the way that Kerry and Cork played in against each other. They've earned that in a lot of ways....
"Look, we've played in two Munster finals in the last five years.
"Cork and Kerry are good teams and it's always going to be the narrative if they are kept away from each other that it's going to be the two of them in the final. We'll just keep working, keep trying to do our thing and obviously we'll welcome whoever it is, Clare or Kerry, to Thurles in July and hopefully turn them over as well."
"Inter-county football makes its long awaited return on May 15th with the commencement of the Allianz Football League. This year marks the 29th year of Allianz' partnership with the GAA as sponsor of the Allianz Leagues, making it one of the longest-running sponsorships in Irish sport. In attendance at the Allianz Football League 2021 launch is Kieran McGeeney (Armagh) and Michael Quinlivan (Tipperary)."