Last Friday night I returned to competitive action for the first time since I suffered a bad concussion almost a month ago.
I didn't make the Adelaide Crows squad for the AFLW clash against St Kilda and instead went to play with West Adelaide Football Club against Norwood in the South Australian National Football League (SANFL). For a few reasons, it was a nerve-racking experience.
First and foremost I was grateful for the opportunity. A lot of players here are aligned with an SANFL club so if you're not in the AFLW side you can get some minutes. I was really straining at the leash to get going again.
Still it was an unusual experience for me to walk into the dressing room basically not knowing any of my team-mates. I was also a bit concerned about how rusty I'd be having had a few weeks out.
Back in Ireland, my mam had a ritual for us in the house before matches where she'd shake a bit of holy water over us just before we'd walk out the door. I haven't been doing it myself since I came to Australia but I'm pretty sure I have a little bottle buried somewhere in my kit bag, so mam's ritual lives on at least in part!
As it happened, there was no need for divine intervention because all of the girls and coaching staff were brilliant with me. After I walked in they filed up to me to bump fists and wish me luck. They were just super friendly and helpful without bombarding me with information. It really helped to calm the butterflies in my tummy. 
All you want to do in that situation is justify your presence, to show you're there to help the team as best you can. It was the first round of the SANFL, a tough game against Norwood, and I was desperate to make an impression. 
About midway through the opening quarter, things opened up for me nicely and I kicked a goal from about 45 metres out. What a feeling! My team-mates swamped me and it was so nice to have that kind of support.
My housemate Caroline Harper was in the stands. Caroline has been such a tremendous friend to me, making me feel part of a big family. It was fitting she recorded the goal on her phone.
Looking back on it after the game was funny. Usually in Aussie Rules the style of kick is very straight. No one kicks it around the body in a hook-kick motion you'd see in Gaelic football. For my goal I noticed I went way to the right and wrapped my foot around the ball as if I was belting an O'Neill's. Old habits die hard I guess! 
We won the game and I even had a stint in the midfield. Normally I play half-forward, or half-back. I haven't really been in the middle, which is a different challenge because you really are in the thick of the action.
I was pleased with how it went, especially since the Crows coaches were watching on in the stands.  
The next morning I got a call from our head coach Matthew 'Doc' Clarke. Renee Forth had a little issue with her quad and Doc asked if I'd be okay to be an emergency replacement for Sunday's AFLW meeting with St Kilda. There was no way I was turning that opportunity down. 
You LOVE to hear it 🗣😎#crowsaflw #weflyasone pic.twitter.com/RnFkcSCrax

— Adelaide Crows AFLW (@CrowsAFLW) February 28, 2021
It meant I was more involved in the matchday prep, getting to be in around the girls in the dressing room and just experiencing the atmosphere of that environment again. Once everyone got through the main warm-up without any problems I headed up to the stand to watch the action. Ultimately, I wasn't needed.
Instead I got to witness another excellent display from us as we beat the Saints by 8-13 (61) to 1-2 (8). We were great. Our game play was on point; there was so much forward pressure that St Kilda were overwhelmed. They are a good side, they just couldn't really create the sort of opportunities we managed to on the day.
On Monday we had the usual light session, a swim and a team meeting, before the big hit-out on Wednesday, which went well again for me. It's good to have a bit of consistency back after what's been an up-and-down few weeks between quarantining, a small groin niggle and then the concussion. I've got two solid weeks in the bank now and I'm feeling the benefits of it.
A good seven days then got even better on Thursday morning when Doc told me that I'd be back in the Crows squad for Saturday's home fixture against Gold Coast. It was not expected. The team is in flying form so I figured it would be highly unlikely there'd be any changes made barring injuries or suspensions. 
When Doc rang me I was braced for bad news so when he said, 'you're back in', I barely answered him! I couldn't believe it. It's now full steam ahead for another big test at the weekend. I can't wait.
Fresh challenge was good for the body and the mind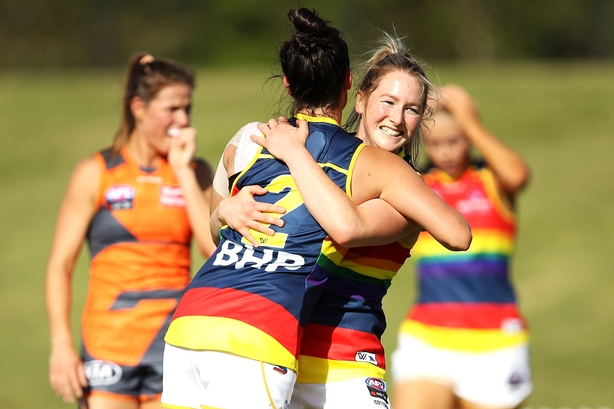 The last couple of weeks have been hard I must admit. My main focus and reason for being here is to play for Adelaide Crows. Not being able to do that made me question, 'am I good enough?', 'should I be here?'. 
Your mind goes into overdrive when you don't have that release of playing.
I've been frustrated, almost angry at myself for not fulfilling what I'm in Australia to do. Football is my main focus so it occupies my thoughts all the time. That's great when things are going well, but when you hit a bump in the road it can be tough.
Playing with West Adelaide allowed me to break out of my normal routine, to meet new people and embrace a different challenge. I needed that outlet. 
I think it gave me that bit of freshness too that I've brought into training this week. 
The main thing I try to remember is when it feels like everything is going against you, keep the faith. Things have a habit of working themselves out in the end.