Waterford's startling revival has been one of the stories of the 2020 championship.
The county were viewed as a tragic case after the 2019 Munster championship, losing all four matches, three of them by double-digit scores and registering a worse points-difference than the Joe McDonagh-bound Carlow.
Somehow, they're back in the All-Ireland final, for only the third time in the past half-century.
We need your consent to load this Facebook contentWe use Facebook to manage extra content that can set cookies on your device and collect data about your activity. Please review their details and accept them to load the content.Manage Preferences
Liam Cahill may have a strong claim to the annual Signify (previously Phillips) Manager of the Year gong, possibly even regardless of what transpires in the All-Ireland final.
Their second-half display against Kilkenny was the most thrilling and transcendent of the year. And while the frenzied and high-pitched roaring of the Waterford sideline was easily audible on TV, it still made one pine for the absence of fans.
The first half was a rag-bag of errors, characterised by shooting yips and poor decision-making. In their living rooms, people groaned that we were witnessing a typical Waterford implosion in the face of Kilkenny.
The mood was rather different by full-time. What has stood out in Waterford's second half performances - against both Kilkenny and Clare the week before - is their phenomenal conditioning, their hard-running style, their support play and always intelligent use of the ball.
There's been a strikingly heavy use of the hand-pass and precious little leathering of the ball upfield.
Once they achieved a stranglehold in their half-back line, they invariably sought to run the ball rather than lash it in the direction of the forwards.
Kilkenny wilted in the face of wave after wave of Waterford attack. Against Clare, they rustled up three goals in the first half, might have had more, and a noticeable number of their points, particularly in the second half, were scooped, stick-shortened efforts from the 21 metre line.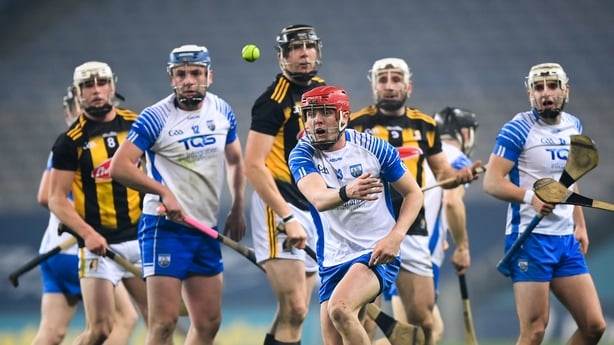 It's the latest evolution in style for Waterford, whose shifting tactical approaches have been under the microscope for a long time.
In the noughties, Waterford became one of the most feted and romanticised of teams, both for their attacking, swashbuckling game and their abundance of naturally gifted hurlers.
Prior to Davy's arrival, they weren't associated with tactics. But then, not many were.
In those days, 'tactics' - the word itself was usually spat out with a high degree of disdain - were spoken about as if they were some gimmicky optional extra that you chose to indulge if you were weak-minded enough.
The latter stages of the championship in the mid-to-late noughties consisted of teams trying, and usually failing, to out-macho Kilkenny.
The spirit of the age decreed that tinkering about with fancy tactics betrayed defeatism. It was proof that one didn't have the moral fibre to go out and hurl properly.
Anything vaguely non-traditional was bracketed under the category of tactics. Cork's short-passing game, evolved under Donal O'Grady's tutelage, was branded as tactics, though this was probably too fundamental a style change to be described as such.
Waterford's ascension to the status of Munster championship specialists - they won four provincial titles between 2002 and 2010 - unfortunately occurred at a time when winning the Munster title became exactly the wrong way to go about winning an All-Ireland.
The noughties generation reached just the one All-Ireland final, arguably when they were past their best in 2008. This was a hideous experience which is best not gone into.
There followed a few transitional years between 2012 and 2014 before a largely new team emerged under Derek McGrath's management.
McGrath's reign was broadly successful but oddly controversial. He took a Waterford generation, perceived as less gifted than the noughties crop, to only the county's second All-Ireland final in 50 years. There were a couple of All-Ireland semi-final appearances, one of which was lost narrowly after a replay, and a National League victory.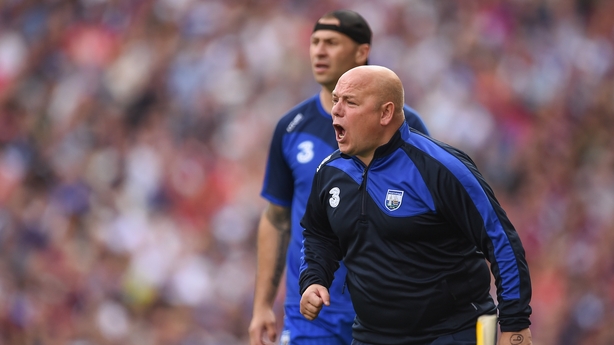 But his tactical outlook alienated the purists and his achievements were often received grudgingly while any mis-steps were magnified.
It did become apparent, particularly towards the end of McGrath's era in charge, that there was some tension between him and the noughties generation of Waterford players.
Ken McGrath's post-mortem analysis of Waterford's dismal 2019 campaign contained a few salty implications against Derek, even though he had stepped down the previous summer.
In his Irish Examiner column, Derek McGrath said his successor Paraic Fanning had been "led by a circle of ignorance around the Waterford hurling debate. This debate and conjecture has been fueled by a narrow-minded and lazy analysis of the team during my tenure, particularly by a section of ex-Waterford players."
Paul Flynn told RTÉ Sport this summer that certain comments, uttered during the McGrath regime, about not making the mistakes of the previous era of players, hadn't gone down well with veterans of the 1998-2010 period (though Flynn stressed that he wasn't one of those).
How have Waterford revived so stunningly? Perhaps the truth of the matter is that is they were never that bad in the first place.
In 2018, they were foiled by a chronic injury list and some appalling luck. The lack of a home venue was a major irritant too, though Waterford didn't exactly prosper when Walsh Park was made available (partly through the Kildare footballers' game-changing militancy) the following year.
Despite a healthy enough league campaign, where they lost the final to Limerick, and what was reported to be a productive training camp in April, the team imploded horribly in the summer.
The one-point home loss to Clare was perceived as a nasty slip-up but this proved the highlight of the championship, which reached its nadir when they were humiliated by Limerick in week three.
Flynn suggested that the down-year could be attributed to the difficulty involved in weaning Waterford away from a familiar style of play, and the players' ingrained tendency to revert to those patterns in championship.
McGrath, in his 'circle of ignorance' column, dismissed the narrative surrounding his tenure and indicated that one of Fanning's issues was he failed to shut out that noise.
There isn't too much rumination on Waterford's style under Cahill. Winning games tends to dampen the urge to discuss it.
The new manager shocked the Waterford public by dropping three-time All-Star Noel Connors, as well as Maurice Shanahan from the panel.
By way of explanation, he said "the type of game I'm going to play in the coming year is going to involve fellas being able to get around the field." We've seen some evidence of that since.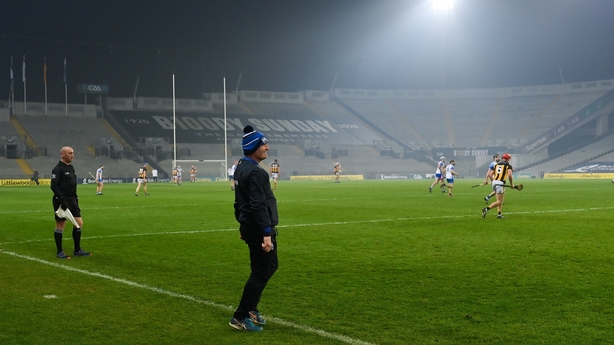 Crucially, new players have emerged. There has a surprisingly high turnover - albeit with injuries playing into this - with the side who beat Kilkenny containing only six starters from Waterford's last All-Ireland semi-final victory in 2017.
Ex-Meath player Jack Fagan has been a ball-winning colossus on puckouts, gimlet-eyed Dessie Hutchinson has added a new dimension to the inside-forward line, while Calum Lyons has blossomed further after being thrown into a challenging situation in last year's round robin nightmare.
Even more importantly, the older players, De Burca, Bennett, Barron and Gleeson, the latter after shipping much baffled criticism, seem re-born.
There has been plenty of assertion that Cahill has allowed the self-expression of the noughties to return.
McGrath, by contrast, says they are still attacking and defending in waves as this team have done for a number of years and that 2019 and 2020 together show that an unorthodox, flexible approach suits this team.
Waterford's dramatic return to form after two listless years, having ranked possibly eighth or ninth in the pecking order at the outset, is a testament to this new, democratic era in hurling. The potential was always there.
Listen to the RTÉ GAA Podcast at Apple Podcasts, Soundcloud, Spotify, or wherever you get your podcasts.
We need your consent to load this comcast-player contentWe use comcast-player to manage extra content that can set cookies on your device and collect data about your activity. Please review their details and accept them to load the content.Manage Preferences
Watch the All-Ireland senior hurling final between Limerick and Waterford and the Joe McDonagh Cup final between Antrim and Kerry live on RTÉ2 from 12.30pm Sunday, listen to live commentary on RTÉ Radio 1 or follow our live blog on RTÉ Sport Online and the RTÉ News app. Highlights on The Sunday Game (9.30pm RTÉ2).