Mayo manager James Horan was businesslike and not inclined to get too excited after his side's substantial victory over Tipperary in Sunday's All-Ireland semi-final - but learning of one stat in the media scrum certainly perked him up.
Just the two wides today, James?
"Yeah? Was that it? Probably four or five into the goalie's hands as well though. We'll put them down as well. Jordan Flynn's was a score I'd say but anyway... (crowd laugh).
"We did a lot of work on trying to take the right shot from the right place and we saw some of that today. But we're just trying to keep driving on."
Some half an hour after the final whistle and the fog hung very low over Croke Park as Horan took questions from the assembled.
The spectre of abandonment was floated by the odd spectator - mainly jokily by the Tipperary officials as the game got away from them - but it was never seriously considered.
"It came down very heavily," Horan said.
"I was worried at one stage when we were 20 points up that it might be called off! But thankfully, we saw it through. But the end of it was difficult out there."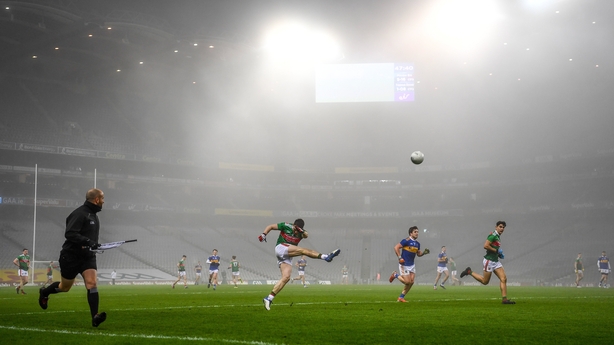 After a ropey enough start, where they gave up two clear goal chances, well saved by keeper David Clarke, Mayo delivered one of their familiar high-octane performances, completely overwhelming the Munster champions.
Their pressing high up the pitch was particularly effective, as borne out by the stats.
They rustled up 3-06 direct from turnovers in the first half alone, Cillian O'Connor finishing all three goals to notch a hat-trick before the half hour mark.
The third goal, while appearing quasi-comical, epitomised Mayo's work-rate as they forced a panicky Tipp defence to crab ineffectively across the full-back line, evading tackles while looking for a pass opening that wouldn't appear.
Eventually, Liam Casey was forced into a risky back-pass to Evan Comerford, O'Connor intercepted, slapping home his third goal.
Horan credited this dimension of their play as the key element underpinning the victory.
"Winning an All-Ireland semi-final comprehensively was not to be sniffed at. There's lots of stuff we were strong on and lots of stuff we'll have to have a look at.
"Our pressure, particularly up front, was very good. We won a huge amount of turnovers in the first half and that was the platform for the victory."
The win didn't come without caveats. If Mayo were purring in attack, then their defence looked alarmingly vulnerable at time. Tipperary manager David Power reckoned his side left five or six goal chances behind them.
Horan was inclined to put some of that down to switching off once the contest was decided but he acknowledged that it's an area they might need to look at.
However, there is little enough to look at it.
"The early chances were very poor from our point of view - just high balls that went in. And even the goal that they got (in the first half) was a terrible goal from our point of view.
A remarkable 60 second spell sees both Mayo and Tipperary score a goal each #RTEGAA @RTE2 @RTEplayer pic.twitter.com/FzJm2P9CtF

— The Sunday Game (@TheSundayGame) December 6, 2020
"The second half as well, the game was on, and maybe we got a bit lackadasical as well and gave away a few goal chances. There were a lot of goal chances we gave away and we'll have to have a look at it.
"It's not going to be transformational, what you do, for sure. Just a few tweaks here and a few tweaks there. Just a bit of positional work and that kind of stuff. Our conditioning is pretty good. We may have a look at our positioning and our shape."
It was a bravura, record-breaking display from O'Connor, the all-time leading scorer in championship history.
With a surreal haul of 4-09 (4-03 from play and most of it in the first half), O'Connor broke the previous championship record of 18-points, jointly held by Dublin's Johnny Joyce (5-03 against Longford in 1960) and Rory Gallagher (3-09 against Monaghan in 2002).
Horan didn't go overboard with the flowery rhetoric when praising his star-forward but paid tribute to his work-rate, skill and sharpness.
"He's a huge work-rate and some of the scores, even the flick up there he got after the turnover in the second half, he's a very, very skillful player.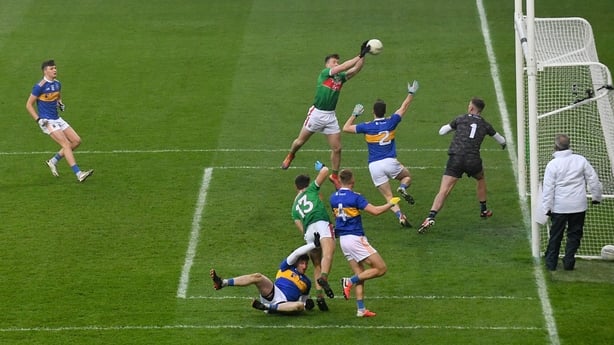 "He's been playing very well all year, he's been sharp, he's in great shape. He's flying, we're obviously delighted with how he's playing.
"I thought Ryan (O'Donoghue) was excellent today, his decision-making was really strong. Tommy (Conroy) obviously did really well today, Eoghan McLaughlin and Oisín (Mullin) as well, they're really good players that are loving playing out there and they'll be better for it."
It's Horan's sixth season as Mayo boss across two stints and he's now guided the westerners to three All-Ireland finals - having originally piloted this wave of success from humble beginnings (they were knocked out by Longford the season before) back in 2011.
Under Horan, Mayo have played Dublin three times in the championship, winning once in 2012, though a lot of water is under the bridge since then.
While acknowledging they'll use the experience of playing Dublin, Horan is keen to draw attention to the fact that his younger players don't carry too much baggage with them from past losses.
"I don't know if it's the year, or with everything that's gone on, we haven't looked too far behind at anything.
"And a lot of the younger players coming through couldn't give two continentals about what's gone on in the past, which is great in one way. But for sure, there's a lot of players we've played against for sure, so we'll use that experience and tap into that.
"Dublin are the most successful team in the history of the GAA. You can't miss that fact. But sport is funny, you know. We'll do our thing and see what we can do."
So, another All-Ireland final for Mayo and for Horan. Once more into the breach, etc, etc. At least, he won't have endure press nights and getting hassled for match tickets this time.
"I'm certainly not going to miss it! You can see the players, they just want to train and enjoy it and get out there and play as best they can. Some of that stuff that goes on around the edges, you won't see me crying anyway."
Highlights of this weekend's action will be on The Sunday Game on the RTÉ Player.