Tipperary manager David Power rued both turnovers and missed goal chances after his side's All-Ireland semi-final defeat to Mayo. 
The Munster champions put in a heartening rally in the fourth quarter to give the final scoreline a more palatable look but the contest was long, long over at that point. 
On 'underdog Sunday' a fortnight ago, Tipperary, along with Cavan, claimed an emotional provincial success, winning their first Munster title in 85 years, and doing so, on top of everything else, on the centenary weekend of Bloody Sunday. 
Rather than being too wistful and content after their season concluded, Power was charged up and pondering the future for Tipp football. 
Speaking to reporters in the lower Hogan Stand afterwards, Power honed in on a couple of specifics - the turnovers and the missed chances. 
Tipperary players and management commemorate the Bloody Sunday centenary as captain Conor Sweeney lays a wreath at Croke Park after full-time #RTEGAA pic.twitter.com/83AzNL5fgP

— The Sunday Game (@TheSundayGame) December 6, 2020
Both Michael Quinlivan and Conor Sweeney missed early goal chances, the former's being particularly gilt-edged, while down the other end, Mayo's first two goals came within seconds of Tipp being burgled in possession and third came via an unsightly back-pass error. 
"We have to finish our chances," Power said. "We had two serious goal chances in the first couple of minutes. Had we got them, it's probably a different game. 
"I just felt that we needed that good start and if we got those two goals, all of a sudden it's a different ball game because Mayo are playing with a bit of pressure.
"For the underdog, you have to get that good start. That was something we worked on but unfortunately, it didn't pay off for us today. 
"We scored 3-13 - I'd say we left five or six goal chances behind us.
"But also, we turned over way too much ball in the first half. 3-06 came off our turnovers.  You can't gift good teams those kind of chances. 
"To be conceding 3-06 from your own turnovers, that just can't happen on an All-Ireland semi-final day. And that's what we have to learn from. If we can grow stronger from that we'll be a better team over the next couple of years." 
Trailing by 17-points at half-time, Power admitted that his players were "hurting" but paid tribute to their resolve in hanging tough to out-score Mayo in the second half. 
Uppermost in their minds was ensuring that a semi-final humiliation did not scar what had otherwise proven a memorable year for Tipperary football. 
"It wasn't a case of shouting and roaring, the players were really, really hurting. We won the Munster final two weeks ago and we didn't want that type of performance to define our season.
"We set a target. Let's win the second half. No matter what the scoreline is, let's win the second half. And that's what they did. To be fair to the players, I'm very, very proud of them.
"I'll be honest, we weren't expecting to get to an All-Ireland semi-final this year. This is a start, we must build from this.
"We need to move the ball quicker out of defence. We need to become more comfortable on the ball, our skill-set has to improve. Our finishing has to become more clinical. Over the last couple of weeks, you haven't had much time for coaching because it was game on game.
"For 2021, we've loads to work on but I know there's a very strong group of players there."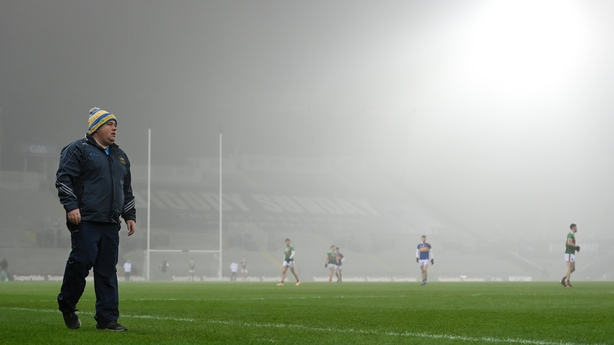 The weekend's outcome has teed up yet another Dublin-Mayo All-Ireland final, the fourth of the past nine seasons. 
Watching Mayo run riot in the first half, many observers might have been persuaded that the potential is there for a final upset. 
But Power, speaking honestly, was inclined to stress the number of goal chances his own side frittered away, and indicated Mayo have issues ahead of a final meeting with six-in-a-row chasing Dublin. 
"Mayo have some very, very good players. As I said, we probably had another seven goal chances - and good goal chances, not half-chances - so Mayo probably have a lot of work to do on that.
"But that's Mayo and Dublin's issue."
Highlights of this weekend's action will be on The Sunday Game, 9.30pm RTÉ2.