THE GAA's Management Committee will meet again in early December to further consider the structure of the 2021 season.
Croke Park officials had been expected to approve a structure over the weekend as the association moves to continue club and inter-county activity next season amid constantly evolving public health conditions.
It's been an impressive showing by the GAA to run off most county championships and stand on the verge of completing the 2020 All-Ireland series amid a pandemic.
But for the past few weeks, attention has also centred on next year's scheduling.
The proposed template that the Central Competitions Control Committee designed was effectively due to kick in once the current All-Ireland series ended on 19 December.
A closed season would first be observed.
All pre-season fare would cease with competitions like the provincial hurling and football leagues, the Kehoe, Walsh, McKenna, O'Byrne, and McGrath Cups set not to run.
The Allianz Leagues would resume at the end of February, when regionalised leagues would resume. The All-Ireland championships would finish by the end of July.
However, a decision was taken to press pause on those plans over the weekend.
With fluid issues such as potential post-January public health restrictions and the possibility of a vaccine coming into circulation on the horizon, it was decided to take further time before making a final call.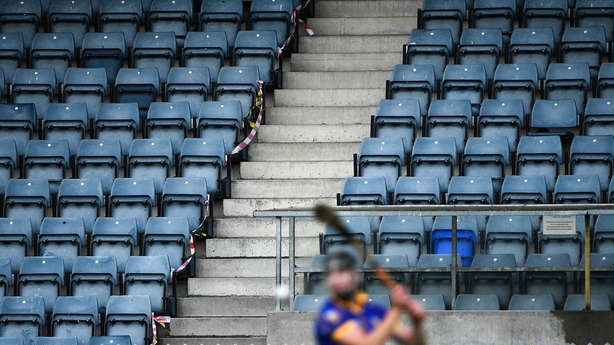 The cost of staging inter-county campaigns before the club series was also discussed and a debate to commence the inter-county season later in 2021 - when crowds may be allowed attend games - was called for.
After a testing year, which saw the Government provide €15m in funding to run the All-Ireland championships, some GAA officials feel that delaying the 2021 inter-county series until July would help boost gate receipt income – especially if a vaccine is in circulation by then.
Over the weekend the decision was then taken to review the proposal in mid-December and take into account what it an ever-evolving landscape in terms of Nphet recommendations.
Meanwhile, the latest GAA-GPA player grant deal is set to be approved soon.
There have also been repeated calls for the GAA to allow extended panel members of the various finalists attend the All-Ireland deciders.
All year long the Association has taken guidance from public health experts on this matter but there is positivity that those extended members could yet attend the All-Ireland finals.