At the end of a long interview Juliet Murphy is asked about the issues facing dual players in the game.
Cork, more than most counties, suffer from fixture clashes every year and it's obvious that the eight-time All-Ireland football winner is passionate about the issue.
The Rebels regularly appear at the business end of both the ladies football and camogie All-Ireland championships, and players are often forced to choose, or to play two senior inter-county games in a little over 24 hours.
In March the LGFA's Congress defeated a motion looking at sorting the issue out, while earlier this month the Camogie Association's Congress defeated a similarly worded motion, by some 76% of delegates, that would have seen pro-active facilitation of the arrangement of fixtures for dual players.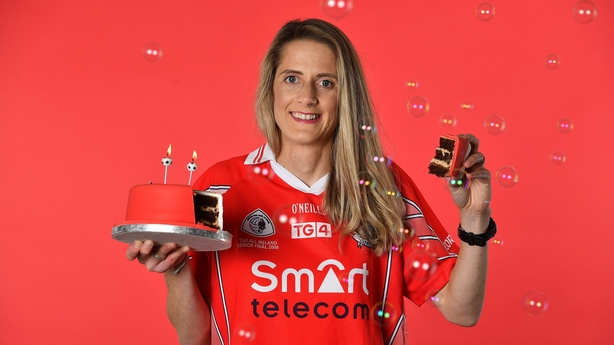 While some games this season have been moved, with Galway Camogie agreeing to a change of date for their clash with Cork next month, and the LGFA agreeing to moves the Rebels' tie with Cavan back 24 hours the following weekend, it still leaves players who want to play both sports in a tricky position.
The frustration felt by some players in Cork led to the threat of a strike earlier this month, and Murphy is calling for solidarity if such action comes to pass.
"I find I'm almost intolerant of this and I think your players are your resource," she says as the LGFA celebrated their 20th season working with TG4.
"The players, they're your asset. And that's true of any association. In this case it's a shared asset, so it needs to be looked after - it needs to be minded.
"I don't know who are the people behind these decisions, but it would appear to me to be administrative personnel, and not players.
"Players need to have a voice, they need to be listened to, and they need to be looked after. I can remember Mary O'Connor, Briege Corkery, Rena Buckley, Angela Walsh going on car journeys the length and breadth of Ireland, playing a match the day before, or maybe the same day, and then tearing off to play another one.
"As long as players do that it becomes acceptable, and I think the players really have to take a stand here because they are the asset in both organisations.
"They'll have to take a stand and their team-mates will have to support them in this because it's just not good enough. It's a desperate situation.
"If you compare it to the work place there's no way you'd ask somebody to try to split themselves in the work place.
"It shouldn't come to that (a strike). GIven the amount of years we've had this (situation) - certainly a decade and a half - I don't know why the associations aren't making more of an effort to improve relations to ensure that this doesn't happen."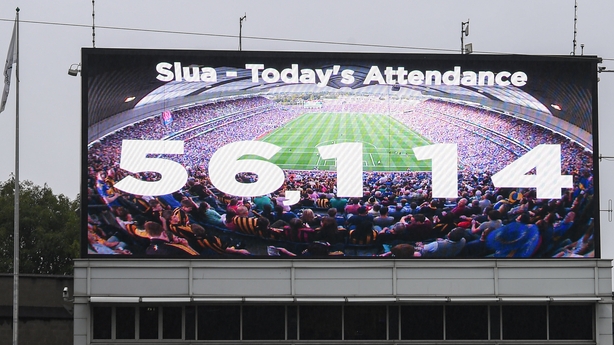 Interest in women's football is undoubtedly growing, with the clearest manifestation of this in the huge increases in numbers attending the All-Ireland finals day over the last half dozen years.
Over 56,000 were at Croke Park for the 2019 final between Dublin and Galway on a miserably wet September afternoon.
All of this is part of a general increase in interest in women's sport, with the 20x20 campaign recently reporting improved numbers playing in and watching women's sport over the last two years.
Over the weekend Dublin's All-Ireland winning captain Sinead Aherne wondered if there might be a way for resources to be pooled so that expenses, which are currently paid to only 7% of the game's top players, might be available to all players.
But Murphy doesn't think the LGFA has quite reached that point yet.
"There are lots of benefits in kind to playing sport, and we especially see that during this pandemic," she pointed out.
"I think it's probably a little bit premature to be talking about expenses. I just couldn't see the affordability there.
"If you're looking at viability in terms of gate receipts, it's just not viable. The success of attendances at All-Ireland finals, particularly over the last two years, it's been phenomenal.
"What's more important for the development of the game is to get more of an audience in for the first round games, for the quarter-finals, for the semi-finals.
"It's easier to get attendances for an All-Ireland final because it's a lovely day out for finals.
"I don't think it's a logical argument to say, 'oh look what the men have.' I don't think the comparison is helpful, and I don't think you're comparing like with like.
"They're actually quite different games, in terms of strategy and how the game is played. I think we have to stop this comparison between men and women.
"It's the women who need to get behind women for this to come to the fore.
"I don't know if the government has the capacity to give money towards the funding. I would say it's very far down the priority list, and if it was far down the priority list, it certainly is now."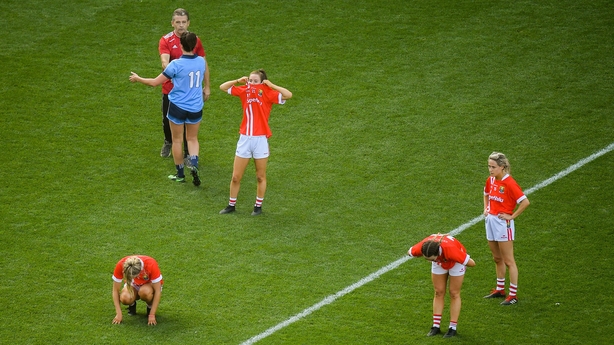 Looking to matters between the white lines, Murphy is adamant that Cork have progressed in recent seasons.
And while she thinks the Rebels should emerge from a group containing Cavan and neighbours Kerry, she still feels that they still have a way to travel to challenge defending champions Dublin.
"I do think at times the team is lacking something, and I'm not sure what that is. Maybe it has just been a little bit of luck.
"Cork have been unfortunate in the last few years, and they've had some injuries.
"If they continue on the path they've been on, they've every chance. You'd never write Cork off. And that's not even about their tradition of winning, it's just the players they have.
"I think they (Dublin) are beatable, but you have to believe you can beat them to do that."