On the field, before games came screeching to an abrupt halt, it was shaping up to be a good season for the Longford footballers.
They were third in Division 3, pushing hard for promotion, and with three wins and one draw from five games they were also shaping up well for an opening Leinster SFC tussle against Louth.
The past few months stalled the progress the team was making under the hugely respected Padraic Davis, but county chairman Albert Cooney admits that dealing with the lockdown has also presented his board with serious administration and financial challenges.
"From a Gaelic football perspective purely, 2020 was shaping up a good year for us when we stopped," Cooney told RTE Sport.
"It was Padraic's second year in charge, we were having a very good league, and looking forward to building on that promise. To be honest, we feel a little cheated with how things turned out – but that's from a sporting perspective only. Obviously, there are much more important things going on in the world right now that we are all battling with."
When the Allianz football league does resume, Longford will still hope to win their two remaining games and pip Down for promotion.
If they can manage that they will be in a good position to take on Louth in the Leinster Championship over the Halloween weekend.
But with revenue streams almost non-existent, Cooney, who took the Longford chair last December after a number of years as treasurer, says that there is much work to be undertaken behind the scenes to keep the show going until then.
"From a county board perspective, it's very hard to plan down the road when all your energy and resources are taken up with the more immediate stuff," he admitted.
"That's the case generally too. It can be hard to have a strategic outlook on affairs at times because everyone is so invested in running off the yearly programme of games and administration.
"For example, we have had five executive meetings in the past six weeks, just trying to plan things out for the weeks and months ahead.
"And none of them have had anything to do with football, by the way," he added.
"I look around and I see treasurers and secretaries and they are all stressed out.
"We are constantly trying to deal with things. We are all volunteers. I just feel we are very much left on our own at times, but it's that volunteer aspect that keeps the GAA going, I know that."
If the Covid-19 pandemic had any subsequently positive affect, however, it has brought a number of Longford players who had been away travelling home.
Among others, Robbie Smyth (pictured) and Barry McKeon have returned to the panel and that has given everyone a boost.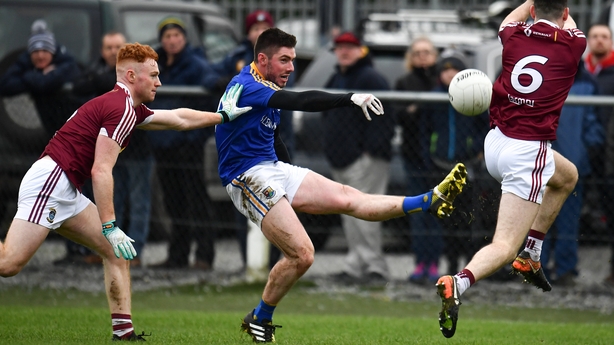 "Every year we lose lads who go travelling," Cooney says.
"You could have up to six or seven players opting out and then every November turns into something of a begging match to see if we can even get one of them to stay at home.
"Because the truth is that we need everyone.
"If there is anything positive to be taken out of the last few months, and again I'm talking from a football point of view, it's that these lads are safe and back at home again."
By the end of October, Longford will hope to have cemented their place in Division Two and they will aim to stay there, thereby avoiding two-tier Taileteann Cup terrain.
As a general concept, Cooney has supported the notion of a second-tier format, though he says his county's main goal is to stay among the top flight.
"From a general point of view, the likes of ourselves rarely ever have a chance to shine in Croke Park in front of TV cameras," he says. "We are something of an ignored quantity, I think.
"The two-tier format is not perfect, but for counties who are in it, the cup might offer a chance to play a final in Croke Park. It would give counties some media exposure, maybe help get some sponsors on board.
"That's the way counties have to look at things."
More pressingly, Cooney says that the template of facing up to teams like Dublin every year in a provincial setting needs to be looked at again.
"It's up to every county to raise the bar but, in so many ways, the reality is we will never catch Dublin," he adds.
"Not from a population point of view, not from a resources point of view and not from a financial point of view. You can talk about it all day long – those are the facts.
"There are 40,000 people in Longford and possibly not much over 10,000 households.
"How can you compare that to Dublin and expect a level playing field?" he asks.
Cooney makes the point that even if the county received more resources and funding, they should still consider player development from a wider perspective.
"I don't think you can just go out and manufacture a footballer either – no matter how much money you have," he maintains. "For a more even balance, I think you need to put a bit more thought into development systems and competition structures. Make it more attractive to players.
"Dublin are dominant in Leinster; they have been for some time and they will be for some time.
"They are at one level and the challenges facing counties in rural Ireland are entirely different, and that's why I feel that we, as an association, should take a long hard look at things now.
"The provincial system, for one, needs to be looked at. We need to rebalance our championship."
Cooney looks across to the west and wonders, for instance, what Longford might have achieved had they been in a different catchment area.
"In Connacht, I genuinely feel we could have won three titles over the past 15 years, had we been in that province," he says.
"Obviously, though, you play in your own province so instead we're in a Leinster series where the thing is almost decided before you even kick a ball.
"You'd be sick of the hard luck stories at this stage and it's becoming the same for the likes of Meath and Kildare too – not just us."
If and when the 2020 season is completed Cooney would like to see new ideas being mooted and thrashed out, be it an open draw, or something else.
"This year could show us that we can play an inter-county championship over 10 to 12 weeks," he says.
"In an ideal world you would have a few more weeks there for counties to recover in between games, but from next year on I would encourage us all to look differently on affairs.
"Let's create a different opportunity for clubs.
"And let us realise that county players need a break too."
Cooney offers the example of Longford talisman, Mickey Quinn. Since the age of 14, aside from his time in the AFL, Cooney reckons that Quinn has scarcely had any time away from Gaelic football, such is his commitment to club and county.
"There are others like Mickey, and a club and county window is needed now to help such lads cope with the demand," the chairman says.
"We need to take chances because parts of the system are well worn at this stage."