Sport Ireland chairman John Treacy believes that it is time to examine how spectators can return to sport as the country continues to deal with the fallout from the coronavirus.
Talks are on-going between the government and sporting organisations as to how live sport can resume under the roadmap to reopening society.
Initial plans have been put in place for the return of GAA, soccer and rugby behind closed doors, and while Treacy is happy with the pace of the recovery, he believes that's it's time to start examining how supporters can be a part of the return.
Speaking on RTÉ Radio 1's Saturday Sport, Treacy admitted that he's pleased with the pace of the proposed return for sport, and revealed that the return of spectators is now an active consideration.
"The GAA clubs are opening up at the end of June and training is going to resume so what you're actually seeing is that summer-camps are coming back as well, so sport is resuming very quickly," he said.
"I suppose the big issue is stadiums and whether it's one metre or two metres [social distancing]. The [sporting bodies] would love to see one metre in the stadiums in terms of social distancing because that would make a huge difference in terms of getting spectators into a stadium.
"That really is a major income source, particularly for our three field sports, so they are the kind of issues that will be considered over the next month or so. The sounds are good and the figures are good so far in terms off what Ireland has done.
"We follow government advice as we have to and we get on with it. We have a mechanism where we can provide as much information to government to gives us an ear and a 'yay or nay' and the protocols are very well developed based on the countries who are a couple of weeks ahead of us.
"It's a planned, phased basis return to sport and I think we're in a lot better place than we were a month ago and I'm a lot more optimistic now than I was a month ago as well.
"The GAA were not talking about Championship a month ago, they're talking about it now and the resumption of inter-county football."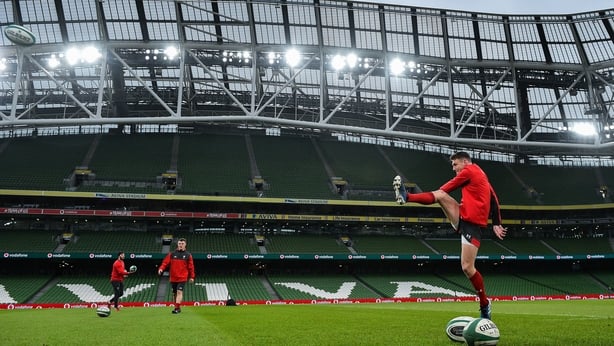 Professor of Experimental Immunology at Trinity College, and one-time athletic rival of Treacy, Kingston Mills, also believes that the time is right to look at welcoming supporters back into stadiums.
The Professor believes that, with the right precautions, allowing fans to return to stadiums would present less risk than allowing people on a train or an airplane.
"What I'm suggesting is that we really have to have plans in place to get spectators back to sport as well," he said.
"I think one metre, with wearing a mask would be acceptable for what is essentially an outdoor situation. It's not the same as being on public transport or being on a flight.
"It's very different when you're outdoors in terms of transmission so I think that one metre for spectators, especially if there's a low circulation of the virus in the community, should be enough."
Prof Mills, who was an Irish team-mate of Treacy in the World Cross Country Championships in the 1980s, laid out a way for supporters to return to the likes of Croke Park and while there would be changes for both fans and stadium operators, he believes it would be worth the extra effort.
"I do believe that they can get spectators back quicker than they think they can by putting in place the right measures and having a clear plan," he said.
"For example in the Aviva or Croke Park, open every second seat in every second row of seats and give everyone a face-mask as part of their entrance ticket. Close the toilets, except for limited access, don't have any drink at the sites and don't allow people to leave their seats.
"This can be done, it just needs a bit of very careful planning and I think we can get spectators back quicker than people think they can."