Connacht GAA president Gerry McGovern believes the risks of a return to playing action this year are too high and has instead urged the Association to focus completely on the 2021 All-Ireland Championships.

Last Friday, Taoiseach Leo Varadkar appeared to give hope to the prospect of All-Ireland Championships being played this year - albeit behind closed doors. But McGovern, a member of the GAA's Management Committee, doesn't feel that is practical.

Nor does he think that two Championships – 2020 and 2021 – could be played next season.

"Certain restrictions are about to be lifted but, by and large, the stats are not changing that much," he told RTÉ Sport.
"On Sunday there were 330 confirmed cases and 19 deaths and things are not improving that greatly. My chief concern is that we don't know enough about this disease, will it come back again bigger and stronger and wipe out a lot more people?

"By returning to play in the coming months, I just feel that we are putting people into certain situations, be it players at junior or senior club level, people who love to play our games. In my opinion they will all be at risk but so too will their parents, grandparents, their young families.

"The possibility of getting this virus is simply too serious, all for the sake of football or hurling. We'll not die for a game of football, but we could cause death by playing it."
We need your consent to load this SoundCloud contentWe use SoundCloud to manage extra content that can set cookies on your device and collect data about your activity. Please review their details and accept them to load the content.Manage Preferences
RTÉ Sport understands that a meeting of the GAA Management Committee will be held later this week to discuss the roll-out plan recently unveiled by the Government.
McGovern, a lifelong GAA stalwart as a player, referee and administrator, says that he has received great support from within the Association for his views.

"It's an organisation where all views are listened to and appreciated and I have received great backing, with many calls and texts from people who agree with this opinion.

"Look, I know there's a huge amount at stake if there are no Championships this year.
"Jobs firstly, and then also a huge amount of money that goes back down to grassroots and keeps many units of the GAA going.

"But I would hope that we could somehow manage to get through the year without games.

"If the virus was gone by then, or if there was a vaccine, I can guarantee you that the GAA would come back bigger and better than ever. There would be a massive appetite for our games next year.

"If we get through this year, that has to be the goal as an organisation. The only thing we are thinking of here is saving peoples' lives. The GAA is a great community body and we have proven this again through our work with elderly and vulnerable people in the localities around the country.

"It would be a pity to spoil all that by playing games when things are not right."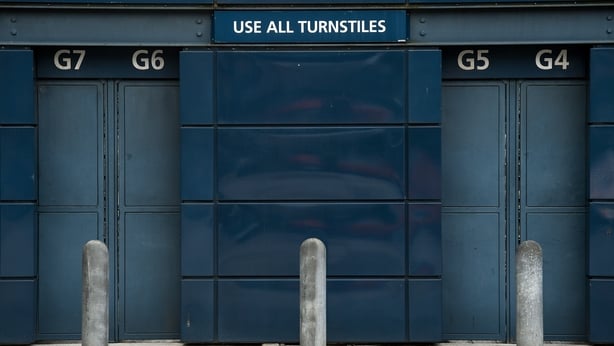 As the country prepares for restrictions to be lifted over five phases in the coming months, McGovern still struggles to see how contact sport can be played anytime soon.

"My initial statement was that we should focus on 2021. An Taoiseach stated on Friday night that GAA activity could possibly be resumed by July but the reality is that social distancing has to continue.

"And how can you play contact sport without social distancing?

"An Taoiseach suggested that the GAA could run a Championship behind closed doors but I would not be in favour of that. Players would still make contact in training, in the dressing-room and your run the risk then of leaving that environment and possibly bringing something home to your child, parents, grandparents.

"That's the situation as I see it. We are very deep in the Covid-19 pandemic at the moment and we just don't know enough about it to be thinking of returning to action anytime soon."