It's one of the sporting truths and always proves to be the case but you will really learn a whole lot more from a loss than from wins.
And for us Adelaide Crows players, we will have to take lessons from last weekend when we lost to Brisbane Lions in our AFLW 2020 opener by 13 points.
I guess we never got going in the end and it took us a while to get into the game. We clawed our way back but just left it a little bit too late.
There were little things that had an effect. The weather was a bit of a factor but it's no excuse for our performance.
We haven't really been used to a wet ball and I actually have not played a game in the wet since I have been out here. I had played a little bit at home in some of the AFL Ireland tournaments but you are looking at a different level here with the girls and the fitness and strength level as well as the game speed.
It was a lot more difficult to read the ball and I definitely struggled with that and with getting into the right positions to get the ball.
The ball does not necessarily go where you think it's going to go a lot of the time but especially in the wet conditions and that was something else that I and the team had to adjust to.
We could have adjusted a bit better to the weather and in fairness, Brisbane put really strong pressure on us and did not make anything easy.
Your Iconic Moment, presented by @IconGroupglobal, is none other than Orla O'Dwyer's first-ever goal! ?? pic.twitter.com/lgUyi5N6qQ

— Brisbane Lions AFLW (@lionsaflw) February 11, 2020
They were strong in the contest and transitioned really quickly, so they just made it really difficult for us to play and get our game going. So full credit to them for that.
They had an incredible amount of numbers behind the ball and we did not have our best day out. But hopefully we can improve from that.
I started half-back against Brisbane which was my first start for Crows in that role and it's still a position that I have a lot to learn about.
I am still struggling to grasp all the concepts of how we play defence and how we transition. It's a work in progress for me, it's not going to come overnight but nothing does. It's a good learning curve for me and hopefully I get another opportunity at the weekend to get a bit more of a grasp of that position as the competition goes on.
It was good to see an Irish person do well for Brisbane though. Orla O'Dwyer, who is from Tipperary, played quite well against us and scored a great goal for them.
I would know her pretty well and played college camogie and football with her in UL and I have also played against her at inter-county level with Clare against Tipp. So we have come across each other quite a bit!
I did not get to chat to her too much after the game but got to see her briefly afterwards. We just got a hug in and "well dones" but unfortunately our team went straight off the field and had a bit of a debrief and by the time we had all that done, Brisbane had gone their separate ways. So it was disappointing not to be able to meet her properly after the game. But at least we got to greet each other straight after.
It's great to see the amount of Irish girls that are out here and having an impact on the competition like Orla. Obviously, it's disappointing when it's against you and you end up on the losing side but as an overall thing for all the Irish that are out here and following it back home, it's incredible to see that such a small country can produce so many different athletes and play in professional competitions in another country.
My girlfriend Anne Hatchard had a brilliant game for us, setting a record-breaking mark of 34 disposals. It's an absolute credit to her and how far she's come and a reward for all the hard work that she has put in over the off-season. She really focused on making herself better for the team and it's finally paying off for her.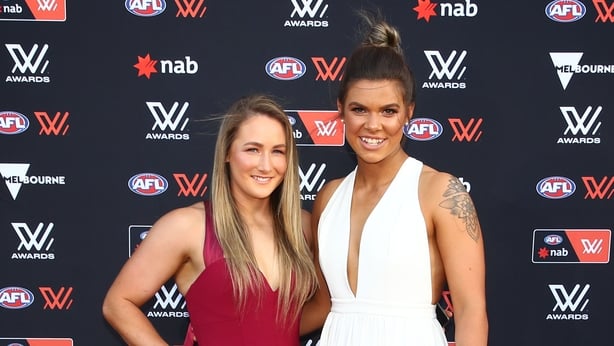 The whole team is so proud of her and I'm very proud of her as well.
The Brisbane match was also one of the first times I had somebody to go over to on the sidelines because my first cousin was there. She lives in Brisbane with her family and three kids and I was able to meet them, so for once I wasn't just standing up there not having anyone to talk to.
It was really nice having family connections there and there was also a guy from my local parish back home who lives in Brisbane at the moment who came to the game as well. It was nice to have actual support from people I know.
Needless to say, the distances between cities in Australia are a little bit longer than back home!
We flew out on Friday at about noon to get to Brisbane. The flight got delayed so we did not get to Brisbane until about after 3-4pm and it should have only been a two hour 40 minute flight but with the delay, it pushed back our schedule.
Then when we arrived in Brisbane because the conditions were so wet, we weren't able to do our captain's run because the pitch was closed. We had a few little schedule changes but all pretty minor.
The whole weekend was pretty much promised wet which had an influence on some of the things we were able to do and after the game on Saturday, because of the curfew in Adelaide Airport off 11pm, we would not have made it back in time to get there before that so we stayed on an extra day.
That was Sunday and we flew back at about 12pm and then were back in Adelaide for about 3pm. It was quite a long weekend when you think about it.
It's quite hard for the girls that had to face work on Monday morning after a big weekend and a lot of travelling.
I've seen that Cathal McShane was back playing for Tyrone last weekend. Obviously, he had been over at Adelaide in January for about 10 or 11 days and I only got to meet him briefly. It was just general chit-chat.
I was asking him about what his thoughts were on Adelaide and the team and how he found the place. A lot of people that come over don't know much about Adelaide.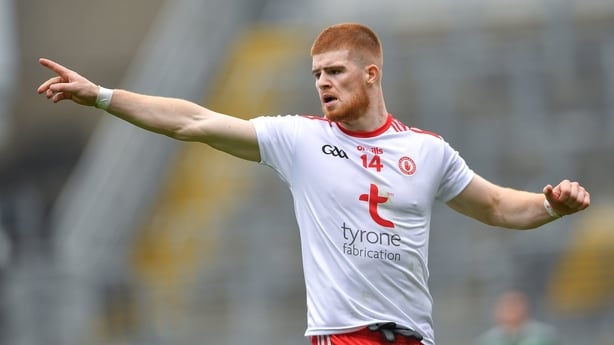 Melbourne, Sydney and Perth are the three big places where all the Irish go. At the time, he seemed pretty positive that it might be something he wanted to do but I guess the lure of playing GAA back home is huge and anyone that plays GAA knows that and he made the decision that is right for himself.
There has been a lot going on in Ireland and I've been keeping an eye on the news – the political side not so much!
But definitely the weather because that's what everyone says to you when you are over in Australia and they know the sun is shining.
The first thing they will lead with is how bad the weather is over in Ireland and then they follow up with, "I presume the sun is shining where you are."
I try not to rub it in as I know myself that I can't stay out in the sun too long. I'll burn – typical Irish – pale skin that just burns in the sun so I can't even enjoy it as much as they think I am.
Otherwise I have to be layered in sun cream. So I try not to rub it in too much. I know how hard it is to be facing into those winter evenings at home.
The Whatsapp group chat with everyone back home is always hopping as well in the middle of the night here.
I've had to turn it on mute quite a few times so I don't get woken up in the middle of the night. But it is a nice way to keep in touch and keep track of how training and matches are going.
It's a nice of way of feeling part of something back home and that it's not completely away from you or separated from everything you know back home.
The group chats with friends make it easy to catch up with them and see what they are up to and obviously that's a factor when it comes to homesickness.
It just came out this week that Conor McKenna, for example, left Essendon and went home due to homesickness and family reasons so it's obviously a factor being so far away from home.
Time difference makes such a huge impact because you can't just ring home anytime you have free time because they are either asleep or in the middle of a work day back in Ireland.
That's why the Whatsapp groups and things like FaceTime make it a little bit easier. It's not the same thing as talking to them or being there but it makes it bearable for the time you are out here until you can actually go home to see them.
Over here though, our team have St Kilda next at Richmond Oval on Sunday and we will refocus pretty quickly now after the Brisbane game.
You cannot really dwell on the last game so what I think we're going to focus on most is just being clean under the ball and just going back to basics and to our game-plan and then working from there. Hopefully, we will take in the lessons from last weekend and get our season on track.