Inter-county referee David Gough has insisted that timekeeping is not a major imposition on referees and has detailed how modern, tailored watches provided by Croke Park have made the calculation of additional time much easier and more accurate.
The issue of timekeeping bubbled up once more in the wake of a couple of tense Division 1 finales at the weekend.
Dublin rescued a draw from nowhere against Monaghan on Saturday evening, having trailed by nine points with only ten minutes of normal time remaining.
Down referee Ciaran Branagan added on three additional minutes at the end of the stated injury-time period - correctly in Gough's view - following stoppages during the allotted six minutes. This proved enough time for Dublin to rustle up a last second equaliser through Davy Byrne.
The following day, Meath manager Andy McEntee had precisely the opposite complaint to irate Monaghan supporters, lamenting that no additional period was added to the allotted injury-time, following stoppages.
One watch, three interfaces - referee @goughd4 explains on @GameOn2FM why timekeeping isn't as big an issue for match officials as some people seem to think pic.twitter.com/3RBOi92WIy

— RTÉ GAA (@RTEgaa) February 11, 2020
Naturally, these gripes sparked suggestions - most prominently from Pat Spillane - that timekeeping should be taken out of a referee's hands but Gough does not believe it's an issue.
Speaking on Game On on RTÉ 2fm, the Meath official gave an interesting insight into how referees keep time in big matches.
"Ciaran (Branagan) was completely correct to add the three minutes on at the end of additional time.
"Just to explain to people how this works, Croke Park have given referees new hi-grade watches with three interfaces. The first interface is set for the time length of the match, the second interface starts at zero, and the third interface works for additional time.
"When I press the button to start, the watch vibrates to let me know the game has began, 35 counts down to zero, zero starts to count up and obviously the additional time hasn't moved yet.
"When I see an incident of serious injury or blood injury, when I'm engaging with hawkeye in relation with a score, if there's a substitute happening, if I'm dealing with a melee, or if I'm consulting with umpires, I press a button on my watch.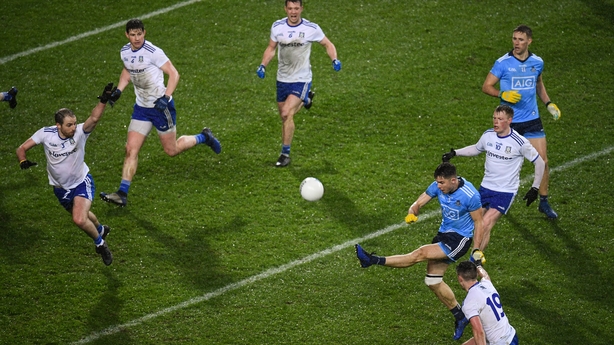 "My watch immediately starts to continuously vibrate and the additional time counter - the third interface - begins to count up. It keeps vibrating to remind me to knock it off.
"At the end of 34 minutes, the fourth official will say to me, 'David, how much additional time?'
"I could see four minutes and ten seconds on my watch and I'll say five minutes. We round up. Inside that five minutes, if there's further delays and we will add that on at the discretion of the referee. It's never shared with anyone else in the stadium but the ref will have it on his watch.
"I don't think the issue is as big as people are making it out to be."
Perhaps the biggest refereeing controversy of the weekend occurred in Edendork, where Fergal Kelly sent off David Clifford, with replays indicating that the Kerry forward had received his second yellow card after he had simply been wrestled to the ground by incoming Tyrone substitute Ben McDonald.
"Terrible decision by Fergal Kelly"

Ciarán Whelan reacts to David Clifford's sending off against Tyrone after the Kerry captain received a second yellow card following an off the ball incident #RTEGAA pic.twitter.com/bPmawowPx8

— The Sunday Game (@TheSundayGame) February 9, 2020
The encounter in Edendork, in which Tyrone triumphed by a point, was rife with off-the-ball skirmishes. The home side's Peter Harte was also shown a second yellow card following an incident which was not picked up by the TV cameras.
Gough cited his own recent experience of a bad-tempered game, the Round 2 league clash between Monaghan and Tyrone as evidence of the difficulties faced by referees.
"I can only talk about my own most recent experience at a match in Castleblayney between Tyrone and Monaghan where there were 16 cards," Gough said.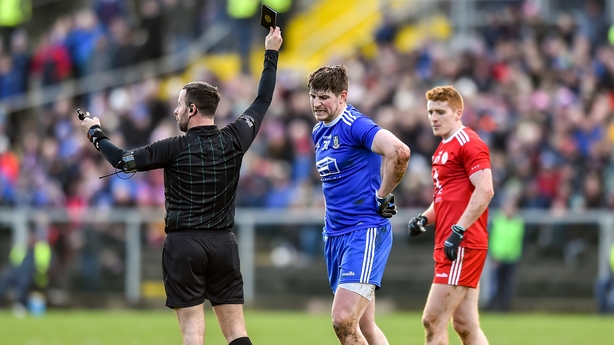 "And a number of those cards were brought to my attention by other match officials. Because it's absolutely impossible for me to referee a game with a 360 degree view.
"At some stage, we have to stop blaming referees and put the onus back on the players. Why are they behaving like this? Why is their manners so bad and why are they fouling so much off the ball?
"It's gone to the stage where it's a win at all costs mentality for inter-county players and they will do anything inside or outside the rules to ensure that they win those games."
The Clifford red card generated the most heat but Gough was quick to defend the Longford official Kelly, more or less echoing Vinny Corey's point that the replayed clip which has been circulating since Sunday may not be providing us with the full picture.
He also expressed sympathy for the umpires in question, pointing out that a ref's umpiring quartet get very little in return for helping to officiate at matches.
"I don't think it's a difficult time for refs. There's certainly more scrutiny put on us. There's more expectation.
"We've seen the cost of teams preparing for big games and they've a huge expectation on us to perform at the same level and ensure that we don't make mistakes that's going to cost them an outcome in a game, be it two points (in the league) or a Sam Maguire.
"The scrutiny by TV pundits and analysts has also raised and we saw that with Ciaran Whelan's comments this weekend (on David Clifford's sending off). And what I'd like to say about that is, we still don't know whether something else happened off the ball prior to that clip.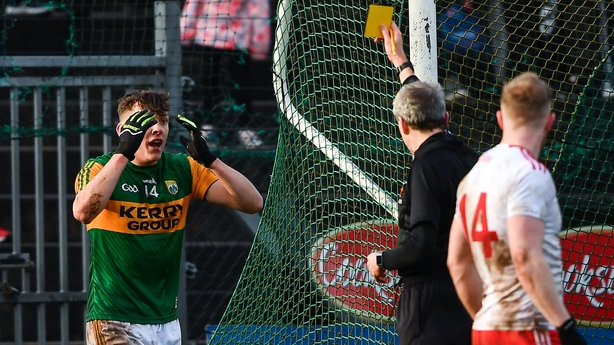 "It's a very short clip. We have no idea whether David Clifford was involved in an incident prior to that and we had until there was a break in play until that was brought to Fergal Kelly's attention or whether he (Clifford) was involved in something directly before that clip started.
"I think it was very unfortunate that Fergal and his umpire were subjected to such negative scrutiny.
"We do have to remember that they're both volunteers and as I've already said, umpires get very little apart from a meal post-match. And that's it. And they've given up the best part of 6-8 hours to help officiate at a match. And we're quite lucky as referees to have them.
"And I just thought the negative publicity around an isolated incident - although it was high profile - was unfortunate."