Slaughtneil's Chrissy McKaigue says the Ulster champions derive belief from their past displays in All-Ireland semi-finals and insists there's huge ambition within the club to claim that elusive national title.
The Derry champions - who've collected provincial titles by the bucket-load across codes in recent years - face one of their most daunting challenges yet when they take on defending champions Ballyhale Shamrocks in Pairc Esler on Sunday.
The Kilkenny side are the most successful club in the history of the competition, with the 2019 victory taking their tally of All-Ireland titles to seven.
However, McKaigue and his team-mates, while acutely aware of the challenge, are emboldened by their previous performances at the semi-final stage.
Slaughneil have played both Cuala and Na Piarsaigh at the last-four stage in recent years and delivered highly respectable performances on both occasions, especially against the Limerick side in 2018 when they led for lengthy portions of the game.
"This is our third All-Ireland campaign for our club. We've faced Cuala and Na Piarsaigh before (in 2017 and 2018)," McKaigue told RTÉ Sport.
"People can have opinions on who is a better team but one thing that's not up for argument is that Na Piarsaigh and Cuala and Ballyhale are certainly at the top table of club hurling.
"We have the experience of playing at that level. The last time out against Na Piarsaigh, we probably shocked ourselves for large parts of the game and were leading it.
"A lack of experience, a lack of belief, or maybe a mixture of both, and ultimately we came undone in that game. But we took away a lot of lessons that day and came away saying at least we have introduced ourselves to the top table of club hurling in Ireland.
"If someone had offered Slaughtneil that seven or eight years ago, people would probably have laughed at you.
"We've seen in the past that [clubs from] non-traditional strongholds can compete with the traditional strongholds. We take pride and belief from that.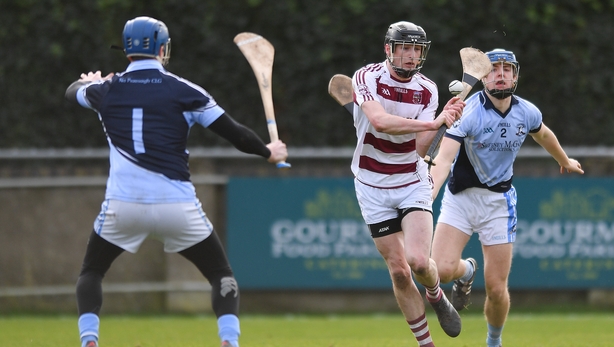 "We also take belief from the past that whilst Cuala beat us, we were able to live with them for large parts of that game. We've vastly improved since then.
"The problem for us is we face the aristocrats of club hurling. We face some of the best hurlers, like TJ Reid, who have ever played the game.
"But we can't focus or channel too much of our energy worrying about Ballyhale. We will give them the utmost respect but we do that any club whether it's in Derry, Ulster or national level."
"We've seen in the past that [clubs from] non-traditional strongholds can compete with the traditional strongholds. We take pride and belief from that."
Slaughtneil have been showered with plaudits for their efforts in multiple codes in recent years. Without an Ulster senior title in hurling or football until 2014, the Derry club have won three of each since then, a very rare achievement for a single club.
They've also ruled the roost in camogie in the modern era, completing three in a row at All-Ireland level last March. According to McKaigue, it remains a burning ambition within the club to add a national title in hurling or football to this collection.
"We're probably unique in a way in that we're relatively competitive in three codes. We've won the last three All-Ireland camogie titles.
"Our hurlers have won their third provincial hurling title in the last four years. The footballers, previous to that, had won three All-Ireland titles in the previous four years.
"We've been knocking around the top table in three of the codes. I suppose that's what sets Slaughtneil apart from the other clubs and makes them that bit more unique.
"But it goes without saying that the boys haven't got the national title that we really do crave.
"That breakthrough at national level is probably the hardest breakthrough. We're grateful for what we have so far but there's still a huge ambition to kick on and get that national title if we can."