Only captain Sinead Aherne is older than Siobhan McGrath, but the midfielder insists she doesn't feel her age on the pitch.
Her performances in Dublin's three-in-a-row would suggest the Thomas Davis player will remain an integral part of a Jackies side looking to continue their domination.
Three years ago the accountant decided it was time to return home from Australia. Among the incentives was the chance to to add to her solitary All-Ireland title in 2010.
"We approached her and true to form, she told us she didn't have the work done to come in at that stage of the year," manager Mick Bohan told RTÉ Sport. "She thought she wouldn't make a difference, we thought she could."
The 2009 and 2010 All Star wasn't long in getting up to speed and while the team has evolved over the past three seasons with the same end result, McGrath has remained a constant.
Player of the match in the semi-final victory over Cork, the midfielder was a standout figure in the middle third warzone. Space and scores were at a premium, it was a day for rolling up the sleeves and the manager believes there are few better at it.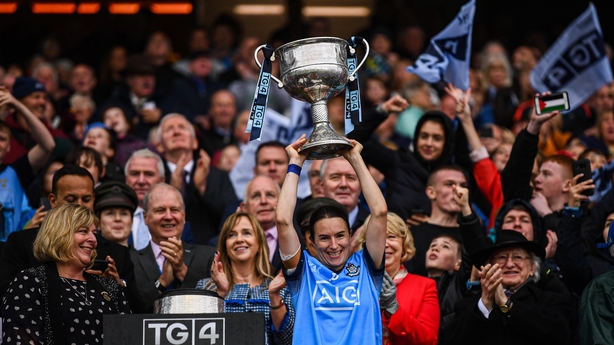 "I think we have both benefited from it [her decision to move home]. She has been an incredible player. She's tough as nails and in the engine room you need that."
The result will show that five scores won the day for Dublin, but really it was down to work-rate and belief and McGrath says positions appeared to matter little.
"On a day like that you are playing everywhere. Sinead Aherne came back and got in a few great tackles. Everyone around you is working hard."
The 31-year-old's medal collection continues to grow, but there is no sense that she is willing to walk away from it any time soon. Quite the opposite in fact.
The progression of the ladies game...what Mick has brought to it, and his management team.
"I don't feel my age when I am out there. It has been very easy for myself and others to get into the condition we have because the management team have given us the tools to push us.
"You can see the other teams, they are conditioned the same and it's so much better than what it used to be.
"It's what makes me not have to think about whether I want to play for this Dublin team. I have loved every minute of being back."