Seamus Kennedy is a rare breed - a hurler with a 100% Championship record against Kilkenny.
Nitpickers might point out that if the former dual player is selected against the Cats in Sunday's All-Ireland final, it will be just the second time he has faced them, the first being the 2016 decider when he scored a point from wing-back as part of a dominant Tipperary display.
It was a dream debut season for the then 23-year-old as he started all five Championship games and was part of an unchanged back seven that didn't taste defeat all summer.
It couldn't last. Tipp suffered semi-final heartache to eventual champions Galway in 2017 and didn't make it out of Munster 12 months ago.
"This time last year there was a good few of us sitting on a beach or probably sitting at a bar looking in at the matches," reflects Kennedy. "It was a shock to the system.
"I went on a sun holiday for the first time really. I was in Italy and there was matches on and you're kind of going 'I actually don't like this'.
"Everybody spoke last summer about how unbelievable the hurling championship was but Tipperary were nowhere to be seen in the wonderful summer of hurling. It probably grated on us a small bit to be honest. We were fairly determined not to let that happen again.
"That has given us an extra bit of drive this year and kick that we didn't want to be in that situation again, it's not a nice place to be.
"Thankfully the start we got in Munster really set us up for the year, a good start. It's got us back to another All-Ireland final. It's been three years, it feels like a lifetime to be honest."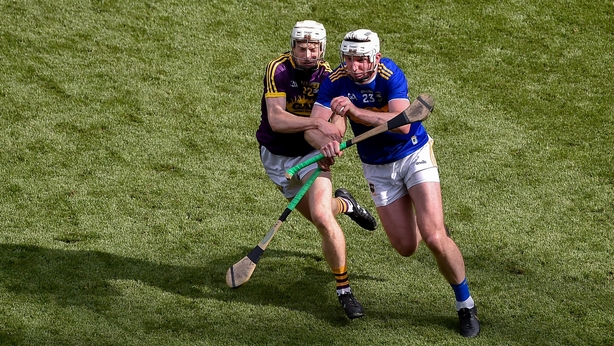 That 'lifetime' looked likely to be extended as Wexford took the game to them in the semi-final, building a five-point lead with an extra man by the 50th minute.
It was just Kennedy's second start of what seem destined to be another summer of frustration before Liam Sheedy's side produced a stirring fightback to win by 3-20 to 1-18.
"Comeback-wise definitely (the best) that I've been involved in with Tipp," he says. "It does make it extra special in the manner that we did win, (and I) probably appreciate it a bit more maybe this year when I've been in and out of the team.
"Yeah we went five points down, three points down, but I think the most pleasing thing was we never pushed the panic button.
"We kept trying to do the right thing and especially when John (McGrath) got sent-off, we seemed to value the ball and value possession a lot more and really worked the ball to the shooters and to the lads up front.
"That was very pleasing to be honest that we just kept chipping away at Wexford until the very end and thankfully got there."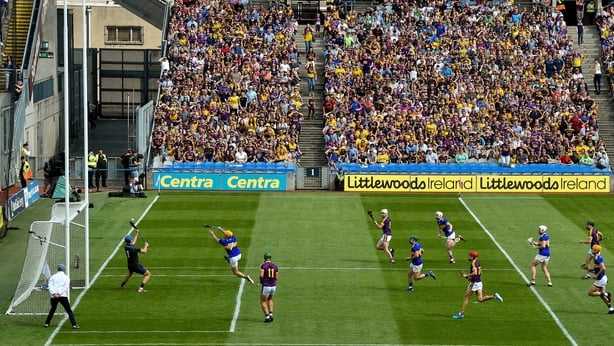 A lot of the analysis in the aftermath focused on Wexford's use of short passing and offloading to runners.
For Kennedy - an All-Ireland minor football winner with Tipperary in 2011 and a three-time county and Munster club (2015) champion with Clonmel Commercials - there were distinct parallels with the big-ball game, an evolution in style he feels suits his background.
"It is very like the football style in ways," he says of Wexford's approach. "It is a very running game, they've a lot of runners from deep. There's an overlap all the time.
"It's very different to the style of hurling we're used to playing here in Tipp. I think they've expanded it a lot this year, they're putting up some very big scores. They're going to be there or thereabouts again in time.
"Being from Clonmel, I probably played far more football than hurling growing up. It definitely has benefited me. In football, if you give the ball away you're not going to get it back for 10 minutes.
"You do value possession a lot more. Maybe without even thinking about it, it's something I do do.
"Definitely, there is a crossover between the hurling and football. If you're setting up against a team like a Limerick or Wexford that value possession so well and have this running game or Limerick have a short passing game, if you give the ball away, they're going to punish you.
"We (Tipperary) definitely do value possession a lot more but I think it benefits us too. If we're getting the ball into the right areas to deliver into our forward line, they're going to do damage. "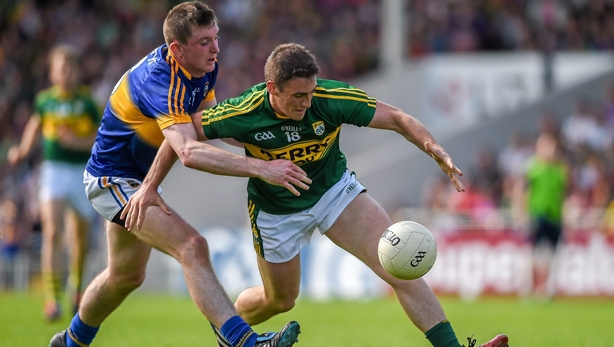 Kennedy was a dual-player at minor and U21 level but after dropping off the senior hurling panel in 2014 he switched focus and lined out for the footballers in 2015.
He admits he might have been "a small bit in awe" of his team-mates in that first, failed attempt with the hurlers.
"In the dressing-room then you still had Lar Corbett, Eoin Kelly, they were heroes of mine growing up.
"The year playing football definitely helped with Peter Creedon and the lads. We had a decent game against Kerry, played Tyrone that year, played some good inter-county championship games that definitely stood to me."
Tipperary went on to make a surprise run to the All-Ireland semi-finals under Liam Kearns the following year but by then first-year boss Michael Ryan had tempted him back to the hurling ranks.
"Even though I grew up in Clonmel, the only thing I wanted to do was playing hurling for Tipperary," asserts Kennedy.
"When Mick rang me in 2016 I wasn't expecting the call but I was absolutely delighted. We were involved in club championship with Commercials right up until the middle of February that year, Ballyboden beat us. But still it was a no-brainer.
"I'd been dropped from the panel in 2014 after the league and probably thought 'will I get back in, will I get a chance?'. I was absolutely delighted to get back in.
"Would I have liked to be playing the football? Absolutely, if it was possible to do both but I just don't think it is. I was absolutely delighted for the lads.
"Coming back in 2016, I felt I'd a bit of a point to prove, I wanted to do myself justice. That year I didn't get much League game time because of Commercials. Thankfully, things just fell in place for me and the year just took off. I hit a bit of form at the right time. It was great."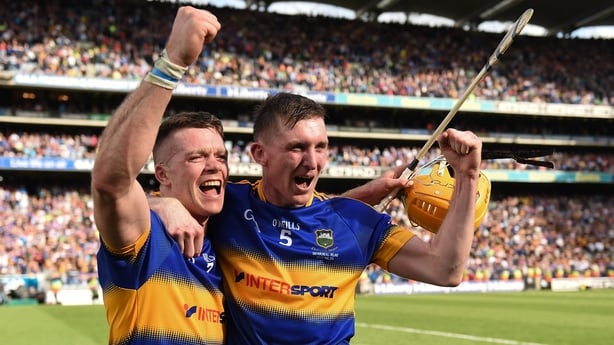 Injuries, loss of form and competition for places have made the Tipperary defence a bit of a revolving door this campaign. Sheedy must long for the consistency of selection enjoyed by Ryan three years ago.
Hamstring issues limited Kennedy to two League appearances in the spring and his first appearance in this year's Championship was the painful Munster-final reversal to Limerick.
He didn't feature against Laois but was recalled and and performed solidly from a half-back role against Wexford.
With competition from the likes of Sean O'Brien and Alan Flynn, Kennedy's selection for Sunday is far from guaranteed, but the match-winning influence of the Tipperary substitutes the last day has convinced him of the decisive effect every member of the panel can have on the game.
"It's been so competitive this year training-wise, there's a lot of those U20s coming in and pushing really hard.
"If you looked at the Tipp 26 from the Cork game on 12 May, there's definitely been a few changes every day. That's due to lads performing in training and putting their hand up.
"I think the big thing the last day was we got such an impact, we got four points from the bench.
"You see Limerick last year, the impact their bench had on them winning the All-Ireland, it is so important and I think we really saw the value of it the last day. The lads that came in, really kicked things on."
Follow the All-Ireland hurling final between Kilkenny and Tipperary (Sunday 3.30pm) via our live blogs on RTÉ.ie and the News Now app, watch live on RTÉ2 or listen to radio commentary on RTÉ Radio 1 and RTÉ Raidió na Gaeltachta