So close and yet so far.
Davy Fitzgerald has taken Wexford on quite the journey in his three years in charge, transforming them from also-rans to contenders and winning a Leinster title, but in the end Tipperary put the brakes on the rollercoaster in Sunday's epic All-Ireland semi-final.
Wexford had led by a goal with 10 minutes left on the clock – 3-18 to 1-21 – but 14-man Tipp outscored them by seven points to two in the closing stretch as the dream of a first final appearance since 1996 withered on the vine.
"We could have been there but we're not and there's nothing I can say," admitted the Clare man afterwards.
"It hurts so badly because Wexford haven't been there in 23 years and I more than anything I wanted this team to get there.
"We looked a small bit leggy at the end. I think it's more that the momentum shifted unreal. When momentum happens like that, it's very feckin hard to stop it.
"We had enough chances to win. We could have won it, we didn't. Tipperary took the game by the scruff of the neck in the tight time. They did the business and our hats are off.
"They could have easily thrown in the towel when we went five up. They didn't, they found a way to win it and all of us in Wexford would say well done to them. But we do know we had the opportunities ourselves."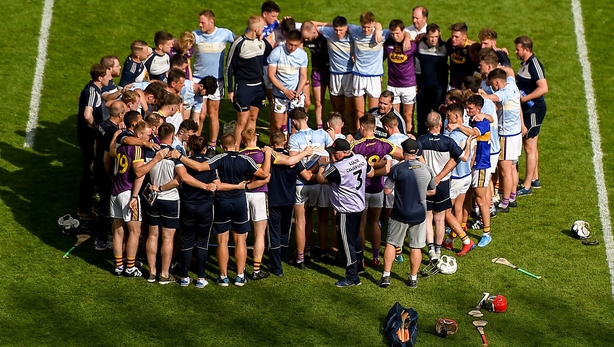 The question on everyone's lips, after three years of commuting, tactical innovation and reigniting a county's passion, will Davy be back next year?
"I really believed coming today that we'd be in an All-Ireland final," he reflects.
"Whether I can do it again, I don't know. I don't want to think about it for a while. I think I just need to stop. It's been 18 years playing and 13 other… no breather.
"I absolutely adore that bunch. If I asked that bunch to do anything for me, they would. They're absolutely incredible and they won't give in.
"It's funny, I've been over teams a long time. The bond I have with this crew, I don't think I've had it with any team.
"Going to training is actually really good, I swear to God. You do two hours 45 minutes (drive) from Clare and it isn't an easy thing 120 times a year.
"They're an unbelievable bunch. I really, really enjoy them and no matter what happens in Wexford I think I'll be friends with these guys for a long time to come."
Regardless of whether he is in the man in the hotseat next season or not, Davy believes the future is still bright for the Leinster champions, who were unbeaten before the semi-final reverse.
"Wexford are in a good place, there's no fear of them guys. They're in the top two or three teams in the country.
"They're right up there and deservedly so. They were Leinster champions, deservedly so. They beat Kilkenny and deserved to beat them.
"I'm just bulling that we don't get another chance to play them. We wanted to play Kilkenny so badly."