All Star ex-Mayo goalkeeper, Yvonne Byrne said that she was "impressed by the attitude" her native county showed when they came back from a four point deficit at half time to snatch a draw in the Connacht Final against Galway.
Byrne who retired from intercounty football in 2017 said that Peter Leahy's team had the talent to challenge a strong Galway side and push the game to a replay.
"I wasn't surprised with how they played in the Connacht final.
"Out of the starting 15 girls, I would have played football with 11 of them in 2017. I knew the quality that was there. When there are a lot of new faces there is a perceived brand-new squad, but there is a wealth of talent in it.
"What I was impressed with was the attitude. When Mayo were down at half-time, they showed the fight to come back. They had someone in the sin-bin and with Niamh Kelly getting sent-off, it would have been easy to let Galway push on and win it.
"But they didn't. They showed great determination and heart. I took pride in that. When I played with those girls, one thing we looked for was pride in the jersey and the never-say-die attitude. For me that was fantastic," she said.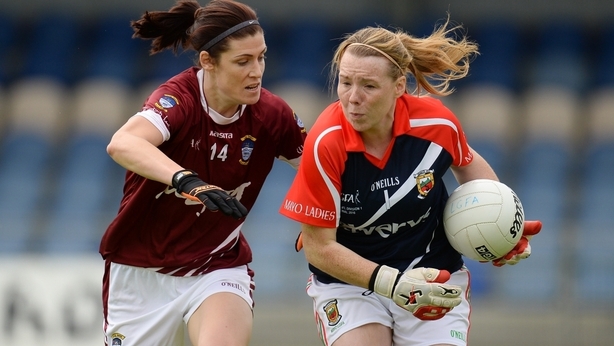 Since departing from the Mayo squad after the 2017 All Ireland Final loss to Dublin, Byrne's life is still entrenched in sport as she works as a coach education development officer with Sport Ireland in Abbotstown.
"The timing suited me really well. I was just after starting the new job and I wanted to focus my efforts in on that," she said of her drastic retirement decision.
"When I was playing I was living in Mayo but with the age factor and relocation, I decided to call time on things.
"If I was living the exact same lifestyle and finished up it would have been more difficult. But the fact that I had a new job it gave me a new focus, but I really missed the craic with the girls and the routine of training."
The All Ireland winning netminder noted the positive shift in support for female sports in recent times saying that "there is a transition happening at the minute, where it is popular to be involved in women's sport now. There is a lot of people breaking down barriers.
"With the World Cup, the coverage that is getting is unreal. Ladies football over the last couple of years has been outstanding too. Their deals with TG4 and Lidl have been key and once you get to the championship as a player, there is nearly a game on every week.
"There is more opportunities for girls. It is all very positive at the minute. For sure there is still loads of room for improvement but we're going in the right direction."
Mayo and Galway are set to do battle again today at 4pm in the Gaelic Grounds, Limerick. The game will be live streamed on the LGFA's Facebook page.