Not many inter-county managers would allow an 11-year-old to deliver a pre-match pep-talk before a competitive game. But, then, not many inter-county managers are like Davy Fitzgerald.
Back in February that's exactly what the Wexford boss did, when he allowed young Michael O'Brien impart a few words of wisdom to his players prior to their league match against Tipperary.
Having met the Kerry lad on the Late Late Toy Show before last Christmas, Fitzgerald invited O'Brien, who is blind, to give a team-talk and he was as good as his word.
"I said it to Davy afterwards that they're listening to him and to me and a few other voices for the last two years and Michael is after getting through to them more in the last 90 seconds," said Seoirse Bulfin.
"I asked him, but Davy said he hadn't said a word to him, he just let him say his piece."
We need your consent to load this YouTube contentWe use YouTube to manage extra content that can set cookies on your device and collect data about your activity. Please review their details and accept them to load the content.Manage Preferences
Bulfin, from Bruff in County Limerick, has been Fitzgerald's right-hand man in hurling for more than a decade-and-a-half, since they started working together at Limerick IT back in 2002.
For him, that incident was an illustration of the former Clare and Waterford manager's emotional intelligence, his ability to read people and the trust he places in others.
For most people, Davy Fitz is the wide-eyed caricature we see during a season of Sundays on the sideline, as Bulfin says, "giving grief to the linesman and taking grief off the fourth official".
But no one wins two All-Irelands as a player and one as a manager, wins a league title with his native county and guides a pair of underdog counties to provincial titles fuelled only by rage.
"He's an enigmatic character. People see him on the sideline and that's not the real Davy," said Bulfin, who was on the sideline as a selector when Wexford beat Kilkenny to win a rare Leinster title on Sunday at Croke Park.
"He's an introverted character and he's exceptionally shy. He doesn't really want the limelight - he's not that sort of character. He's private and shy and most people don't see that."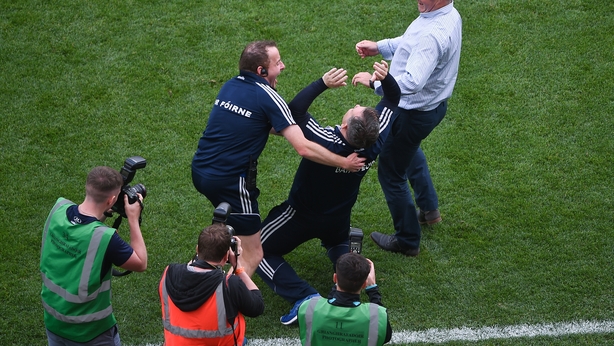 Fitzgerald overcame the odds to be Clare's goalkeeper as they won All-Irelands in 1995 and '97 before a finger injury ended his playing days in 2008. By then he had already guided LIT to a pair of Fitzgibbon Cup titles.
He went straight into inter-county management with Waterford, brought them to an All-Ireland final and a Munster title and then moved on to his native Banner, where he won the Liam MacCarthy in 2013 and a league on his way out the door in 2016.
"It is a big commitment being involved at this level," said Bulfin, who joined Fitzgerald in the Waterford backroom in 2011 and has been alongside him ever since.
"Towards the end in Clare I said to Davy that I might take a bit of a breather, a year or two out, but even when you say no to Davy you're three weeks or a month along into the job before you realised that you had said no!
"The thing I see about Davy is the loyalty he gives you back; it's unbelievable. There is no better guy to learn under - the right way and the wrong way to do it. He has matured a lot over the last few years.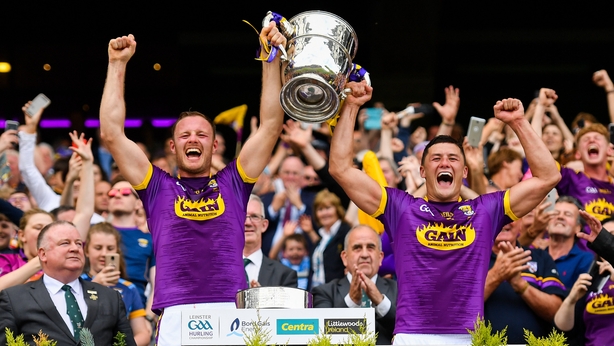 "He demands a lot of people, but it's never unreasonable. If you're not able to commit, be it in the backroom, as a player, whatever, you have the chat with him, you shake hands, walk away and there's no ill-feeling.
"If you want to be involved, he sets very high standards. That's the good and the bad with Davy - he's pushing you constantly."
About his own style, Fitzgerald: "Management style has changed incredibly, even from when I started to now. The young people are different. You have to handle them a different way in trying to get the best out of them."
Bulfin has seen both sides. Straight out of college, he got a job as LIT GAA development officer in 2002, started working with Fitzgerald and was part of the backroom when they won two Fitzgibbons.
But they had a falling out over off-the-field issues and didn't speak for almost two years. When they eventually met to talk, the air was quickly cleared and just as quickly Fitzgerald asked Bulfin to get involved with him in Waterford.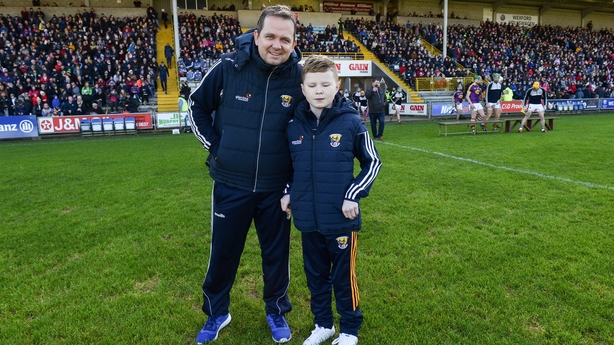 Fitzgerald's greatest successes have been with young, hungry teams with points to prove; LIT, Clare and now Wexford. Waterford weren't young, but they did have a point to prove and he managed to harness that too.
"That man would die for us, and we'd die for him," said Wexford joint-captain Matthew O'Hanlon after lifting the Delaney Cup on the steps of the Hogan Stand.
Bulfin noted: "Young players are often crying out for a father-figure and leadership and Davy provides that.
"He is very good to get the most out of young guys who are looking to learn. He gives freedom to lads to learn and only gets involved when he has to - a bit like a parent. He's very much a players' guy.
"If he can help someone he will and it's hard to walk away from that kind of loyalty."