Scoring the winning goal in a Connacht final was an emotional way to cap a comeback from an injury that nearly cost him his eyesight for Diarmuid Murtagh.
Murtagh supplied the vital second half finish that kick-started Roscommon's unlikely revival against Galway on their way to a second Nestor Cup in three years.
But at the end of last year he was considering giving the game up following an eye operation that was required in the wake of an injury suffered during an innocuous training-ground incident.
"Just when the final whistle went, it was very emotional for me," he explained.
"When I was sitting in the hospital bed after eye surgery I didn't think I'd ever get back playing. It means a lot to me. 
"I'm delighted that the manager had a lot of trust in me as well. There's a lot of competition for places and they could have picked any of the other corner forwards in training to play there but he backed me today and I'm delighted.
"Anthony (Cunningham, manager) and the selectors have been very patient with me, letting me come back when I felt comfortable so it's emotional now, days like this is why I worked to come back."
Last summer Murtagh went to make a catch in training, let the ball slip through his hands and bounce off the top of his head.
Headaches and blurred vision followed, though he was given the all-clear for concussion and continued to play and train.
But the vision in his left eye continued to deteriorate to the point when he needed to go under the knife less than 12 months ago.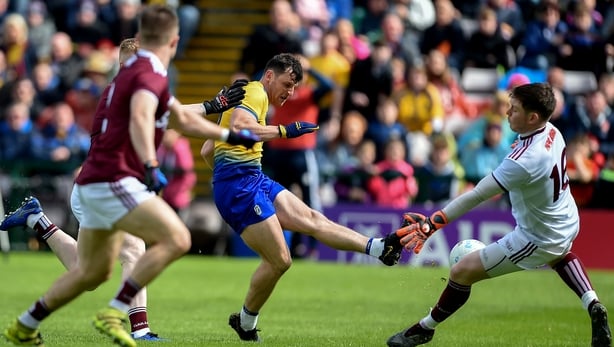 "When I was in the hospital bed last August I considered quitting football. I was like, 'Why am I doing this for?' It was very emotional at the end when the final whistle went because the only thing that keeps you going is days like this, when you've a serious injury like that," he said.
"It's definitely worth it and I'm happy I'm back now.
"I played against Dublin last year in the Super 8s and my vision was very blurred. So I knew there was something wrong after that and I had to get it checked. It ended up being a detached retina just from a simple ball that hit me on the top of the head in training.
"I thought it might have been a bit of concussion or maybe my eyesight was just getting worse. Little did I know.
"Before this campaign started I considered not going back, just out of that injury - no other reason. And I'm delighted to be back now and I'm going to enjoy this."
Murtagh had surgery last August and the slow, tortuous recovery meant he wasn't fit to play football again until February.
Relegation for Roscommon in the league followed, but Sunday's Connacht title win more than makes up for the hardship he endured.
The fact that he scored the goal – his first ever in championship football - was the icing on the cake.
"I saw Cregger (Cathal Cregg) coming with the ball and I knew someone had to go and meet him so I just stuck inside, I knew he'd lay it off to me.
"From then I only had one thing on my mind, back of the net. The way the game was going, it was going to be very tight so I thought a goal might swing it our way at that stage."
Roscommon beat both Mayo and Galway on their way to the Connacht title and they are now through to the Super 8s All-Ireland quarter-final stage.