Carlow will have to do without their manager, their star player and their coach when they take on Meath in a Leinster Senior Football Championship quarter-final on Sunday.
On Monday night boss Turlough O'Brien, midfielder Brendan Murphy and coach Steven Poacher all had their lengthy suspensions upheld by Croke Park's Central Appeals Committee (CAC)
Murphy and Poacher were banned for 12 weeks apiece for jostling referee James Bermingham at the end of their Allianz League Division 3 game with Laois on 24 March, while O'Brien was hit with a 20-week punishment.
The suspensions were proposed by the Central Competitions Control Committee (CCCC). The trio decided not to accept and went first to the Central Hearings Committee (CHC) and then to the CAC.
They have the option now of going to the Disputes Resolution Authority (DRA), the GAA's final court of arbitration, though that looks unlikely given the limited time-frame ahead of the match at the weekend.
A 20-week suspension essentially ends O'Brien's summer. Poacher and Murphy will only be available to be involved again should Carlow make either a Leinster final or the second round of All-Ireland qualifiers.
Their lengthy bans mean they will be able to play no part in Sunday's meeting with the Royals and that O'Brien will essentially have to manage his team from the stands as he isn't even allowed into the dressing-room on the day.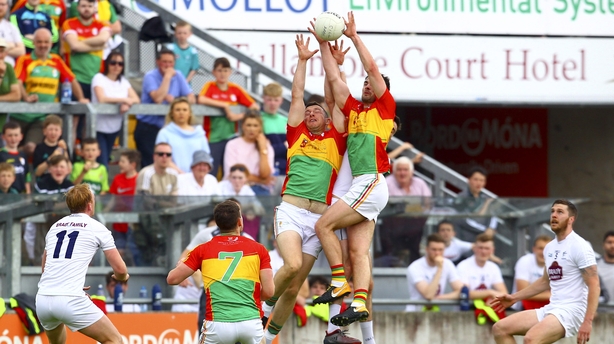 Carlow were one of the good-news stories of last season, getting promoted out of Division 4 of the league and making the Leinster semi-finals with wins over Louth and Kildare.
They nearly hung on in Division 3 this year, but their controversial final day defeat to Laois sent them down because they had a worse head-to-head record with Offaly.
Carlow drew with Laois and were on the attack when the final whistle blew. Had they scored a point and won they would have stayed up and it was as a result of the incident at the end of this game that the trio were punished.
Selectors, Tommy Wogan and Benji O'Brien and strength and conditioning coach Damien Sheehan will take charge of the team on the line this weekend.