The 1996 Leinster final marked the start of magical era in Meath football.
The team would go on to win three of the next six provincial championships, and they would convert that into two All-Ireland titles.
But the Royals went into that game against their biggest rivals as massive outsiders, as former great Trevor Giles points out.
"It was my third year playing for Meath," said Giles this week at the Leinster GAA Beko Bua Programme launch in Croke Park. "We'd lost two Leinster finals, and the '95 one we'd lost by ten points."
"Myself and other fellas had underage success, and you couldn't countenance losing a third Leinster final. The Meath public were demanding in those days.
"If you hadn't won a Leinster final against Dublin, you weren't considered a great Meath player, no matter what you'd done at underage.
"That game, personally, was probably the game I worked hardest in out of all my appearances with Meath. I expended the most energy."
It was all worth it in the end, as Sean Boylan's side knocked the defending All-Ireland champions out of the championship.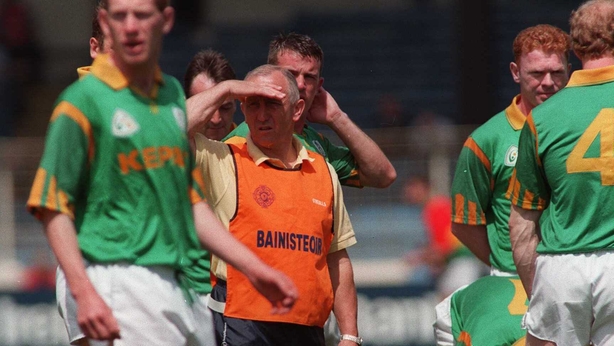 An era that started with victory over Dublin arguably ended with a defeat to the same county six years later, following on from the All-Ireland final defeat to Galway the previous September.
Tommy Lyons' cubs came to Croke Park in late June 2002 and, inspired by Ray Cosgrove, they put Meath to the sword.
And there have been dark days since, with an appearance in the 2007 All-Ireland semi-final the exception to the rule. Last season, they were beaten by Longford in the Championship for the first time in 36 years.
But the spring of 2019 has brought positivity back to the county for the first time in a decade.
"Things have changed, and getting to Division 1 in the league for next year is a massive thing," according to Giles.
"Crowds were good for the latter stages of the league for Meath. I got the train up to Croke Park for the Division 2 final against Donegal, and it was packed. There's a lot more interest in the county.
"There's a positive feeling around Meath, and that has to be good. The underage has been good in Meath the last few years. They've won the last two Leinster under-17s. The under-20s last year beat Kildare, and Kildare went on to win the All-Ireland."
Meath open up their Leinster account on 12 May against Offaly at Navan. Giles says last year's defeat to Longford is a lesson
"I suppose Meath need to win a few games in the province this year, and get to a Leinster final. Whether you win that, or not, you'll have a chance to get to the Super 8s.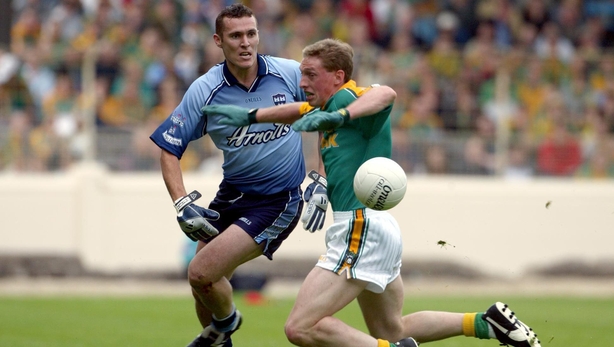 "It's just a little bit more interesting this year, they've (Dublin) lost three league games. Kilmacud lost in the Leinster club final, and UCD lost the Sigerson semi-final.
"Some of their players have experienced defeat, and you're kind of going, 'they're a little but more human!' That may fuel them, or it might slightly make them wonder have they lost it.
"There's a possibility they've come back a little bit. For supporters and spectators, that's what makes this year so interesting.
"Mayo won something in Croke Park. Kerry have a great forward line on paper. The one that's under the radar, I think, is Donegal.
"But I think it's most likely that Dublin will win the All-Ireland."
Meath are not sitting at the top table yet, according to Giles, and he says that's a process that will take time.
"It's better to go up and see how you get on, than to stay in Division 2 and be left wondering. People in Meath now just want to see what the draw is for the league next year, and who is coming to Navan, and where they might be going for away games.
"You've a top-six in football, and there's only eight places in Division 1. So to get into that top-six, you'd have to win two games, and draw another, or maybe win three games. And that takes a bit of doing.
"But if the team can grow during the year, and if the under-age (structures) keeps producing a couple of players every year, Meath can improve over the next few years,
"Maybe you yo-yo a little bit between Division 1 and 2, but that you can eventually stay up in Division 1. I think then you've a chance of competing for the ultimate honours."
Trevor Giles of Skyrne GAA Club, Meath, at the launch of the Beko Club Bua programme 2019, the quality mark for Leinster GAA clubs. For more information visit www.leinstergaa.ie/club-bua/.