Mayo players and fans rejoicing at Croke Park after the sweet smell of success – a rarity in recent times. It came to pass on the last day in March as the Green and Red got the better of Kerry in the Allianz League Division 1 decider.
For Lee Keegan, however, it's very much a case of the collective treating spring success as a stepping stone towards the white heat of championship battle
It was great to win it. Now let's move on.
In just over a fortnight's time, Keegan and his colleagues will head to New York for their Connacht championship opener as they set out to regain the provincial crown they last won in 2015. There's a job to be done and hence there was no wild partying after long awaited silverware was landed at GAA HQ.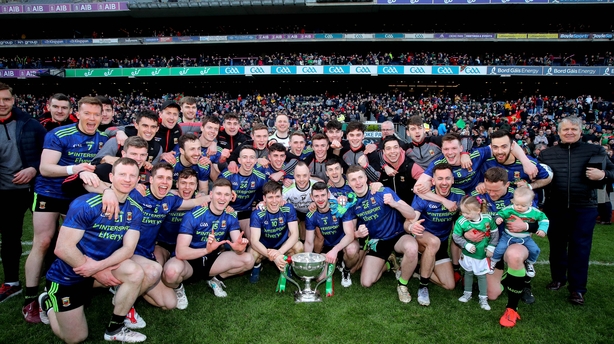 Speaking at the launch of this year's John West Féile at Croke Park, the dynamic defender revealed: "Regardless of the result, we were always going to go home. We just went to Castlebar and had a low key night of celebration and back to work on Monday. So that's as exciting as it got to be honest.
He did, however, pay tribute to Mayo's loyal support.
"I think to acknowledge our supporters that was important.
"They'd go anywhere to watch a game with us, so just to acknowledge the amount of support that brought to us in the league final, I suppose when we needed them in that league final, they were definitely bringing a lot of noise to ourselves to get us going.
"You have to respect the amount of time and effort they put in as well with the amount of travelling they're doing and the cash they're spending and the miles they're putting up. It was nice for them to embrace that and to share that moment with them, and I think our supporters are smart enough now to know that it's only a stepping stone.
"Albeit saying that I think there are 5,000 of them going to New York, God help them getting tickets! They're a savage bunch of fans, we couldn't have got this far without them."
So, are Mayo second in the pecking order behind Dublin when it comes to the All-Ireland race?
Keegan feels that this year's league may not be the best indicator as to how the summer will pan out.
"It's hard to know in that the league can be funny like that, with a lot of teams, like ourselves trying different things, trying different players," he said.
"Only time will tell to be honest. It's only in the white heat of championship that you'll really know where you are or what performance levels you are or what performance levels you need to get to.
"It's impossible to tell at this time of year. Teams that got relegated may be worried. Most of the teams are probably like ourselves, they are knuckling down with their club and getting prepped for championship.
"I suppose we are lucky enough that we have a game coming up so quickly afterward, and that's really what it boils down to, because we really need to hit the ground running and we really need to get our prep in order to be performing at the highest level."
In the first year of his second coming as Mayo boss, James Horan has used 30 players. There is now more depth to the squad and a few gems have really blossomed, namely Fionn McDonagh and James Carr.
No one can rest of their laurels.
"Fionn McDonagh is a freak of nature. His capacity for running and work rate is savage"
"James is not afraid to change things up after all the trials, so now we don't know who's going to be starting," added the Westport clubman.
"Quite simply, players can't be looking at what you did before. You have to look at what you're doing now and that's definitely brought in huge intensity to a lot of the players but in a good way - because if you're playing at the highest level you have to be able for that pressure.
"James has certainly challenged that - that whole aspect that we're limited with what we have in Mayo is gone now.
"We've a lot more to offer than people think so I think that's been a huge plus for ourselves throughout the League.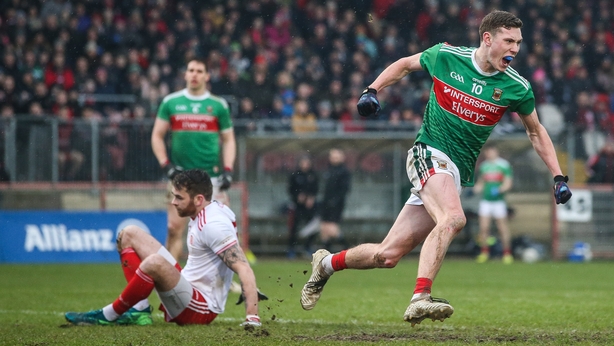 "Fionn McDonagh is a freak of nature. His capacity for running and work rate is savage. I've been lucky enough that I've got to see him in intermediate finals and played with him in Croke Park myself for the club so I knew what talent he had. It was just up to himself if he wanted it or not.
"I suppose he got lucky with James coming to the club (Westport) last year, he got to see what he brought to the table. He's definitely brought his game on this year, James has trusted him with that forward role.
"Unfortunately, he got an injury for the league final so that curtailed him a small bit. Listen, he knows what he needs to get right for New York. He's definitely a part of that pool of players who are not looking at some of the older guys who have done the good stuff before, they're just looking after themselves and their own game.
"James Carr is another guy who offers a huge threat, especially in that full-forward line. You look at Fionn, James and Fergal Boland - we've a lot of big options in the forward division at the moment. It's definitely challenged some of our guys to step up again.
Keegan has been rightly lauded for his ability in man-marking ability and his duels with Diarmuid Connolly have added immeasurably to the big day at Croke Park.
The player takes much satisfaction in being asked to curb the game's 'danger men.
"It was something that was explored when I played in the full-back line under Stephen Rochford. I took a lot of harsh lessons in the league that year. Look, it shows the trust that management have in me when they put me on those danger men.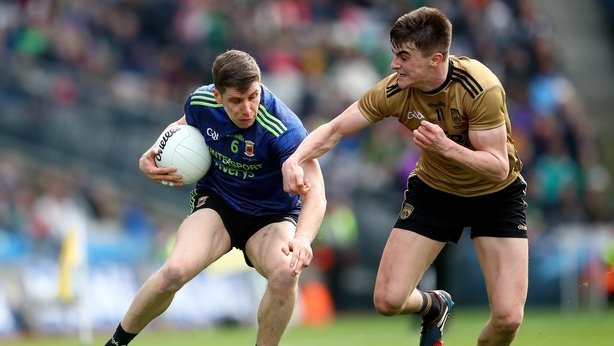 "It's a job I've been doing for the last three to four years, though sometimes it's not the nicest job to get. I got to mark Sean O'Shea in the league final, a fantastic player, one of the best players in the league. I knew that if I didn't get my game right for Sean, I'd get a bit of a roasting.
"I am a defender and it's all about stopping others from scoring rather than going up and scoring myself. We have a lot of attacking wing-backs like Paddy Durcan, who is chipping in with a few scores at the moment.
"It's important then that I do my man-marking role to the best of my ability. It's brings a bit of nervous tension in that I'm doing something right in training and that the manager is picking me for that role. I enjoy the role even though I've had a few scary moments.
"I remember marking Darran O'Sullivan in a league game and he gave me a right hockeying. I didn't go sulking about it. I took it as a positive - this is the standard of man-marking I need to get to.
"As for Dairmuid Connolly, well he's back and played centre-forward at the weekend, so I'm safe now. I played centre-forward once for Mayo and it ended quickly."
Mayo footballer Lee Keegan joined Limerick hurler Aaron Gillane, Mayo ladies footballer Niamh Kelly and Kilkenny camogie player Anna Farrell in Croke Park to launch the 2019 John West National Féile and to announce that John West will renew its sponsorship of the National Féile for a further four years until 2022.