Division 2 of the Lidl National Football League saw wins for Tyrone over Kerry, for Clare against Waterford, Armagh defeated Wexford, while Cavan got the better of relegated Laois.
Armagh and Waterford are guaranteed their places in the semi-finals, but the remaining two places are in the balance with Kerry and Cavan still to play next weekend.
A win for Cavan will see both teams qualify, even though Clare and Kerry would be level on points.
The Round 1 clash of Clare and Kerry ended in a draw, but Kerry would qualify by virtue of the greater number of points they kicked in that game.
A win for Kerry will see the two Munster teams reach the semi-finals, while a draw would be good enough for Cavan, because they have a better head to head record with Clare.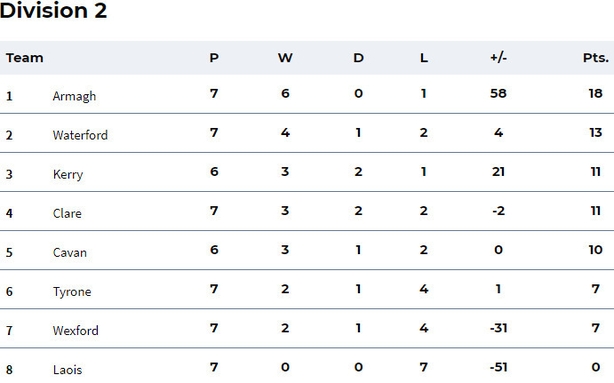 Matters are a lot clearer in Division 3 where all games have been completed.
After wins for Roscommon, Sligo, Longford and Down, the semi-finals in two weeks' time will be Meath versus Longford and Sligo versus Roscommon.
Offaly have been relegated.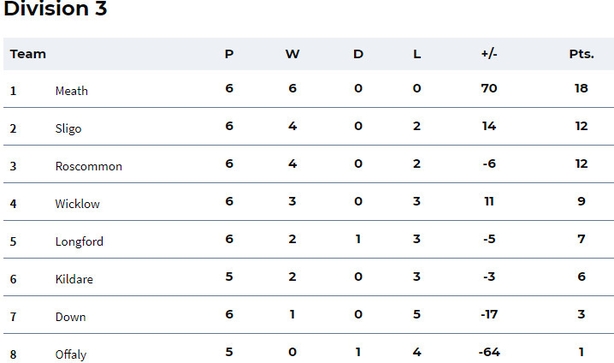 And in Division 4, Louth, Limerick, Fermanagh and Antrim have qualified for the semi-finals, although the final placings won't be finalised until next week's meeting of Louth and Fermanagh.