John Maughan believes Offaly possess footballers who would "walk into the Mayo team" and is on a mission to convince his players they are good enough to make themselves the story of 2019. 
New manager Maughan watched the Faithful County fall to a 3-12 to 2-14 O'Byrne Cup loss at Netwatch Dr Cullen Park on Saturday afternoon but took plenty of positives from the run-out.
Chief among them was the introduction off the bench of Kilmacud Crokes' Shane Horan, a winter transfer to Offaly. The Dubliner's parent both hail from the Faithful County.
"It was an exciting game. It ebbed and flowed," Maughan told RTÉ Sport's Brian Carthy.
"There was nothing really at stake for both teams. All we're doing is using it to maybe have a look at players and I think it worked out exceptionally well from that perspective.
"I was aware of Shane. He's joined us and had his first game in Offaly colours today, coming on in the second half. He's a fine young man. At 28 years of age he probably recognised he wasn't going to get a call-up for the sky blue of Dublin.
"He was delighted when asked to throw his lot in with Offaly and we're delighted to have him."
Offaly compete in Division 3 of the league this year. It's extremely unlikely they'll do to Dublin what the class of '82 did to Kerry, but Maughan - who urged all of his players to watch RTÉ documentary Players Of The Faithful which looked back on the famous All-Ireland final victory that denied the Kingdom a five-in-a-row - is keen to tap in to the county's old values.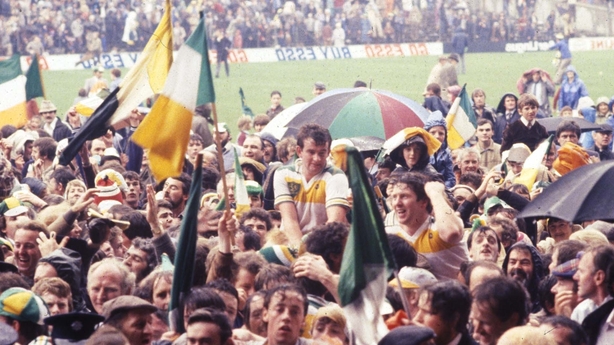 "I was quite keen for all of the Offaly players see it. There's something that's in a culture and the DNA of particular jurisdictions and in Offaly they have a great history of spirit, heart, determination and a never-say-die attitude," he said.
"That's always there. I don't think I'll ever challenge an Offaly footballer in that regard. It's just a question of getting some belief into those players.
"There's players here that I've seen that would walk on to the Mayo team for argument's sake. All they need is a little bit of confidence and belief, get a few victories and you'd hope things would turn."
The seasoned Maughan admitted he just couldn't resist the chance to get back involved in the game when Offaly came calling. He's swapped nights in front of the TV for hard work on the pitch, and he couldn't be happier.
"There was a combination of reasons," he added when reflecting on his decision.
"First of all it was nice to be asked to take over the team. That's a privileged position, that they'd consider me worthy or good enough to take on the role.
"My family are reared. It can be lonely sitting at home watching Coronation Street or EastEnders when you could be maybe out on a football field! This is what I do, I've been at it for years.
"Every time I arrive in Kilcormac where we train... it's an absolute pleasure. Every time I drive in that gate it excites me to see young players trying really hard to impress, to train hard and get on the Offaly football team. Hopefully I can guide them to better days ahead.
"Modern inter-county football demands a lifestyle choice that is very demanding. We have young people who are very often working in difficult environments and there's a huge time commitment involved.
"Anybody who doesn't want to get involved in inter-county, that's their own prerogative. I was a little bit disappointed but I respect guys' decision because it's a huge demand.
"It's a hobby, a choice of pleasure. The door is always open."