Kilkenny manager Ann Downey could only sit through the first five minutes of this year's camogie All-Ireland final before she had to switch off the television.
She knew what lay ahead and wasn't ready to face it yet. Hitting the fast-forward button to catch the first few minutes of the second half didn't improve her mood either. The result was going to stay the same.
For the second year-in-row, Kilkenny are All-Ireland finalists rather than winners.
Painful as it might be, Downey knows she will have to watch the game at some stage to try and figure out why they've come up one point short against their rivals Cork again.
And's that why she can't leave yet. There's unfinished business to tend to and Downey is staying on for a fourth year in charge of Kilkenny to sort it out.
Even after helping the Cats to end a 22-year wait for All-Ireland camogie success in 2016, the job remains unfinished for her.
"The heartache of the last two years and I'd hate to end on the note that we did," she tells RTÉ Sport, "especially the way we lost the two games. I gave it a lot of thought to be quite honest. In the week after the All-Ireland I thought it was maybe time for a change, a new voice and all the rest.
"I forgot about it for a week or two and I suppose a few of the girls got onto me asking what was I doing and to stay on. That was encouraging from them and they didn't have to do that."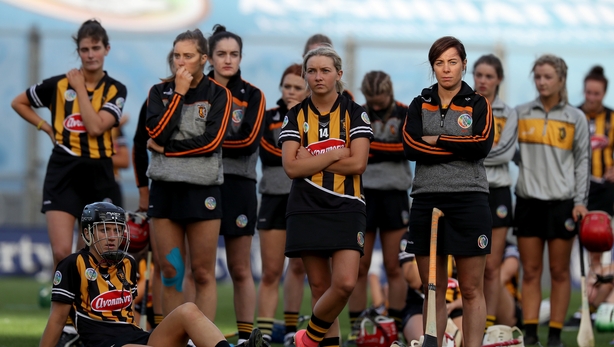 Downey is one of Kilkenny's most successful ever camogie players, winning 12 All-Ireland medals across a stellar 25 years of representing the Cats.
It wasn't until she reached secondary school that she really began to play the sport competitively due to the absence of an underage structure in Kilkenny, but hurling was in Downey's life from a young age.
Her father Shem brought her to games every weekend where either a hurling or camogie match was on the menu.
And she was always pucking a ball around with her twin sister Angela, who would go on to be her lifelong teammate.
"You had your breakfast at such a time and your lunch at such a time and then went out to the backyard then and you played," Downey recalls of her childhood.
"I suppose we just all had a hurl at that stage. The village was very quiet that time and you could puck a ball up and down the street.
"We did a lot of running and that was something that the family could do together. Both myself and Angela were with the Kilkenny City Harriers and if we weren't running we were maybe going to a game. I suppose camogie started late for us. We joined St Paul's when we were in secondary school.
"Angela played her first All-Ireland in 1972, I didn't even make the panel, it was '74 before I made the panel."
Ann and Angela have always been inseparable. Angela's husband Ted looks after Ann's dog everyday and Ann calls into them most during her lunch break as their house is not too far from where she works.
On the evening of this interview, Ann reveals that she has already been on the phone to her sister six times since coming home from work.
Even when Angela first went off to boarding school in Callan after completing the Inter Cert, Ann could only stomach a few months without her before following on.
Angela is currently part of Ann's Kilkenny camogie backroom team and is always there for advice if ever it's needed.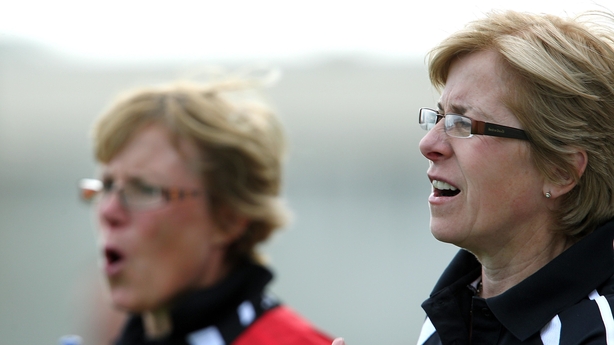 But the boundary is there and is respected by everyone. Ann wears the bainisteoir bib, while Angela and their former Kilkenny team-mate Breda Holmes provide the assistance behind her.
"She might talk individually to the players, especially the forwards and give them a bit of confidence," Ann says of her sister's role in the team.
"She might come over and say that maybe a player isn't going well but that doesn't mean that I would listen to her.
"I don't mean that disrespectfully and I might end up having to say, 'I should have listened to you,' but it's very hard to take everything in on the line.
"As she says herself, Breda and herself are the gophers."
The dynamic was slightly different, however, during their playing days.
While Angela has the same number of All-Ireland medals as her sister, she is the one who is widely accepted as the greatest ever player in the history of camogie having made the senior grade when she was just 13.
But there was never any power struggle between the two of them. Ann came to accept her sibling's superior skillset at a young age.
The difference in their ability really became apparent to her when a man came into her father's butcher one day and asked if Ann was 'the good one or the bad one.' But really, it didn't bother her that Angela was the more talented player.
She didn't even let it get to her when people mixed the two of them up, something which happened quite regularly.
"What happens invariably is people will say, 'how are ya Angela?' I remember coming off a squash court, I was playing in the North. Angela never played squash in her life and somebody said, 'thanks Angela.'
"When we were playing together, I knew that Angela had the skill and could do things that I couldn't do. She could win a match in two minutes for you and that wasn't my forte. My forte was being able to run around for the hour and play the ball in.
"If I got the ball, I knew where Angela would be running. It was just something we had."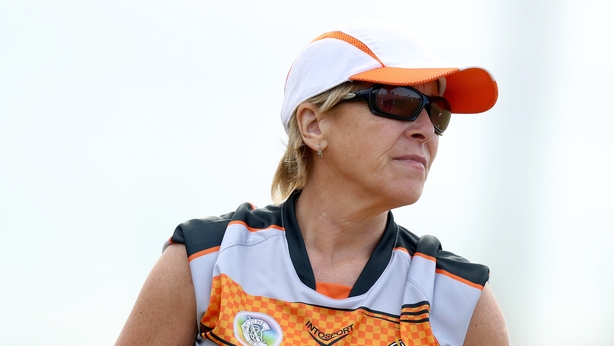 It wasn't easy for Angela either to hear people give her all the plaudits while her sister was overlooked. She didn't want it to be that way and her loyalty to Ann was unbreakable.
Angela famously refused to attend a banquet when she was picked for the Team of the Century because her sister didn't receive a nomination.
"You'd know by her reaction that she wasn't happy about it," says Downey. "It would probably hurt her more than it would hurt me. I would leave it over my head whereas she would feel they were probably being unfair. Now she mightn't say anything because she knew that I would always answer if someone called me Angela.
"I'd say hello and keep going. I wouldn't stop to correct them but it wouldn't sit easy with her.
"It even goes back to the stance she took on the Century Team. It wasn't that I didn't make the team, she was disappointed that I didn't even get a nomination.
"She didn't have any qualms with who got the award but at least nominate someone who won 12 All-Irelands. That really hurt her and hurt everyone in the family more than it hurt me."
Managing Kilkenny is a 24/7 commitment, Downey says. There's very little time away from the role, even during the brief off-season with various things for her to tend to in preparation for the upcoming campaign.
The work detail isn't always pleasant and sometimes she has to break upsetting news to a player who hasn't made the starting team. She feels she needs to develop a more ruthless streak when it comes to dropping players but she doesn't believe in cutting anyone from the panel entirely.
If they're happy to continue training, she's more than happy to welcome them every time.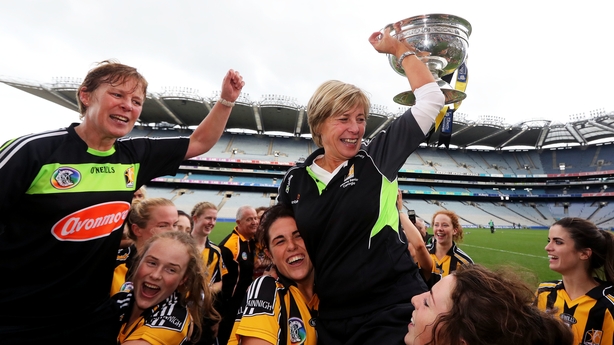 "If they give up camogie, they kind of never go back to it or they don't seem to go back to it, or they want to take a year out," she says.
"For me, it's to keep people playing as long as they can if they're good enough.
"I don't find it one bit easy but I do say to the girls when they come in is that they will get the same opportunities at training. It's up to themselves then whether they make it or not but the first 10 won't be getting any more of an opportunity than the last 10."
Downey is also one of the few females currently managing at inter-county level.
She began learning her trade in management as early as 2002 where she worked with local teams before gradually making her way up to the inter-county grade.
She suspects that women might feel intimidated about the prospect of venturing into management but stresses that starting out in the underage bracket is the best route to get into coaching.
"Men are there the whole time and that's a real fear factor," Downey explains.
"If you saw a woman wanting to be a mechanic, the first thing they'd say is 'sure what does she know?'
"If women get involved at underage, that's where they get the confidence that they're as good as any of the men. It's just hard to break through and make that step. I'd love to see them starting at U8's and U10's because that's where they get the confidence. That's what I did and I learned so much from the men coaches too."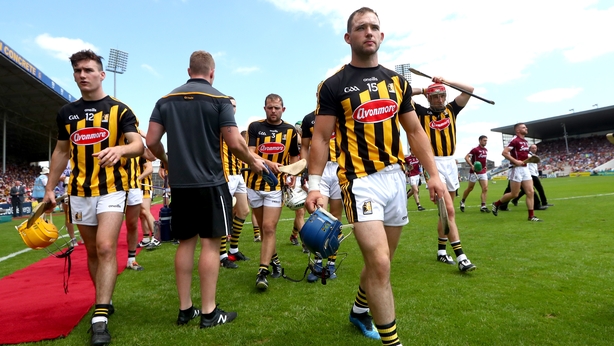 Hurling and camogie belong to two different sporting bodies, but there's a strong relationship between the respective county boards in Kilkenny. The two inter-county managers are allies too, and Downey can always turn to her counterpart Brian Cody for help if she needs it.
All those links help make Downey's job that little bit easier.
"Martin Fogarty is a first cousin of mine and he would have been Brian's selector for a long time. Martin has done a good few sessions and regardless of what you ask them, they will help you as much as they can.
"And they'll tell you straight out if they can't help which is fair enough. There's a great working relationship between hurling and camogie. There's a great training centre in Dunmore and we get [to use] it as much as the guys do.
"They help out financially too and the big thing is they respect us. If we get to an All-Ireland final, there's not going to be a game on and everyone will have the opportunity to get to Croke Park.
"It's a great boost to the girls to know that so many people are behind them. The girls are heroes now and people look up to them.
"They go down the street now and young ones want their autographs, which is great for them. It's important that youngsters have role models."
Prior to that 2016 All-Ireland victory, Kilkenny camogie had gone over two decades without winning the O'Duffy Cup.
Incidentally, Ann captained the Cats to that triumph in 1994, and had grown tired of people reminding her that she was the last Kilkenny captain to reach this feat.
She was proud to help her county get over the line in 2016 and end that famine, but she doesn't want to stop at just one All-Ireland title as Kilkenny manager.
The 2019 season begins again in the next few weeks where their hunt for All-Ireland glory begins again.
Now all Downey has to do is make time to watch last year's final all the way through.