All-Ireland champions Cork have dominated the 2018 Camogie All-Stars team, taking seven of the 15 places on the team, while Kilkenny's Anne Dalton was named Player of the Year.
Cork won their fourth title in five years with a narrow victory over the Cats in September.
All-Ireland runners-up Kilkenny received five awards, with semi-finalists Galway and Tipperary receiving one award each and Waterford also winning one.
The awards, sponsored by Liberty Insurance, took place at the Citywest Hotel in Dublin on Saturday night.
Amongst the winners for the Rebels in defence were goalkeeper and captain Aoife Murray, left corner-back Pamela Mackey, as well as first time recipients Hannah Looney and Chloe Sigerson in the half-back line.
Midfielder Gemma O'Connor collected a record eleventh All-Star Award while forwards Orla Cotter and Katrina Mackey were also selected.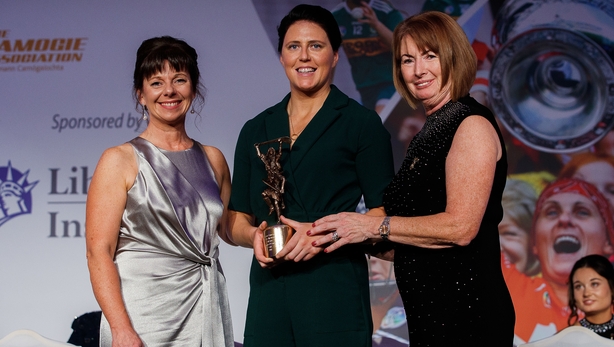 Kilkenny are represented throughout the spine of the team with Grace Walsh collecting her first award at right corner-back, Anne Dalton a sixth at centre half-back, Meighan Farrell in midfield, and Katie Power and Denise Gaule in the half-forward line.
Galway are represented by their captain Sarah Dervan at full-back, who claims her fifth All-Star.
The team is completed by Tipperary forward and Championship top-scorer Cáit Devane and Waterford star Beth Carton.
Cork manager Paudie Murray was named as Manager of the Year for a record third time after guiding the Rebels to All-Ireland glory at both Senior and Intermediate level.
Saoirse McCarthy of Cork was the Intermediate Player of the Year whilst Dublin's Caragh Dawson was the Junior Players' Player of the Year.
All three were selected from a shortlist compiled by the WGPA after voting by inter-county players.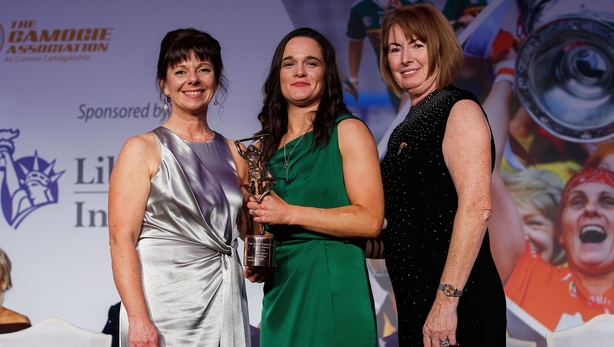 There was further celebration for Cork as their Intermediate side led the 2018 Soaring Stars Awards, represented by seven players; goalkeeper Amy Lee, captain Sarah Harrington and Leah Weste in the full-back line, Jennifer Barry at centre half-back, Katelyn Hickey in midfield, Saoirse McCarthy at left half-forward and Caitríona Collins at left corner-forward.
Intermediate runners-up Down are represented by five players: Alannah Savage at left corner-back, captain Fionnuala Carr at right half-back, Paula Gribben in midfield, Niamh Mallon at right corner-forward and Sara-Louise Carr at full-forward. Both Fionnuala Carr and Niamh Mallon collected the fourth Soaring Stars Awards of their careers.
All-Ireland Premier Junior champions Dublin are represented by Deirdre Johntsone at left half-back and Caragh Dawson at right half-forward.
Tipperary's Jenny Grace completes the 2018 Soaring Stars line-up at centre half-forward for her stellar performances in this year's Intermediate Championship.
Here is the 2018 All-Stars team in full – congratulations to all of the winners! #CamogieAllStars #CantSeeCantBe #20x20 #showyourstripes pic.twitter.com/fcahbmsKyB

— Camogie Association (@OfficialCamogie) November 3, 2018
2018 Liberty Insurance All-Stars team
Goalkeeper: Aoife Murray (Cork) – 8th time Winner
Right Corner-Back: Grace Walsh (Kilkenny) – 1st time Winner
Full-Back: Sarah Dervan (Galway) – 5th time Winner
Left Corner-Back: Pamela Mackey (Cork) – 4th time Winner
Right Half-Back: Hannah Looney (Cork) – 1st time Winner
Centre Half-Back: Anne Dalton (Kilkenny) – 6th time Winner
Left Half-Back: Chloe Sigerson (Cork) – 1st time Winner
Midfield: Gemma O'Connor (Cork) – 11th time Winner
Midfield: Meighan Farrell (Kilkenny) – 3rd time Winner
Right Half-Forward: Orla Cotter (Cork) – 6th time Winner
Centre Half-Forward: Katie Power (Kilkenny) – 4th time Winner
Left Half-Forward: Denise Gaule (Kilkenny) – 2nd time Winner
Right Corner-Forward: Katrina Mackey (Cork) – 5th time Winner
Full-Forward: Cáit Devane (Tipperary) – 1st time Winner
Left Corner-Forward: Beth Carton (Waterford) – 1st time Winner