When the final whistle blew in the All-Ireland final last September a toddler dressed in a full Limerick kit ran out on to the hallowed turf of Croke Park.
He jumped, ran and played with the gold tinsel. Limerick's celebrations were ongoing but the little boy was oblivious, just happy to make one the most historic pitches in the world his playground.
His mother looked on, Limerick camogie captain Sarah Carey. Her partner Tom Condon had just helped his county win their first All-Ireland title in 45 years.  
When Condon's turn came to walk the steps of the Hogan Stand and hoist the Liam MacCarthy over his head, his priority was to play with his son Nicky so he stayed on the pitch.
It was a beautiful scene, the pain and heartbreak of over four decades was laid to rest but in that moment the importance of family also took centre stage.
When it comes to hurling dynasties there are few in Ireland as renowned as the Careys.
Camogie star Sarah had plenty of people to teach her the skills of the game growing up.
As well being Ciaran Carey's daughter, her mother is a Bennis, making Phil her grandfather and Richie her granduncle, who both won All-Ireland hurling medals in 1973.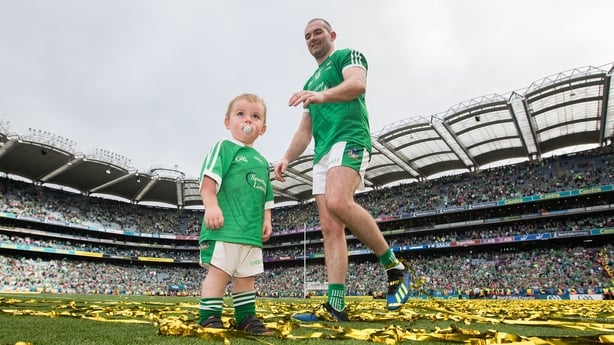 Her other grandfather is Pat Carey, he also hurled, and current Limerick hurler Cian Lynch is her first cousin.
"Hurling is what I was brought up with, I know no different," explained Carey.
"All my memories are with a hurley, we didn't go on those holidays to Spain - it was down at the beach with a hurley and ball."
"My grandparents lived around the corner from the hurling field. So anytime we were up there we used to grab the hurleys, all the cousins, and go off for a puck around.
"Any training my dad went to myself and my brother would go along and watch and we'd meet other kids there.
"I don't actually remember him playing. I remember going to the matches and seeing him, but I wouldn't be paying much attention.
"It's only now looking back at video clips and people talking to me about him that you'd realise what a player he was."
Carey is cut from the same cloth as her father, she is strong, physical and a lovely hurler. She has a great mind for the game too. At 16 Carey made her senior Limerick debut and has always given her all for her club and county.
In 2016 she found out she was pregnant and had to take a break from playing until after her son Nicky was born. It was an unplanned pregnancy and at the time a lot to take in.
"I found out I was pregnant when we were in the middle of the league, we had just played Cork and we were about to play Kilkenny .
"It was a massive shock for me, for my parents obviously it was a fright at first but they took it and look they supported us and told us they would from day one which made it way easier.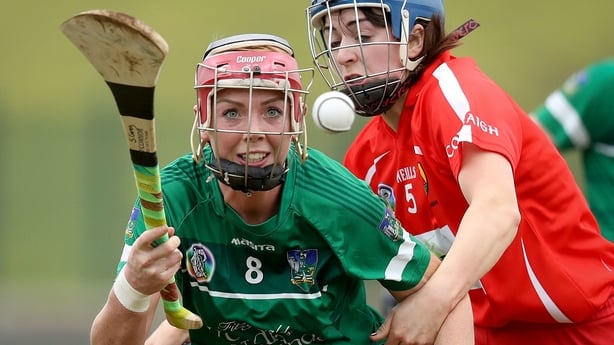 "The minute my mam heard I was pregnant she said, 'This isn't it for your camogie, you will still play' because she was playing camogie when she was pregnant with me and she didn't get the chance to keep playing.
"The biggest worry for me was telling my manager John Tuohy, he was new in but he was great. So it was extremely hard. I kind of stayed away for a while, I couldn't go to training, it was heartbreaking to watch them,
"It's so much easier playing than watching, I was in contact with them and I showed a face at training, but it was really hard to watch, you know? They are your best friends and you're playing with them four nights a week so you'd really miss it and them.
"Tom took it way better than me being the man like, you know? Sure God I thought that was it. I thought my camogie career was finished. I thought that's it. I was in the middle of college too. Oh God there was so much going through my head I wasn't prepared.
"But you know what everything falls into place, everything worked out, I had great friends and family around that got us through it and are still helping out."
Unsurprisingly Carey didn't stay away from the game for long, less than a month after baby Nicky was born she played in the county semi-final with her club Granagh Ballingarry.
"It wasn't until the night before the match that I was like, 'Okay, I'm definitely going to bring my gear and see. I had a few girls onto me, they had sent me a Snapchat as well.
"And actually going out that day Tom wouldn't talk to me because I was bringing out my gear.
"When I came on there was only two points in it and I think about nine or ten minutes to go. So I went full forward and Aoife Sheehan was centre-forward so she made things easy for me. I kept getting the ball and giving it to Aoife and she can put it over from anywhere.
"We went on to win the county final and then a few weeks after that I went back to the gym doing weights."
Carey's hard work paid off the following season, Limerick beat Cork and won the Munster title with her son Nicky looking on. It was a proud moment and made even more special because she got to share it with her family.
"Nicky has just made me a different player, like he's made me definitely more confident and gave me more belief in myself.
"Before that I would've never spoke out - he's given me a lot belief in myself. He is definitely the best thing that ever happened to both of us you know."
Normal couples I suppose go to the cinema or for food, we go to the gym together which is handy
Since he has came along it's been a juggling act for her and Tom as they both try and manage their intercounty commitments. Their family and friends help out but it takes a lot of communication and hard work.
"Not everyone will be lucky enough to have the family like and the support that we have, but it's definitely doable.
"It's stressful looking back and it was mental times, some days you were pulling him out of one baby-sitter, dragging him to another, but you know what he's the type of child he'll go anywhere he'll be happy with anyone at the sideline he'll just be sitting down, ya know he's really easy going because of that.
"It's hard to find the time for everything. Normal couples I suppose go to the cinema or for food, we go to the gym together which is handy."
Just a few months ago Limerick were crowned All-Ireland hurling champions, in the dying moments of the final Joe Canning took aim for a last gasp equaliser but Tom Condon caught the ball under the posts.
Seconds later the referee blew the final whistle and the dreams of all Limerick fans including Carey came true. 
"I'll never forget it. My heart was in my mouth. It was amazing and after it we had the best week of our lives, it was just insane what it meant to the Limerick people of all ages.
"It was just unbelievable, the homecoming, the welcoming even still now there's such a buzz in Limerick it's still the talk of the place.
"Anywhere you go like it's unreal, totally what Limerick needed to lift it. I think for young people as well for younger generations to see these boys, they're looking up to these boys for years and finally now they can see how all the hard work pays off."
We Run the World will be available on RTÉ Player next week