Dublin footballer Noelle Healy has welcomed a new app for women which helps them monitor the changing hormones in their menstrual cycle in order to help them plan ahead and manage their exercise regimes.
The two-time All-Ireland winner says "it's good to get education out" through an app called FitrWoman, which provides personalised day-to-day evidence-based training and nutrition suggestions tailored to the changing hormones in a woman's cycle.
Players will have free access to this groundbreaking technology thanks to a partnership formed between the Ladies Gaelic Football Association (LGFA) and app developers Orreco.
Orreco's research shows that 54% of women say they have stopped playing sport or exercising on account of their menstrual cycle, while over half of women say they are embarrassed by their periods.
Speaking at the launch of the new partnership in Croke Park, Healy reflected on how periods have impacted on players in Dublin.
"I remember the Foxrock Cabinteely girls were the first team that used to wear white shorts," she said.
"They put in a big thing to get the navy shorts in, and a lot of other clubs have done it. It's something as small as that but younger girls don't want to be wearing white shorts.
"It does affect people. I know girls who've come to an All-Ireland quarter-final and their periods come and they've got horrendous cramps. They just don't feel well, they feel run down.
"It's good to get education out there even just to plan it so they know they've painkillers with them so they can take it, or they've eaten the right foods so they're not going to feel run down.
"I can remember countless times where we've known that we've a tough session coming up, and somebody being like, 'Oh, for f*** sake, I know I've my period. I'm not going to be able to give enough'."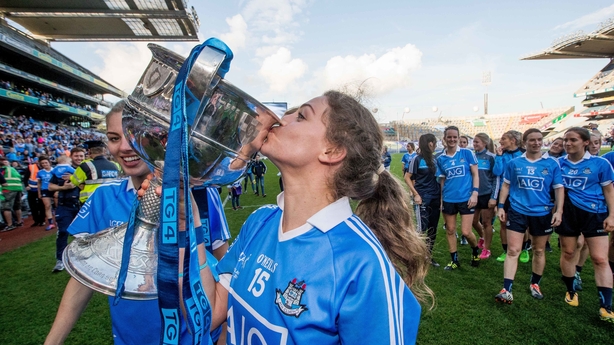 The 2017 Players' Player of the Year and ambassador for LGFA/FitrWoman added: "It shows you what phase you're in, what training you should be doing at this time - whether you'd get more benefit out of a strength training session or get more benefit out of an endurance session - what type of foods you should be eating to maximise that.
"And then there's a little section where you can track symptoms and things like that. It just gives you a little bit more control and little bit more power over it."
Discussions about periods and the menstrual cycle go largely ignored in women's sport due to feelings of awkwardness.
In relation to women's Gaelic football, Healy notes that players sometimes feel insecure about communicating these issues to managers out of fear that they may be suspected of using it as an excuse.
She adds however that Dublin Ladies' S&C athletic development coach Ken Robinson has told the panel that they can come and talk to him at any time.
She said: "Ken has been brilliant and he's always saying to us 'I have a daughter, I know. Just say it to me if you need to'. Which is great because he genuinely takes it as that's the way we are. It's women's sport.
"I think we base so much of our training on the male model, and we're not men - anatomically and physiologically - we're different. We need to be able to have a structure or have a source of information there to be able to eat around it and train around it.
"Even the ACL injuries are one of the things that they were saying fluctuates an awful lot with your menstrual cycle and you're more likely to do it at different stages. At least you know then to do certain types of training a different phases. Looking through the app, it's brilliant like that."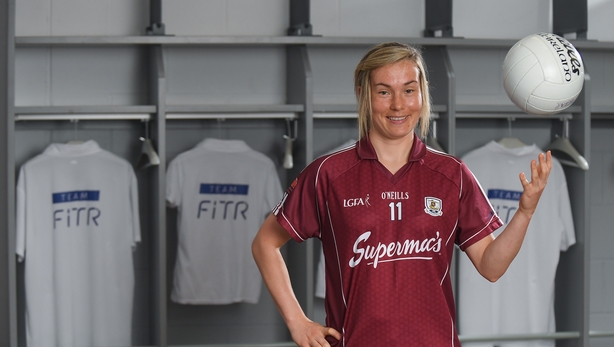 Galway captain Tracey is also an ambassador for the app and she expects that the technology will be well received by the players.
She said: "I think it's really going to take off. I don't think it's something that women talk much about.
"I didn't really take much heed that it does take such impact on the field. It's massive to think that at different times of a cycle you can be stronger.
"There's times that you need to hold back because of injury prevention. For me, someone who has done a cruciate, that's going to be massive, like, that you can say, look, a few days before, 'Look, I'm going to tailor back here.'
"Something that you stop training for one night, could prevent you from being out for 11 months, that's going to be massive. I think, not alone for inter-county players, but for club players, it's going to be massive.
"At home, the Galway girls are really interested in seeing what it's about and can't wait to get downloading it. I think it'll be really good."
** The Ladies Gaelic Football Association and Orreco have announced a groundbreaking technology partnership which will see LGFA promote a new app for women, created by the world-leading Irish sports data, biomarker and performance experts. **