Fresh from missing out on promotion back to Division 1A, Allianz Hurling League and All-Ireland champions Galway will travel to Innovate Wexford Park to take on Davy Fitzgerald's Wexford.
This is the most eye-catching quarter-final tossed up by an exciting final round of matches in Divisions 1A and 1B.
Having topped Division 1A, Tipperary must travel to face Dublin in the capital because of the home and away basis that determines the venues.
Kilkenny and Offaly will meet in the last eight, with the venue to be determined by coin toss as they have played an equal number of home games in this year's competition.
Likewise, Clare and Division 1B champions Limerick will have to toss to see which of the neighbours hosts their quarter-final.
The matches are to be played next weekend, with the exact dates and times to be confirmed by the CCCC on Monday afternoon.
The winners of Tipperary-Dublin will face wither Clare or Limerick in the semi-finals, while Offaly or Kilkenny will meet the winners of Wexford and Galway in the last four.
Despite beating Clare in their final game, 2016 champions Waterford have been sucked into the relegation play-off against Cork, with that match set to go ahead in Páirc Uí Rinn next weekend.
In Division 1B, Antrim and Laois will face off in the relegation play-off at an Antrim venue, with the losers' place in the top flight being taken by the winners of Division 2A final, which will be contested by Carlow and Westmeath.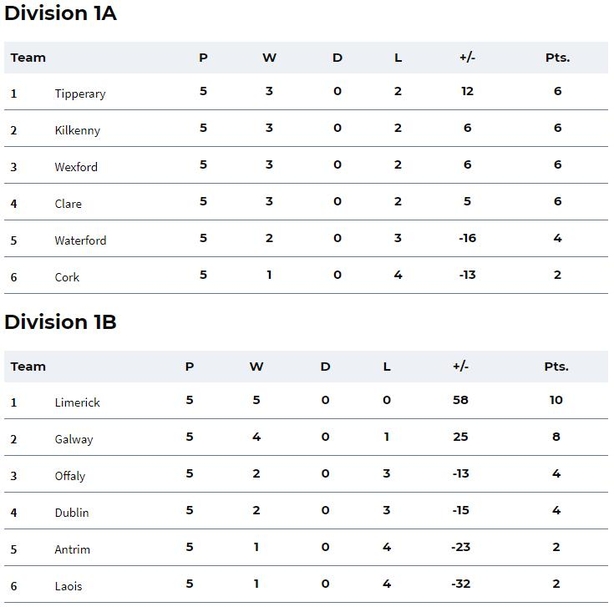 Kildare have been relegated from Division 2A, with Mayo and Down meeting in the 2B final to decide who goes up.
In 3A Warwickshire and Louth will battle to take the place of either Derry or Armagh in 2B - the Ulster duo meeting in a relegation play-off.
Longford have been relegated to Division 3B, with either Lancashire or Leitrim in place to leave the bottom tier.