Last Sunday morning, Sean Cavanagh and his team-mates from Moy Tir na nÓg set off on the bus to play the biggest game in their club's history.

Their All-Ireland intermediate semi-final clash with an Ghaeltacht was set for that afternoon in Portlaoise.

The previous night, a deluge of rain fell rendering the pitch unplayable. Indeed, there was fixture chaos all over the country and the majority of games scheduled were cancelled without much notice.

For Moy, it was more than a game, it was an occasion the people from the parish had been looking forward to since their side won the Ulster title back in November.

"No one was left in the Moy on the day of the game, it was eerie," Cavanagh told RTÉ Sport.

"All of our families had travelled down the night before and had stayed in Portlaoise, including my own wife, our three kids and my mother and father.

"It was a disappointment, as a lot of the people in the community had saved up money to stay down and a lot of them were staying on the Sunday night as well.

"To have to turn the bus around halfway down the road when you are in that place where you are ready to play in a game that meant so much was tough.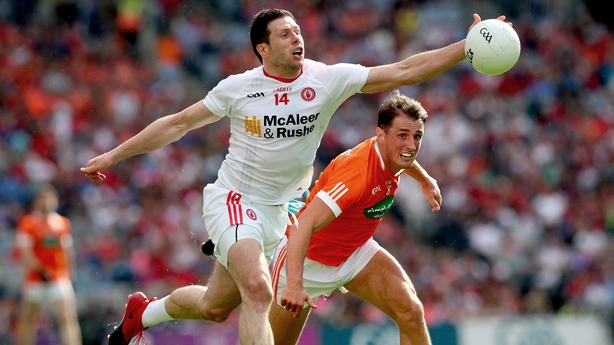 "It caused a lot of deflation but 99% of pitches were flooded. We live in Ireland and we have to accept that as one of the uncontrollables."
The fixture has since been rescheduled for Saturday, 27 January in Thurles.
However, last Sunday, when the game fell foul to the weather, Cavanagh tweeted wondering whether Croke Park could have been used to accommodate the fixture.
"Days like Sunday would make you think about things. It was the biggest game in our club's history, it would have been amazing to be anywhere near Croke Park.
"You'd wonder if it is being utilised enough and whether we are rewarding the efforts club players enough.
"Over the years I'd often be at functions in Croke Park looking out at the pitch and someone would say to me well there hasn't been a game on it in six weeks.
"Yet the maintenance has been going on all the time and you are thinking you have an amazing pitch there why not using it more."
Turning back heading home!Portlaoise unplayable. Families all down yesterday. Tough on entire club. Could Croke Park have been used?

— Sean Cavanagh (@SeanCavanagh14) January 21, 2018
Cavanagh's club success with Moy couldn't have come at a better time. There was no fairytale ending for him when he hung up his inter-county boots after Tyrone suffered a devastating defeat at the hands of Dublin in the All-Ireland semi-final.
Retirement often hits players hard but the romantic journey Cavanagh has been on with the club saved him from that hard landing.

"Last year I was afraid of the void that inter-county football would leave," added the former inter-county footballer.
"I was afraid of not having anything to do on a Tuesday, Wednesday or Thursday night, on the days when I would have been in Omagh or Garvaghey training. I've been doing that every week for the last 17 years of my life.

"I was waiting for this huge void but not for one minute have I missed Tyrone. I hate to say it as I love my county so much but I've been so preoccupied by the club and bought into it so much, that it's been fine.
"I've always been training in November and December with Tyrone, I've replaced that now with Moy. Not having to travel 40 or 50 miles up the road a couple of times a week has its benefits. It means I have to change a few more nappies but I can live with that one.
"In the summer I will be sitting watching Tyrone play on a hot day in Clones and the whole transition thing will probably hit me then."
Now that the three-time All-Ireland winner has replaced his inter-county career with a club one he very much sees the game in a different light.
The former Tyrone player has sympathy for those who don't get to line out in the summer months when the evenings are long and the elements suit the game.
"I can see the other side of it now, when you are in that inter-county bubble you become so selfish, you don't think of anyone else and that was me for the past 17 seasons.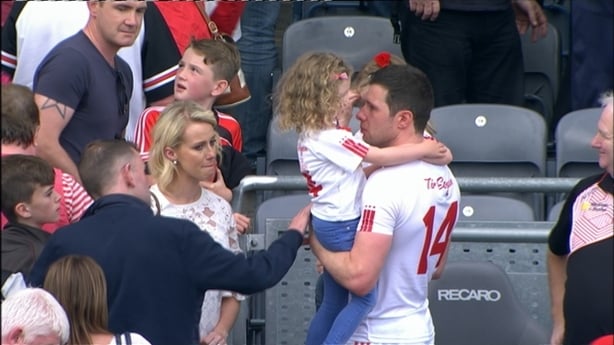 "Once you are playing with your county you're brainwashed into thinking that's all that matters. I now can see the work that is being done in my own club and the efforts lads are putting in.
"It will be weird for me when the sun comes out in May, June and July those are the times when I won't be playing any football at all.
"I can see that being an issue for me, I'm used to playing my football in the best months having that taken away from me will be tough.
"The club football is thrown to the worst months so I think I will become a bit of a moaner towards the tail end of the year."
If it came down to making some hard calls to facilitate a better calendar for club players, Cavanagh would bid farewell to the preseason competitions and pull the League and the Championship forward.
Ultimately, he'd like to have a specific block of time allocated to county and a separate one for club.
Off the pitch, the spotlight has been shining on the intense demands players have to meet in order to play elite Gaelic games.
Cavanagh played at the top level for almost two decades and is worried about what the future holds for the next generation of players.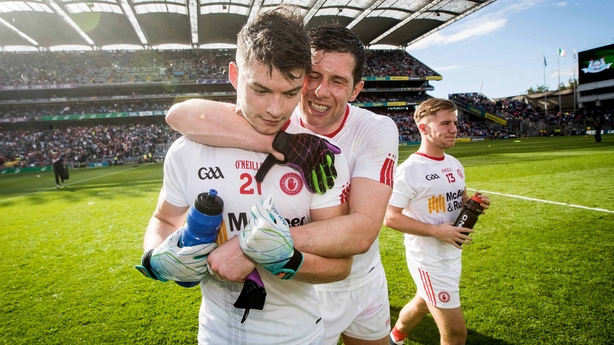 "The effort that is being put in has gone to ridiculous highs. It is a serious topic and it needs to be addressed.
"The players have to deal with massive amount of pressures, strains and stresses which will inevitably affect their careers and families and we must look after the long term health of our players.
"I've seen guys having to travel home to Dublin and not getting home until half twelve and then getting up at 6 the next morning for a gym session.
"I think we are at a breaking point where lads are almost at a stage where they are going to say 'no we can't do this anymore'.
"Without getting into the whole professional or semi-professional system but that's almost where the level or training is at and we need to recognise that.
"We need to work out what the Association is as the lads are training really hard and not getting the rewards they deserve."
All through his inter-county career the Tyrone man made a difference on the pitch.
Those days are behind now but going on his strong views on crucial issues facing the GAA, he looks set to make a difference off it too.
Follow the weekend's Allianz Football and Hurling League action from 4.30pm on Saturday and 1.30pm on Sunday - live on RTÉ Radio 1 with live blogs on RTÉ Sport Online and the RTÉ News Now App.
Watch live games on GAAGO (overseas only) and see highlights on Allianz League Sunday - RTÉ2 9.30pm