Henry Shefflin is ready to start the next chapter of his hurling career, disappointed with the realisation that his hurling career is "kind of over", yet enthused at the prospect of managing his home club Ballyhale Shamrocks.
The Kilkenny hurling legend was confirmed in the Ballyhale position earlier today and while Shefflin admitted that he would love to be coming back as a player in 2018, he is excited to be taking his first steps in a management role.
"I would love to be going back and still togging out, to be honest," said Shefflin, speaking to RTE Sport on Game On.
"But after a frustrating year last year, I came back late in the year fresh for the club championship, but I just got a knee injury and struggled again with the knee and could never get it right.
"I just couldn't do it again."
"So as disappointed as I was that my hurling career was kind of over, I would have always thought about getting into management, not as quickly as this."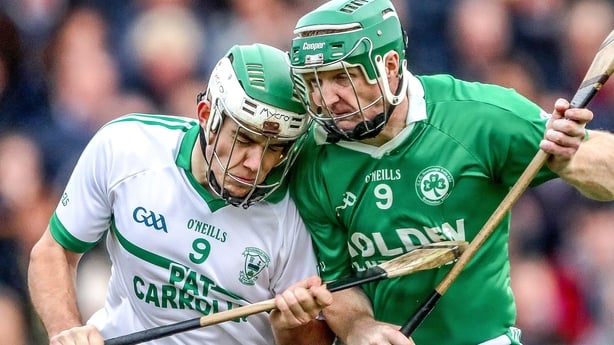 Shefflin admitted that he always believed that he would get into management at some stage once he hung up his hurl for good, but was surprised that it has happened so quickly.
"It just so happened that our outgoing manager Colm Bonner and Andy Moloney were stepping aside so the club came and asked me would I think about it."
And while Shefflin confirmed that he would not be acting in a player-manager role with the club, he believes that managing will be the next best thing to playing on the pitch.
"Years ago you probably could have done it, but it's a full-on commitment. And that's what I'll be doing. I'll be stepping aside and going to the sidelines. I'd love to be still back there and doing it on the field.
"I think the closest thing to it is getting involved in management and the closest thing to your heart is to get involved with your own club and both of them fit well together.
"It's a massive step up and a massive club to take on straight away. I would have loved to have gone off coaching for a couple of years.
"But the opportunity came up...and I know these lads and they have serious potential."
Shefflin would not be drawn on a Brian Cody comparison when quizzed upon his preferred style of management, but rather offered that he is hoping to establish his own style of management drawing on all of his experience from his very decorated hurling career.
"I think it's evolve as you go," said Shefflin. "Because I didn't have time to really stand back and think about this. It all came about very quickly. The club came to me and I had to think about it.
"So it is something that I will think about over the Christmas and make a plan for next year.
"I've worked with a lot of managers over the years and there is certain things you pick up from them.
"But whether it be from punditry or from playing the game myself, you have to be yourself.
"You cannot try to be someone else and hopefully that is what I'll be and hopefully I'll learn as I go along."
Shefflin did have a moment to ponder the short-term future of the county side, who had a disappointing 2017 campaign.
And the ten-time All-Ireland winner believes that his former side are going through a transition yet would not rule them out of contention for honours in 2018.
"I think there is a transition taking place. There is a big panel of players there at the moment and a lot of emphasis on younger players.
"It is a change, there is no doubt about it, but Kilkenny will be there or thereabouts and I still think they are going to be competitive and they always will be. I wouldn't write them off.
"A lot of players have gone and to be fair to the newer players, they need time to develop into the jersey, they can't be just thrown in and expected to turn it on like some of the previous players.
"Maybe the new Championship structure will benefit some of the young players who will get game time away from the spotlight and get a bit of confidence from playing those matches."