Clare joint manager Gerry O'Connor believes that some of the adapted rules being used in the AIG Fenway Hurling Classic next Sunday in Boston could be introduced to the game here.
All-Ireland champions Galway will play Dublin in the first Super 11's Hurling semi-final (5.30pm Irish time), with Tipperary and Clare clashing in the second game (6.30pm Irish time) at the famed baseball venue in Boston.
The two semi-finals and the final (8pm Irish time) will be broadcast live from Fenway Park by TG4 on Sunday.
Two years ago Galway defeated Dublin in the first AIG Fenway Classic, with semi-finals being introduced for this second staging this weekend at the iconic venue, which has been home to the Boston Red Sox since 1912.
The four participants have held several training sessions to become accustomed to the rules of the eleven-a-side competition and O'Connor believes that some of the adaptions could work in hurling.
"There is a 'tap and go' for frees which really speeds up the game. Basically, when a free is awarded the player can just tap the ball off his hurley and go, the same way that a quick penalty can be taken in rugby," he explained.
"Opponents must stand back, they get two minutes in the sin-bin if they interfere and the free is moved up to 20 metres from the opposition posts.
"It takes some getting used to but it really increases the speed and discourages players from fouling. It certainly could work in hurling," said the Clare joint manager.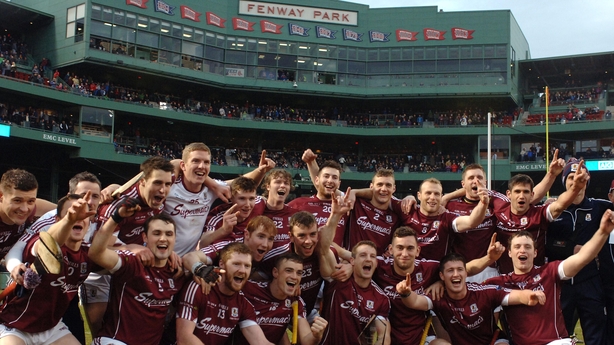 Other rules, such as players not being allowed kick the ball or handpass the ball if they have just received a handpass, are more geared towards the smaller pitch that the four counties will play on next Sunday.
O'Connor said players were really looking forward to the trip, especially as it was an opportunity to try out something different.
"We are always looking for ways to make our game better and faster and players welcome innovation. It's only a couple of years since the one-on-one penalty was introduced in hurling but it's amazing how quickly these things catch on and it's funny to look at clips of old games and see three players on the line for a penalty," he added.
Super 11's Hurling Rules ahead of Sunday's #AIGFenwayHurling Live on @GAA_BEO
Hand passing - The ball may be passed with the hand no more than once consecutively by players on the same team.
*The penalty for infringement is a free to the other team where the foul was committed pic.twitter.com/o7bkEruCtz

— Super11's Hurling (@HurlingSuper11s) November 13, 2017
The four counties will bring 24-man squads to Boston this weekend — unlimited substitutes are interchanged during games — and a crowd of almost 30,000 is expected in Fenway Park for Sunday's games.
"We see this as the start of 2018. We have been out of the championship since July so we are keen to go again and this will kickstart our season.
"The league is starting earlier next year and, of course, we will have the new championship structure, so it will be great to get going again and we see this trip to Boston and Fenway Park as the start of all that," added O'Connor, who is heading into his second season in charge of Clare with Donal Moloney.